Five Democrats opposed House Speaker Nancy Pelosi (D-Calif.) in a tight vote on the House floor on Sunday, although Pelosi was able to reclaim her speakership.
Pelosi won 216 votes to House GOP leader Kevin McCarthy's (R-Calif.) 209 votes, and he retained his role as House minority leader. Not a single GOP House member defected from McCarthy.
The five Democrats who did not vote for Pelosi include Reps. Jared Golden (D-Maine), Conor Lamb (D-Pa.), Mikie Sherrill (D-N.J.), Elissa Slotkin (D-Mich.), and Abigail Spanberger (D-Va.). Golden voted for Sen. Tammy Duckworth and Lamb voted for House Democratic Caucus Chairman Hakeem Jeffries (D-N.Y.), while the other three voted "present."
All five of the Democrats are considered centrist and have supported a number of bipartisan initiatives.
"I've been pretty vocal about the need for more Midwestern leaders, people who represent areas like where I'm from. And also I think it's important to be training a next generation of leaders, right? As just a healthy habit of building the bench. So I was upfront with her. We had a one-on-one conversation right after the election, just as we did back in 2018. And I'm going to vote to live up to that commitment to my district," Slotkin told The Hill.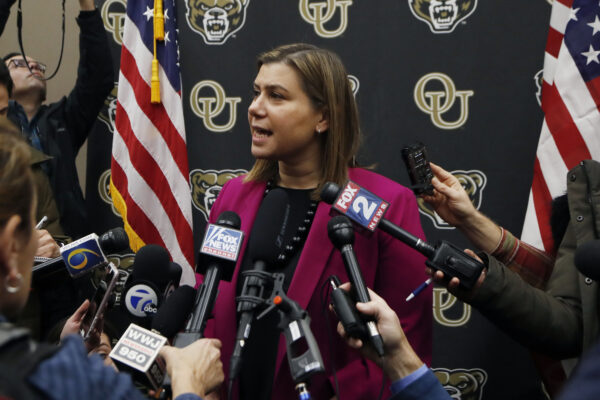 Spanberger previously called for new Democratic leadership.
"Last Congress, I kept my promise to vote for new leadership upon my swearing-in—and in this Congress, I remain consistent in my commitment to ushering in new leadership. Accordingly, I did not vote for Speaker Pelosi," Spanberger said in a statement Sunday.
Currently, Democrats have a 222-211 majority over the GOP. Two seats are not yet filled.
Reps.-elect Maria Elvira Salazar (R-Fla.) and David Valadao (R-Calif.) missed Sunday's vote after testing positive for the CCP virus. However, one Democrat, Rep. Gwen Moore (D-Wis.), who recently tested positive for the virus attended the event and cast a vote for Pelosi.
Moore and Pelosi both faced criticism from GOP House members for allowing her to attend, saying the move was hypocritical.
"Looks like @SpeakerPelosi's proxy voting and remote hearing measures are only essential when her leadership position isn't on the line," Rep. Bruce Westerman (R-Ark.) wrote in a tweet. "Pelosi is putting the public's health at risk to keep herself in power," wrote Rep. Ken Buck (R-Colo.).
The Democrats saw about a dozen incumbents lose during the 2020 election and weren't able to defeat a single Republican in the House. One congressional race in New York between incumbent Anthony Brindisi, a Democrat, and Republican Claudia Tenney has not been decided yet. Meanwhile, Republican Rep.-elect Luke Letlow died last week.