The first shipment of approved N95 respirator masks from California Gov. Gavin Newsom's $1 billion deal with a China-based company should arrive within days, a spokesman for Newsom told The Epoch Times.
On June 8, Newsom announced that the masks, produced by BYD (Build Your Dreams) Co., had received approval from the National Institute for Occupational Safety and Health (NIOSH) after twice failing to pass safety certification. BYD would begin shipping 150 million of the N95 masks within days, Newsom said.
"The first shipments will begin arriving in the next few days and will be distributed to health care providers and counties who have previously requested," Brian Ferguson, a deputy director from the Governor's Office of Emergency Services, said June 11 via email.
BYD was forced to return half of the initial $495 million down payment in early May when the first batch of masks it delivered in April failed to get the required NIOSH approval. The masks failed to meet a second certification deadline May 31, forcing the governor to grant another extension on June 5 or void the deal.
The original contract was for a total of 300 million N95 masks, used to protect health care workers and medical first responders during the COVID-19 pandemic, at a cost of $3.30 per mask. Newsom has faced bipartisan scrutiny over the contract, which was granted to BYD without bidding or going through the normal legislative process.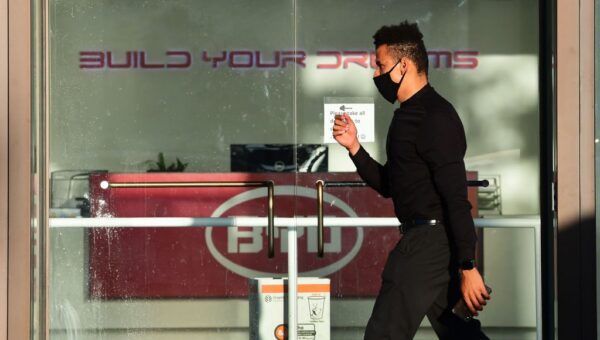 Assemblyman Kevin Kiley (R-Rocklin) told The Epoch Times he questioned the deal from the beginning. He was very doubtful BYD would "be able to very quickly put together a mask that met quality standards," he said, and thought the deal should have been voided when the second set of masks failed certification.
"We could have let this contract go, and gone out and got a much better price and saved Californians hundreds of millions of dollars in taxpayer funds at a time when the money is sorely needed," he said. "Some experts suggest we could have propped up our own factories here in California and got the masks at a much better price, for under $1."
Kiley said that the state was overpaying for the masks, which had not yet arrived two months after the deal was announced by Newsom on MSNBC's Rachel Maddow Show on April 7. In Los Angeles, Mayor Eric Garcetti announced April 28 that U.S.-based company Honeywell Corporation would provide the city with 24 million N95 masks for $0.79 each.
"The governor bought these at a time when we were preparing for a huge surge capacity which we haven't actually needed," Kiley said. "I hope that in the future, the governor heeds the calls of both parties in our legislature to have a more regularized process than what we've had in the past."
Kiley has recently introduced a resolution (ACR 196) in the state assembly calling for an end to Newsom's emergency powers.
"There's been a lot of concern expressed by legislators in both parties that the governor went ahead and spent this money without consulting the legislature, and he refused, for weeks, requests by the legislature to see the contract," Kiley said.
Newsom said on June 8, "Providing California's front-line health care workers and responders the protective equipment they need is a critical part of our response to COVID-19. This new supply of N95 masks, as well as the surgical masks this contract has already provided, are game-changing and play a crucial role in our state's public safety and reopening strategy."
"The first shipment of N95 masks produced as part of this contract are expected to arrive in the coming days. The contract will ensure that the state has a sufficient supply of masks going forward should there be need for them in the future."
The state has already distributed 110 million looser-fitting surgical masks provided by BYD, Newsom's statement said.
Frank Girardot, a BYD company spokesman, told The Epoch Times on June 11 that "BYD has no comment" regarding the mask deal.
A May 13 statement issued by the company said earlier delays in the certification process were "related to documentation control paperwork" and that "NIOSH found no issues with the quality of the masks."