WASHINGTON—First Lady Melania Trump took a surprise trip to visit children's shelters on the border in Texas on June 21.
"She wanted to see everything for herself. … She wants to see what's real," Stephanie Grisham, the first lady's communications director, told reporters on the way down.
"She supports family reunification. She thinks that it's important that children stay with their families."
Grisham said the first lady had asked her staff to plan the trip before the president signed an executive order on June 20 to help stop family separations at the border.
Around 2,000 children were separated in the six weeks from April 19 to May 31. The remaining 10,000 children in Health and Human Services (HHS) custody entered the United States illegally as unaccompanied minors, which often means their parents paid a smuggler to bring them up and over the border.
Grisham said that while the executive order is being acted upon, some children will remain separated, but the first lady will follow any developments.
"While we're going through that process, she's going to lend her support and promote family reunification, and I'm sure she'll continue to give her husband opinions on what she's thinking along the way," Grisham said.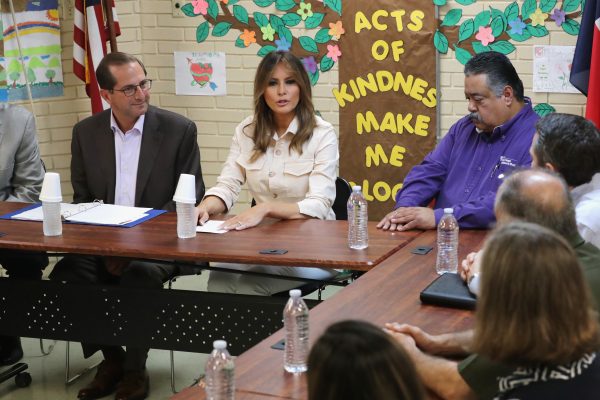 In the executive order, President Donald Trump ordered Attorney General Jeff Sessions to seek an immediate modification of the Clinton-era Flores settlement agreement, which prevents Immigration and Customs Enforcement from detaining families together for more than 20 days.
"Under the current settlement agreement, the government cannot hold illegal alien families together past 20 days, meaning a child must be separated from his or her parent if the parent remains in custody," the White House said.
Half a million illegal immigrants' families and minors from Central America have been released into the United States since 2014 as a result of catch-and-release loopholes, according to the White House.
Families that cross the border illegally will also get separated when the adult is transferred to the custody of the U.S. Marshals Service, pending prosecution for illegal entry. Any children are transferred to HHS.
Grisham said the first lady had previously seen images of children behind a chain link fence at an intake facility—where they are briefly held during processing—and "the images struck her, as a mother, as a human being."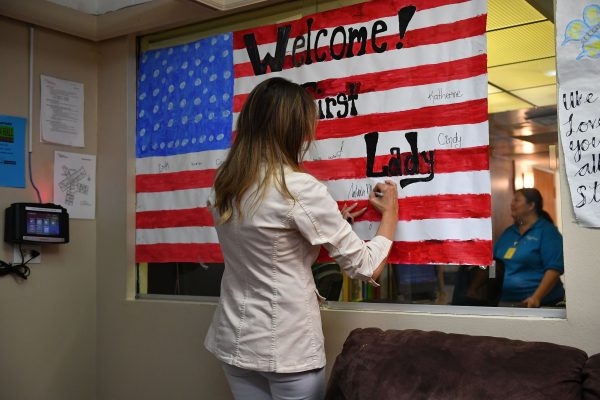 Trump spent more than an hour at the Upbring New Hope Children's Shelter in McAllen, Texas, where 55 children aged 12 to 17 are residing. Most are from Guatemala and six of the 55 were separated from their families. The other 49 are unaccompanied minors.
The first lady asked the program director at the shelter about the physical and mental states of the children when they arrive.
"Usually, when they get here, they're very distraught in the sense that they don't know where they're at," said Rogelio De La Cerda Jr, program director. "When they see the environment and they see the other kids and they see the yard, they start relaxing. The first 24 hours are crucial … making sure that we got them the basic needs, showers, clothing, food, and before we even start the assessment."
Cerda said the children get to call family members twice a week for 10 minutes.
"But first we have to ensure that the persons that they are contacting, their families, are indeed their family. So there is a process," he said.
A senior administration official said no children younger than teenagers are housed in tents or other non-permanent facilities. All have access to education, medical assistance, and recreational activities.
"They're in a safe environment, free from abuse," said Cerda. "We provide a lot of structure. We try to educate them, we try to assimilate them to what the public school environment is like.
"This is home. They refer to this as a shelter, but this is their home," he said. "You'll see the smiles on their faces. You'll hear the giggles."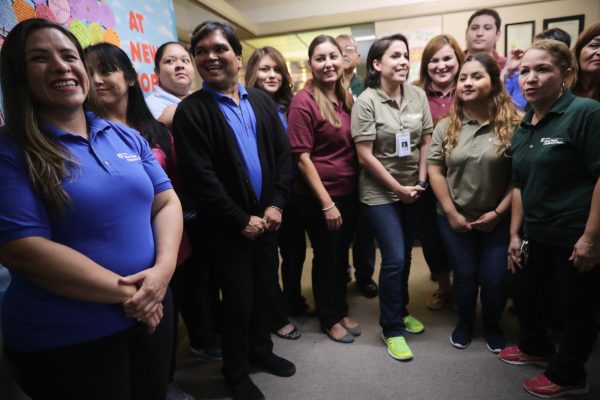 Children are in HHS custody for an average of 58 days, and the goal is to place them with a family member or relative as quickly as possible.
Around half of the children are placed with their parents, who are often already in the United States illegally. Around 40 percent are placed with another relative, and the rest go to foster care, family friends, or volunteer sponsors, according to a senior administration official.
Health and Human Services Secretary Alex Azar traveled with the first lady.