First Lady Melania Trump issued a statement on nationwide unrest gripping numerous cities in the wake of George Floyd's death in Minneapolis police custody.
"Saddened to see our country & communities being damaged & vandalized," the first lady wrote. "I ask everyone to protest in peace & focus on taking care of one another & healing our great nation."
Her comment comes following riots, vandalism, and arson in Washington and across the United States in response to Floyd's death. A video showing an officer, who was later fired, kneeling on Floyd's neck as he shouted about not being able to breathe was shared en masse on social media.
White House Press Secretary Kayleigh McEnany on Monday told reporters that President Donald Trump "has been very clear that we need law and order in this country" after she was questioned about why the president hasn't addressed the nation amid the crisis.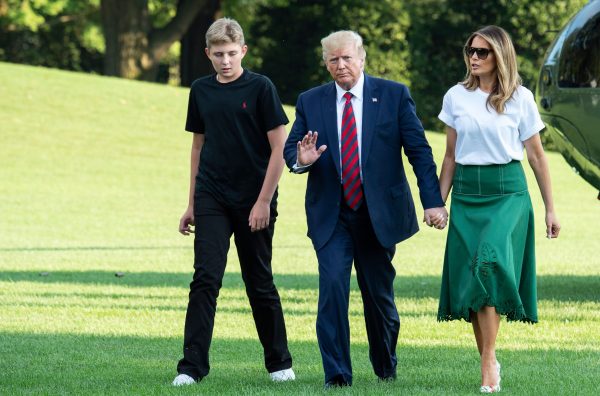 The violence "demeans the peaceful protesters who have a legitimate grievance when we see angry mob mentality take over and those horrific images of businesses burning and fires in the streets of this country," she said.
Trump said federal officials are going to declare the far-left militant group Antifa a domestic terrorist organization, saying that the group was responsible for some of the violence.
"A national Oval Office address is not going to stop Antifa," McEnany said. "What's going to stop is action. And this president is committed to acting on this," she said, while noting that Trump's focus "is acting and keeping our streets safe."
On Sunday evening, fire crews were forced to put out a fire at the historic St. John's Church, located near the White House, as protesters amassed. Local station WUSA-9 reported that images showed there was no damage to the church's sanctuary.
"We write to you with heavy, but hopeful hearts. Our community and our country are in anguish and unrest," said St. John's in a statement on Sunday. "And yet, we can see thousands of people are lifting their voices and organizations are engaging in peaceful, meaningful action to ensure the life of George Floyd and countless others are not lost in vain. We will unite as a church community to follow the path of love and to channel this anguish into concrete, productive and powerful action."