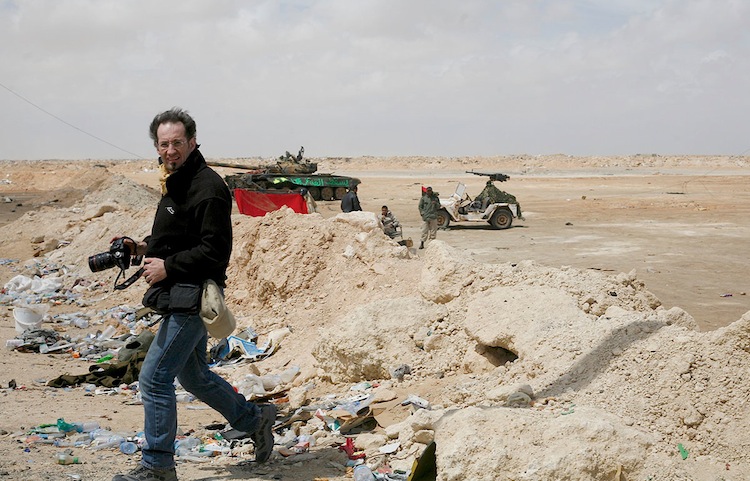 The death of photojournalist Anton Hammerl while working in Libya last year inspired the first auction of contemporary photography on May 15 at Christie's. Hammerl, a freelance South African photographer, was working in Libya when he went missing for 44 days. According to the group of journalists that is behind the auction, he was left to die in the desert while his family was repeatedly told he was alive.
Hammerl left behind three small children, spurring friends in the journalism community to organize an effort to raise money for them. The auction, which is being supported by Reporters Without Borders and has a suggested entry price of $75, will consist of numerous signed contemporary photojournalism prints.
The event has gained an extremely high-profile status. Prints from well-known photographers including Spencer Platt, Tim Hetherington, Chris Hondros, Tyler Hicks, Joao Silva, and numerous others were donated to the auction. Hetherington and Hondros were also killed while working in Libya in 2011. The International Center for Photography also donated a Robert Capa print. ABC News/CNN journalist Christiane Amanpour will be hostess for the evening.
"The upcoming Friends of Anton auction at Christie's is a milestone in contemporary photojournalism," stated New York-based collector Alan L. Paris in a press release on the event.
"As a collector of photojournalism, I am particularly excited because this is the first ever auction dedicated to contemporary photojournalism. The contributors are top notch, the photos are of the highest quality, the material is fresh to the marketplace, and it is all for a very good cause," said Paris.
Hammerl went missing on April 5, 2011, after he and the three journalists with him, Clare Gillis, James Foley, and Manu Brabocame, came under fire from Gadhafi loyalists in Libya. Gillis, Foley, and Brabocame were captured and detained for 44 days before being released.
Forty-one-year-old Anton was a former picture editor and chief photographer for The Saturday Star in Johannesburg, South Africa. The auction will raise funds to support his three children, 11-year-old Aurora, 7-year-old Neo, and 1-year-old Hiro.