A Los Angeles firefighter died Jan. 6 after fighting a blaze on the same day in Rancho Palos Verdes, California.
Jonathan Flagler, 47, had been a firefighter for 21 years.
Flagler leaves behind his wife, Jenny, and two teenage sons, according to authorities.
"Our County of Los Angeles Fire Department family is grieving the loss of one of our members," a LA County Fire Department spokesperson said in a statement.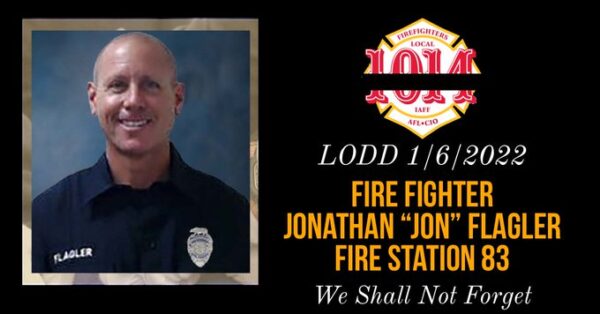 Flagler and his crew responded to a fire on Tarapaca Road in Rancho Palos Verdes at 2:00 a.m. on Thursday.
When smoke overcame Flagler, he requested assistance and was quickly rescued by his crew members, according to LA County Interim Fire Chief Anthony Marrone.
In remembrance of Flagler, LA County firefighters formed a procession of firetrucks to follow Flagler's body being transported from the hospital to the coroner's office.
"On behalf of the City Council and the entire Palos Verdes Peninsula community, we send our heartfelt condolences and prayers to the family of this fallen hero, as well as his courageous fellow firefighters at Station No. 83 in Rancho Palos Verdes," Dave Bradley, mayor of Rancho Palos Verdes, said in a statement.
California Gov. Gavin Newsom and his wife also sent condolences to Flagler's family and his colleagues.
"This devastating loss is a reminder of the dangers our heroic firefighters face every day to protect Californians. Firefighter Flagler's sacrifice and over two decades of selfless service will not be forgotten," Newsom said in a statement.
According to Newsom, flags at the state capitol in Sacramento will be flown at half-staff in honor of Flagler.
Firefighters Local 1014, a labor union representing LA firefighters, also offered condolences.
"This incident is a sobering reminder of the real dangers our members face each and every day as we fight to keep our communities safe," the union's statement read.
The cause of the fire is under investigation.
"At this point, we don't think it's criminal in nature. We think the fire was caused by some source within the structure, but that's still to be determined," said Lieutenant Charles Calderaro with the LA County Sheriff's Department.