Fire ants could be seen clumping together and floating to survive the floodwaters of Hurricane Florence in North Carolina.
The fire ants, known as red-colored stinging ants, were seen Sept. 16 trying to survive the torrents of water that inundated much of the state. They bunched together to protect the queen.
After Hurricane Harvey hit Texas, a number of people noted fire ants doing the same thing in the flooding aftermath. During Hurricane Katrina in 2005, survivors who swam through floodwaters showed up at hospitals with unknown rashes on their legs likely caused by fire ants.
Fire ants form a protective island as they float out the #Houston flood pic.twitter.com/UBORwAzA4R

— Omar Villafranca (@OmarVillafranca) August 27, 2017
WYFF reported, "The ants continuously shift positions to prevent members of the colony from drowning. The colony continues to float until reaching dry land."
Nope. pic.twitter.com/2gJEpMvjA3

— Mark Sudduth (@hurricanetrack) September 17, 2018
100,000 Ants
The WYFF report said that the floating colony could contain as many as 100,000 fire ants.
Adrian Alan Smith, a researcher at the North Carolina Museum of Natural Science, told the Charlotte Observer, "Fire ants typically float until they hit dry land, and when you have widespread flooding, they will float for days."
He added: "If no land can be found, they will float indefinitely. That's when you get reports of people bumping into them."
"How and why do the ants make these symmetrical but very different shapes? They depend on touch and smell–not sight–to perceive the world, so they can sense only what's very close to them. Contrary to popular belief, the queen doesn't issue orders to the colony; she spends her life laying eggs. Each ant controls itself, based on information gathered from its immediate vicinity," according to Scientific American.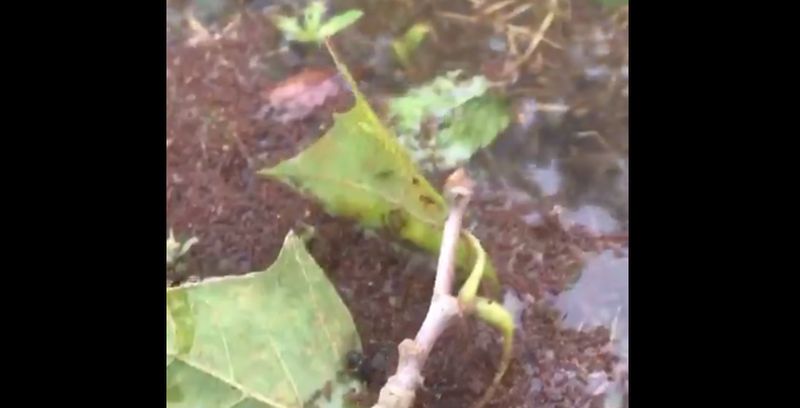 "You may come up on some unexpected critters," noted David Jenkins, an entomologist for the South Carolina Forestry Commission, told the Post and Courier. "Be aware that a lot of animals may be displaced."
The report noted that lawns that didn't have anthills prior to the floods could have them, posing a danger to people and pets.
When the floods end, the fire ants then "are the first ones there to grab all the resources" left behind, Alex Wild, an entomologist at the University of Texas, told Popular Science.
Fire ants are much worse than normal ants because they bite and don't let go before injecting venom with 46 different proteins and poisons, Popular Science noted. They also tend to swarm when their colony is attacked, similar to bees, the report added.
According to pest control Orkin's website, "Though not a native species in North America, the red imported fire ant has become a common nuisance throughout the southern United States, ranging from Florida to California and as far north as Oklahoma and Virginia." Red fire ants were accidentally transported to the United States via a cargo shipment.
Dr. Kristin Welch, chief of emergency medicine at the Charleston Veterinary Referral Center, told the paper that snakes are also swimming through Florence's floodwaters. "The snakes are definitely being displaced into people's yards, onto the sidewalks," Welch said, adding that four pets suffered snake bites since the weekend.