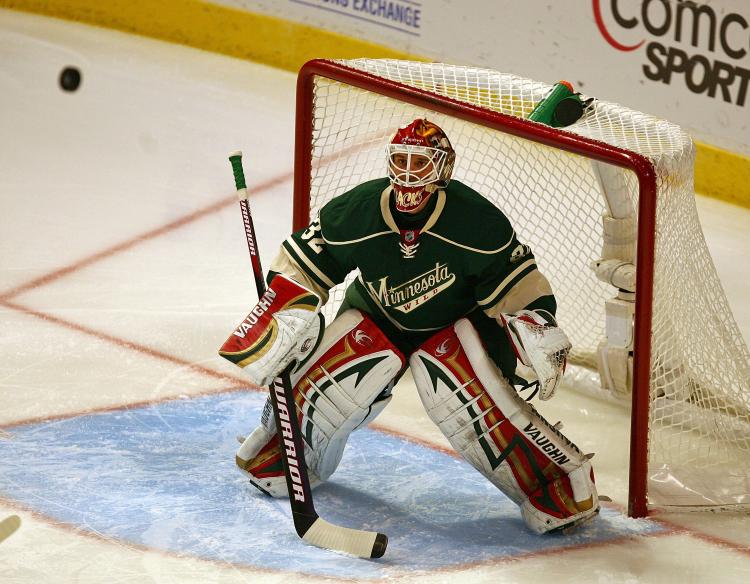 While the Canadian province of Quebec is known as an NHL goalie factory, the country of Finland has to be the European equivalent.
Hall of Famer Patrick Roy, New Jersey's Martin Brodeur, Vancouver's Roberto Luongo, and Pittsburgh's Marc-Andre Fleury all have Quebec roots but there is also a strong Finnish flavor among the NHL's goalie fraternity.
At the start of the week, Boston goalie Tuukka Rask's save percentage (.932) was second only to Buffalo goalie Ryan Miller's .937. Calgary's Miikka Kiprusoff was fifth, stopping 92.8 percent of shots faced. Tampa Bay's Antero Niittymaki was two spots behind Kiprusoff at .927, and while Nashville's Pekka Rinne and Minnesota's Niklas Backstrom aren't in the Top 10, they still sport respectable .909 and .911 save percentages.
Kiprusoff is second in the NHL in shutouts this season with three. He is a workhorse of a goalie for the Flames. Fellow Finn Antti Niemi of the Chicago Blackhawks has recorded three shutouts in eight games.
Jukka Ropponen, one of the owners of Finnish goaltending equipment and coaching company Goaliepro Oy (www.goaliepro.com), has over 27 years experience as a goalie coach and has worked in his native Finland, Switzerland, Russia, the U.S., and Canada.
He says the answer for the number of quality Finnish puck stoppers is simple.
"The Finnish ice hockey association started a very good goalie coach educational program over 20 years ago and they have been developing it through all those years," Ropponen told The Epoch Times.
"Because of this program almost all youth hockey teams have goalie coaches and most of Finnish goalies get very good basic training on fundamentals, skating etc. already at the very young age."
Ropponen says that this leads to his home country producing more quality goalies as opposed to defensemen and forwards.
He says that a good fundamental base is instilled at an early age for many goalies from Finland and goalies are taught that sometimes less means more.
"Finnish goalies have very good technique where extra movements have been eliminated which makes them quick and effective," explained Ropponen.
"Another thing is also their conditioning and off ice training which has been taken a lot further than in most other countries."
Olympic Choice
Finland lost to Sweden in the gold medal game in the 2006 Winter Olympics in Torino, Italy and would like to finish the job during the 2010 Games in Vancouver, Canada.
With the likes of Kiprusoff and Rinne to choose from, it should be an embarrassment of riches for the Finnish Olympic hockey team's selection committee.
Ropponen has a suggestion for who should start in net and his choice could be a little surprising—he's supporting Niklas Backstrom.
"For the last four years I have been training Nikke Backstrom personally when he is here in Finland during offseason," he says.
"I have Nikke usually working on the ice together with my veteran goalie, Ari Sulander from ZSC Lions, as they make a good pair and push each other to work hard."
"It is also great to see how these two good and experienced goalies always learn from each other."
Advice on the Butterfly Style
A style used by Patrick Roy and many contemporary goalies is the "butterfly style" which Canadian Web site www.cbc.com describes as the "body-contorting goaltending move [that] involves dropping and covering the bottom of the net with toes pointing outwards, and the tops of the pads meeting in the middle."
The butterfly is useful says Ropponen but youngsters shouldn't over-utilize it.
"When the game gets faster a properly executed and timed butterfly is a very effective move as goalies have to read the game, anticipate, and play the percentage game," he said.
"What I mean by that is that they have to move to the right spot before the shot is taken and then cover as much of the net as possible when the shot comes. In this process butterfly is often needed."
"Just remember that when the goalies timing or positioning is off, the butterfly move can turn against the goalie big time."
"Way too often you see easy goals scored when goalies are down too early exposing their net for shooters and also sitting in their butterfly too deep in the net."