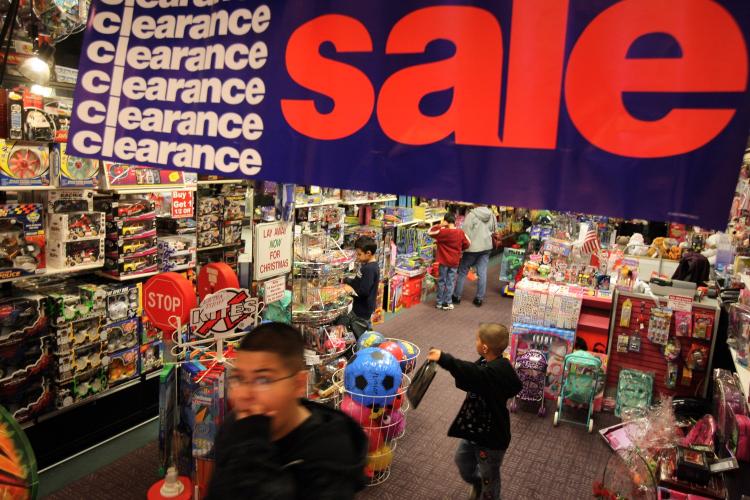 WASHINGTON—Holiday spending this winter should still grow between 0.5 and 2.2 percent, a considerable decrease from years past, according to surveys conducted by major U.S. marketing firms.
No one wants to be a scrooge, but the 2008 shopping season will be almost as sluggish as the 2002 holiday season, when spending grew only 1.3 percent over 2001, according to a National Retail Federation (NRF) press release.
High energy costs, rising food prices, and loss of jobs are curtailing shopping sprees this year. Shoppers are expected to forgo extravagances and shop for deals.
"Consumers are in a cost-conscious mood and more focused on value than ever before," said Stacy Janiak, U.S. retail leader at Deloitte & Touche, in a recent statement. "Retailers that can offer unique value propositions—in terms of price, customer service, loyalty programs, or some other means—will be best positioned to attract the consumer's attention."
Most shopping lists will include useful items, such as home repair tools, kitchen gadgets, clothing and accessories, computers, phones and other electronic gadgets. CDs, DVDs and video game sales are also expected to stay strong.
More than 80 percent of shoppers will cut back on the number of gifts and buy for less people, studies suggest. Some decided to get creative and make their gifts, such as baking cookies, making decorations, knitting socks, gloves or hats, or even give an "I Owe You" for helping with chores or car repairs.
Around 63 percent of consumers surveyed will spend less on each gift and 44 percent will buy gifts at discount stores, according to a survey conducted by Harris Interactive and published by Marketing VOX, the voice of online marketing.
"Current financial pressures and a lack of confidence in the economy will force shoppers to be very conservative with their holiday spending," said Rosalind Wells, chief economist at NRF. "We expect consumers to very frugal this season,"
Turning Internet Savvy
More than one-third of shoppers will do research on the Internet to find the best deals. Others will only shop during special sales days, and there are those who will wait until the last minute in the hope that prices would drop even further.
"When heading online to shop, consumers are increasingly web-savvy in the way they look for bargains: 85 percent of online shoppers use tools or websites to find good deals online… they use price-comparison websites, online-coupon websites, online advertisements, bargain-tracking websites and shopping-themed social networks," according to the Marketing VOX Web site.
Art Technology Group, Inc. claims that close to half of the people they surveyed would shop online for gifts this year, while 44 percent said they still expect to frequent stores.
Main reasons for shopping online were greater bargains, more choice, greater variety, and most of all "avoiding the crowds at the mall."
Consumer Confidence Nosedives
Consumer confidence has dropped in recent months as the U.S. economy is heading toward a recession. Consumers have grown increasingly more pessimistic concerning layoffs by and bankruptcies of companies.
In October, 36.6 percent of surveyed consumers anticipate expected deteriorating business conditions over the next six months. That rate is 15 percent higher than those who expressed the same sentiment a month earlier.
Online job placement ads for the financial sector remained steady (decline of 21,000 postings) during October, after a steep decline (216,000 postings) in September. Online job advertisements plummeted by 10,300 in New York, 7,700 in New Jersey, 7,900 in Illinois and 23,800 in California during October.
Unemployment rates are the highest in California and Michigan. Seven unemployed people applied for each advertised job in California while five applied for each position in Detroit, Michigan.