The last bastion held by ISIS has reportedly fallen, just a day after President Trump said the terrorist group would be taken out imminently.
According to Fox News, which had a reporter on the scene in Baghouz, Syria, the so-called ISIS caliphate has crumbled.
A reporter on the scene said troops in the town are bringing down ISIS flags, which will no longer fly there.
BREAKING NEWS: The ISIS caliphate is conquered, as the final stronghold of the empire that once ruled over 8 million is liberated, Fox News has learned.

由 Fox News 发布于 2019年3月21日周四
"A clearing operation is now underway in the town—and an announcement is expected soon," Fox reported.
The main leaders of ISIS who still survive have not yet been captured. They reportedly abandoned their men in advance.
On March 21, Kurdish forces said they were searching for ISIS fighters.
"Our force is still carrying out combing operations and searches" for hidden jihadists, SDF spokesman Mustefa Bali told AFP. "As soon as we are done, we will announce the liberation" of Baghouz, he added.

President Donald Trump on March 20 that the ISIS terrorist group will be "gone by tonight."
Holding a map in his hand, Trump said that  "we're leaving 200 people there, and 200 people in another place in Syria, closer to Israel."
"When I took it over, it was a mess," Trump declared to reporters in Washington.
Asked about eliminating ISIS in Syria, Pres Trump pulls out two maps that show ISIS sites in red on the day he was elected, and the bottom map shows only a tiny red spot for ISIS that he says will be "gone by tonight." pic.twitter.com/aqA0V9pkRv

— Mark Knoller (@markknoller) March 20, 2019
Pointing to the bottom of the map, which showed virtually no territory controlled by ISIS, "there is no red," the president added.
There is a "tiny spot which will be gone by tonight," he added. "This just came out 20 minutes ago," he said.
"That's the way it goes," he added.
Trump on Wednesday said ISIS will be "gone by tonight" and held up a pair of maps to reporters that he claimed shows the dramatic reduction of the Islamic State's presence in Syria since his election in 2016 https://t.co/u7WqOVz8gn pic.twitter.com/3YzQn6Gyv1

— POLITICO (@politico) March 20, 2019
In February, he called on European countries to take back ISIS terrorists who have been captured, saying they should be put on trial.
"The United States is asking Britain, France, Germany, and other European allies to take back over 800 ISIS fighters that we captured in Syria and put them on trial. The Caliphate is ready to fall. The alternative is not a good one in that we will be forced to release them," Trump tweeted last month.
Reuters Update
Reuters reporters overlooking Baghouz from a hill on the bank of the Euphrates at the Iraqi border said the area was calm, and the Syrian Democratic Forces (SDF) militia searched for tunnels and landmines, an SDF official said.
The SDF on Tuesday captured an encampment where the jihadists had been mounting a last defense of the tiny enclave, pushing diehard fighters onto a sliver of land at the Euphrates riverside.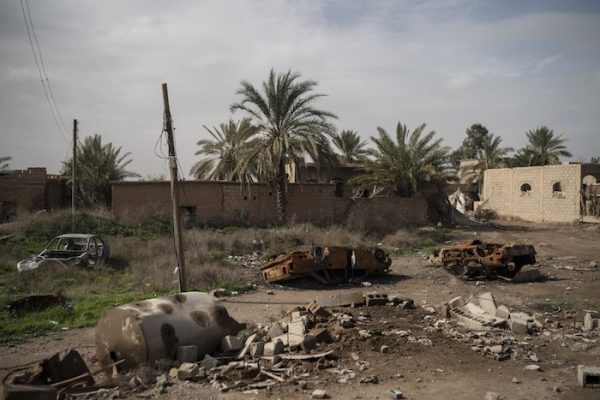 French Foreign Minister Jean-Yves Le Drain, whose country has participated in the campaign, said in Paris he expected the announcement of the "final territorial defeat" to be made in the "next few days."
There was no immediate update from the SDF on Wednesday on the fate of these remaining militants. A group of women and children were seen being evacuated from the Baghouz area.
ISIS's defeat at Baghouz would end its territorial control over the third of Syria and Iraq it held in 2014 as it sought to carve out a huge caliphate in the region.

While it would represent a significant milestone in Syria's 8-year-old war and in the battle against ISIS, the jihadist group remains a threat.
Some of the group's fighters remain holed up in the central Syrian desert and others have gone underground in Iraqi cities to wage an insurgent campaign to destabilize the government.
For the SDF, it would cap a four-year, U.S.-led military campaign in which its fighters drove ISIS from swathes of northeastern Syria, taking the city of Raqqa after a months-long battle in 2017.

Reuters contributed to this report.