Film Explores Afghanistan's First Independent Media
September 26, 2013 6:43 pm Last Updated: September 30, 2013 1:25 pm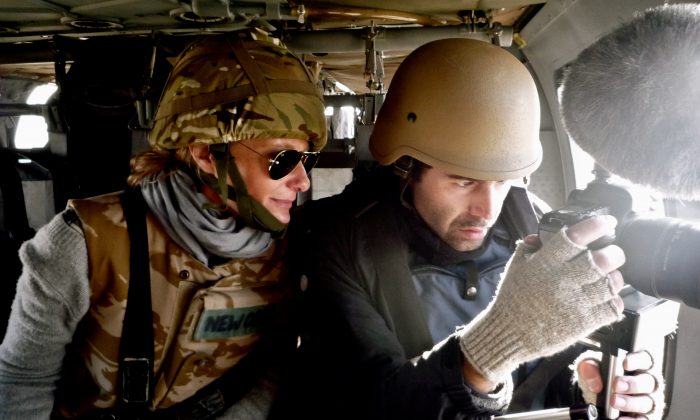 NEW YORK—For "The Network," Academy Award-winning documentary maker Eva Orner returns to Afghanistan to tell a story about the country's first and biggest independent media network: TOLO TV. 
The network was started by a family of Afghan ex-patriates who returned to the Taliban-ravaged Afghanistan in 2004. They felt hopeful about the future of their people and the restoration of their country. 
TOLO founder Saad Mohseni is referred to as the Rupert Murdoch of Afghanistan. With no background in broadcasting, he managed to set up a media business employing over 800 people and produce news, current affairs, drama, comedy, music, and lifestyle programs. 
With the foreign troops' impending withdrawal from the country, however, the people are losing hope of stability, and the future success of the network seems increasingly uncertain. 
"The Network" comes out in theaters on Sept. 27. 
Epoch Times: What inspired the idea for this film? 
Eva Orner: I've read about Saad, and I've seen him on television. I thought that it was just such an extraordinary story and such a surprisingly positive story that was coming out of Afghanistan, and that's what intrigued me. I got in touch with him and it was quite simple … Everything that was coming out of Afghanistan was very negative. The impending withdrawal [of U.S. troops] was approaching. 
Also, examining the power of media to affect social change is extraordinary. There really isn't anywhere else in the world where 12 years ago they had no media and it's this case study of what media can do in a country in a decade. I thought that was very unique and worth exploring. 
Epoch Times: Do you feel you ran the risk of overemphasizing the power of media?
Ms. Orner: In the film we look at the issues of propaganda, which was something that bothered me when I was there and I wanted to examine. People talk about whether or not it's good for the culture … it's basically this social experiment and nobody knows the answer. 
The thing with places like Afghanistan is that the more you know, the less you know. It's not clear-cut; it's not easy, and nobody knows even if that television station will be there in 10 years.
Epoch Times: What are some of the challenges you ran into?
Ms. Orner: It's hard filming in Afghanistan. It's not terribly safe there, and it's not terribly stable. Having a large crew is not a very good idea. I really wanted to shoot a lot on the streets and make Kabul a character in the film because I felt like we don't see modern-day Kabul very often in films. 
We spent a lot of time on the streets filming, and that's dangerous. Every time you pull out the camera, chances are a bunch of uniformed soldiers with guns will run up to you and ask you to stop filming. It's not like shooting anywhere else in the world.
Epoch Times: What did you learn from the people in Afghanistan?
Ms. Orner: Power of the individual, a group of small people to really change a country or a place and really make an impact. … It's a poor place, and what you're seeing in the film, that's the educated minority. 
I learned about the resilience of humanity and how tough people can be, that people need a chance, that we're lucky. We don't really understand what that is until we spend time in places like that. 
Epoch Times: Will this documentary be shown on the TOLO Network?
Ms. Orner: No. The people who work there are targets, particularly the women. There's a woman in my film, Marina—she had to leave Afghanistan. This happened six month after I left. Her husband is an activist; she was doing some pretty provocative programming, and she was getting some death threats and they left to the Netherlands. They're in a refugee camp, and so far they have their refugee application rejected and they're appealing [it].
Epoch Times: What do you hope the audiences get out of the film?
Ms. Orner: The most common comments from smart people who see the film, who don't know that much about Afghanistan, [is that] it makes them conflicted about how they feel about the place. Which is what I feel, which is what I wanted—to spark some debate. Honestly, I think we need to withdraw, our troops need to come home … but at the same time, it makes me conflicted. 
People who've seen the film say, "I've never seen Afghans like that." These are young, educated, often English-speaking Afghans, and I don't think the world has seen a lot of that. What it makes people think is, "These people need a chance and they need our support."