An American Airlines flight from Chicago's O'Hare International Airport to Toronto, Canada, was so disrupted by a fight between a couple that the pilot decided to turn around to land at Chicago so they could be removed.
American Airlines flight 3285 left Chicago at 5:06 p.m. on Nov. 28 but turned around about 15 minutes later due to a "disruptive passenger," an American representative told the Chicago Sun-Times.
The flight landed at 5:44 p.m. Police officers met the plane on the runway and removed the couple.
Dietitian and blogger Christy Brissette claimed that the male in the couple assaulted his wife but the police said no one was injured in the incident.
"He refused to get off when we landed so we all had to deplane. @Chicago_Police tell me this guy is under arrest," she said on Twitter. "The flight attendant said the woman was punched in the face. I'm appalled that this is being treated as minor," she added later.
The couple was booked on a later flight and no charges were filed, according to the Chicago Police Department. They called the disruption a "small verbal argument," reported NBC.
The original flight was severely delayed by the disruption and didn't depart again for Toronto until 9:16 p.m.
Passengers were told the delay stemmed from a crew swap, Brissette said. "It's gonna be a long night," she added. She said that the plane eventually landed in Toronto and she got home at 1:30 a.m., instead of the original schedule of getting in at 5 p.m.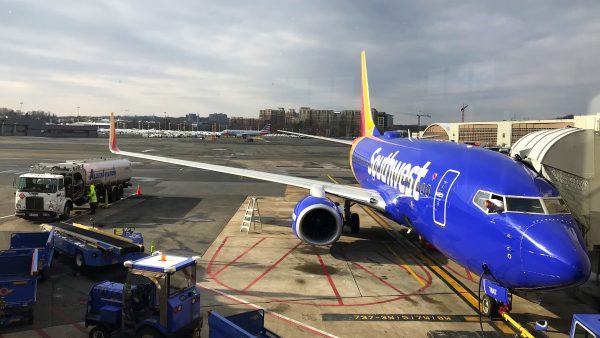 Southwest Agent Mocks 5-Year-Old
Also this week, a Southwest Airlines agent was under fire for allegedly mocking a 5-year-old girl's unique name.
Traci Redford said an agent at California's John Wayne Airport made fun of her daughter's name, which is Abcde Redford, reported KABC.
The girl's name is pronounced like "ab-city," and due to the girl's epilepsy, she and her mother always preboard the plane.
The Redfords were flying back to El Paso, Texas, when the agent laughed at the name, Traci Redford said. He also took a photo of the girl's boarding pass and posted it on social media, she said.
"While I was sitting there, she took a picture of my boarding pass and chose to post it on social media, mocking my daughter," Redford told the outlet.
"It was actually brought to my attention by somebody who had seen it on Facebook and reported it to Southwest Airlines. And after two weeks of doing a formal complaint, Southwest hadn't done anything."
Southwest Airlines issued a statement about the incident.
"We extend our sincere apology to the family. We take great pride in extending our Southwest Hospitality to all of our customers, which includes living by the Golden Rule and treating every individual with respect, in person or online," according to the statement.
Redford told KABC that she is using the experience as a lesson for the girl.
"She said 'Mom, why is she laughing at my name?' And I said not everyone is nice and not everyone is going to be nice and it's unfortunate," Redford said.
Jack Phillips contributed to this report.
From NTD News