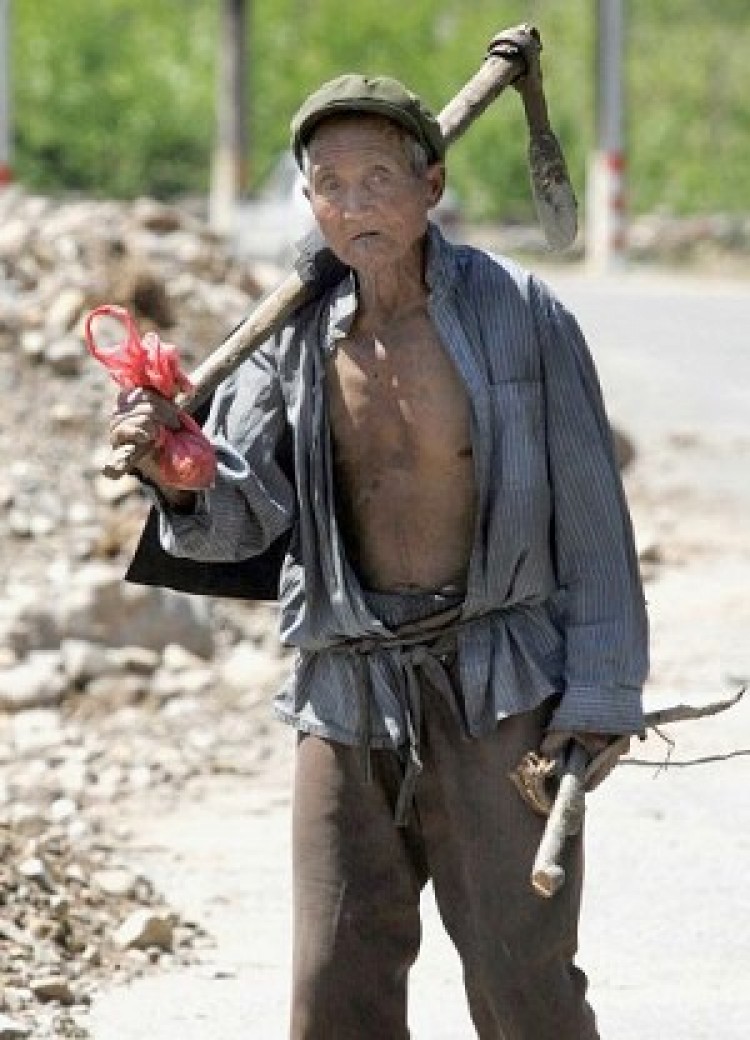 Between 40 and 50 million Chinese farmers have lost their farmland since Deng Xiaoping's economic reforms began in the late 1970s, according to a recent report from the Chinese Academy of Social Sciences (CASS). The number is increasing at a rate of three million farmers per year, and will reach 110 million around 2030.
The report, titled "China Urban Development Report of 2011" and published by the Institute for Urban and Environmental Studies of CASS, states that large areas of farmland have been and are being expropriated as China's industrialization and urbanization accelerates.
According to the directive "national land use planning" published by the Ministry of Land and Resources in October 2008, from the years 2000 to 2030, over 8.6 million acres of farmland will be expropriated and over 100 million farmers will lose their land.
The report also states that, while farmland is being lost, there is a serious trend of urban land being insufficiently utilized. According to the "national land use planning" directive, there are about 657,000 acres of unused land in China. This leads to the conclusion that the scale of land expropriation is greater than the actual need.
Regarding the farmers who lost their land, the official news website Red Net (rednet.cn) of Hunan Province reported a survey of 132 households on the issue on March 29. It stated that 97 percent of farmers are not satisfied with the compensation.
The standard compensation rate to the farmer for commercial land use is about US$20,000 to US$35,000 per acre. But this farmland is often situated in a newly developed urban area, which could fetch over 10 times its current value.
The Director of the State Council's Development Research Center, Han Jun, said that, since the start of economic reforms to 2003, the Chinese regime has taken US$312.8 billion from farmers by expropriating farmland at a low price and then reselling it at a high price.
The Red Net survey also stated that 85.6 percent of farmers do not have any kind of social security or insurance, and that only 12 percent have medical insurance. When asked what they fear the most, 15.9 percent said not having medical insurance, 27.3 percent said not having retirement insurance and 75 percent said unemployment.
The farmers who lost their land have no stable jobs and income. After losing their ownership, rights to use and derive an income from their farmland, they have no financial security.
Xu Zhiyong, a faculty member at the Beijing Post and Telecommunications University, told China Youth Daily: "the dispute arising from farmland expropriation is not a regional problem. It exists in almost every big and small city, county, and township."
According to statistics given in the CASS report, among the farmers who appeal to higher authorities for help, 60 percent of the appeals are related to the farmland, and 30 percent are related to land expropriation.
Among farmers who lost their land, 60 percent of them said that they are in a state of economic hardship, and 81 percent are worried about their future livelihoods.
According to a random sample of 2,942 farmers who lost their land, the National Bureau of Statistics of China found that there are only 2.7 percent who received employment after expropriation; 24.8 percent went out to look for work on their own; 27.3 percent have opened a small business; and 20 percent stays at home, unemployed.
Sometimes, those who have had their land taken from them have responded violently.
In May a series of explosions hit Fuzhou City, Jiangxi Province, after Qian Mingqi, 52, failed to obtain redress for land that was expropriated but for which he was never properly compensated. After a decade of unsuccessfully attempting to get proper compensation (he says his losses were up to two million yuan, or around US$300,000), he set up a Sina Weibo account documenting his final thoughts, and proceeded to make fertilizer bombs.
He said that he was left with no choice. "I wanted to take genuine action to get rid of the bad guys for the people," Qian said. He was killed in one of the blasts.
In other cases people have climbed atop their house roofs and set themselves on fire. In yet other cases people have used violence against the gangs of thugs that are hired by local officials to carry out the eviction and demolition work that is often involved in land expropriation.
Read the original Chinese article.
chinareports@epochtimes.com