Fifteen Elementary Students Down With Flu Virus, One Dead
April 4, 2006 12:00 am Last Updated: April 4, 2006 12:00 am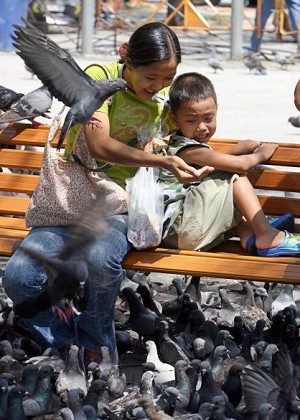 Fifteen elementary school students in Shuikou Town, Nanxiong City, Guangdong Province have contracted the type B flu. One has died, and the other 14 students are in the hospital.
According to Yang Cheng Evening News, a specialized provincial department confirmed at 10:20 p.m. on March 30 that the outbreak was caused by the type B flu virus. People suspected of having the type B virus are sent to the hospital, and their numbers are increasing. At present there are 41 suspected cases, including 39 students and two farmers. However, the information has not been confirmed because the director of Nanxiong Health Bureau was out of town and unable to make a comment.
According to the Shaoguan Municipal government, 15 students from the elementary school had symptoms of fever, headache, and coughing from March 27 to 29. The lab tests have not uncovered any apparent evidence of bird flu or SARS. After 48 hours of medical analysis, experts diagnosed the symptoms as infection of the upper respiratory tract, excluding the possibility of bird flu or SARS.
One female student suffered headaches, vomiting, and dizziness. Her whole body went into spasms. She was sent to the emergency department of a local hospital, but she died. A team of experts examined the cause of her death and found she had died from an infection of the central nervous system, which caused the collapse of her internal organs. It was a case of coincidental death. The report did not reveal the date of her death.
Flu Symptoms Spread Among Students
From March 25 to 27, nearly 300 students in one school area in Tuo County, Huhhot City, Inner Mongolia were ill. Their ages ranged from 6 to 17. Mr. Liu, the chairman of the health center in Xinyingzi Town, Tuo County said yesterday that there were 273 ill students, 197 from Xinyingzi Elementary School and 96 from Xinyingzi High School. All had symptoms of the flu.
More than 80 students have been sent to the hospital, all with similar symptoms, mainly coughing, weakness, nasal congestion, and running nose. Some of them had a fever, and some had symptoms of the digestive tract, such as feeling nauseous, vomiting, and diarrhea.
Flu Outbreak in Yunnan Province School
One hundred thirteen teachers and students, 80 percent of the population in an elementary school in Yunnan, contracted the flu within a two week period since March 7. Some parents have also been infected. They all have fever, weakness, and coughing.
Because the flu epidemic spreads fast, many people have been infected, and villagers are afraid of catching the flu. Some people stay in doors for fear of becoming infected. Some are resorting to alternative herbal medicine to protect themselves.