Fewer Americans signed up for unemployment benefits in the week ending Jan. 12, surprising economists who predicted an increase.
Initial claims for state unemployment benefits decreased 3,000 to a seasonally adjusted 213,000, the Bureau of Labor Statistics (BLS) stated on Jan. 17 (pdf). Economists polled by Reuters had forecast claims rising to 220,000.
The economy has regularly broken expectations over the past year. In December, it added 312,000 jobs, nearly double the expected 176,000, The Associated Press reported.
Job growth averaged 220,000 a month in 2018, the third best since 1999. Unemployment averaged 3.9 percent in 2018, the best since 1969, according to seasonally adjusted BLS data.
Hispanic unemployment was the lowest on record by far last year, averaging less than 4.7 percent. No previous year has come close, according to data reaching back as far as 1973. The distant second lowest was 2017 with over 5.1 percent.
Tempered Optimism
While the economy somewhat plateaued in the last quarter, Main Street remained upbeat.
The Small Business Optimism Index inched down to 104.4 in December, still hovering around historical highs, according to the National Federation of Independent Business (NFIB), which puts together the index based on surveying its members.
"Recently, we've seen two themes promoted in the public discourse: first, the economy is going to overheat and cause inflation and second, the economy is slowing and the Federal Reserve should not raise interest rates," said NFIB Chief Economist Bill Dunkelberg in a release. "However, the NFIB surveys of the small business half of the economy have shown no signs of an inflation threat, and in real terms Main Street remains very strong, setting record levels of hiring along the way."
A year ago, small businesses most commonly identified taxes as their most important problem—now it's "finding qualified labor," the NFIB survey showed.
"Optimism among small business owners continues to push record highs, but they need workers to generate more sales, provide services, and complete projects," said NFIB President and CEO Juanita Duggan.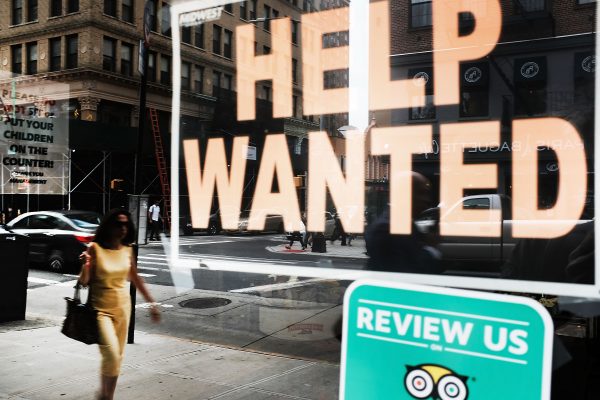 BLS data suggests there is indeed a labor shortage. There were nearly 6.3 million people considered unemployed in December, compared with nearly 6.9 million job openings the month before (the job openings data runs one month behind).
That picture is incomplete, though, because BLS doesn't count people as unemployed unless they sought work in the past four weeks. Over 5.2 million people, on average, weren't counted in 2018, but still wanted a job—many were discouraged from seeking one.
That number is down from over 5.5 million in 2017 and over 5.8 million the year before.
Shutdown
Some hit to the economy can be expected in January as a result of the partial government shutdown.
Some 800,000 government workers missed their first paycheck on Jan. 11 because of the shutdown, which started on Dec. 22 as President Donald Trump reached an impasse with congressional Democrats over his request for $5.7 billion this year to fund the building of a barrier on the border with Mexico.
About 380,000 workers have been furloughed, while the rest are working without pay. Furloughed workers will likely be counted as unemployed, thus skewing the data.
On Jan. 16, Trump signed a bill to give back pay to the federal workers. The 420,000 "essential workers" have had their back pay guaranteed all along. Only the furloughed workers would lose pay, though Congress has historically given them back pay too.
Private contractors working for the shuttered government agencies are also without pay. The Trump administration has been recalling some employees to work without pay in an effort to minimize the effects of the shutdown.
The longest government shutdown in history has delayed the release of economic data compiled by the Commerce Department's Bureau of Economic Analysis and Census Bureau, including the Housing Starts and Building Permits report, which was scheduled for release on Jan. 17.
November's construction, factory orders, and trade figures have also been delayed, as well as December retail sales and November business inventories data.
The advance fourth-quarter gross domestic report due on Jan. 30 may be delayed too.
Fed Data
The Federal Reserve said on Jan. 16 in its Beige Book report, which offers a snapshot of the economy, that eight of the U.S. central bank's 12 districts reported "modest to moderate growth" in late December and early January.
The Fed noted that while outlooks generally remained positive, "many districts reported that contacts had become less optimistic."
In a separate report on Jan. 17, the Philadelphia Fed said its business conditions index increased to a reading of 17.0 in January from 9.1 in December, which was its lowest level since August 2016. The survey's six-month business conditions index increased to 31.2 this month from 29.9 in December.
Its six-month capital expenditures index slipped to a reading of 31.6 in January from 34.5 in the prior month.
Reuters contributed to this report.