Criticized for weeks by Republican opponent Mehmet Oz over "ducking" and "dodging" forums, Pennsylvania Democratic U.S. Senate candidate John Fetterman has agreed to a televised debate next month.
The event will be held in Harrisburg, which is the capital of Pennsylvania, and coordinated by Nexstar Television on Oct. 25, exactly two weeks before the Nov. 8 general election day. The debate will be aired live throughout the state.
Fetterman continues to recover from a stroke he suffered just before the Democratic primary in May. The Pennsylvania lieutenant governor has made few public appearances since winning the Democratic nomination and has been the subject of criticism by Oz and recent editorials in the Washington Post, Pittsburgh Post-Gazette, and Philadelphia Inquirer that have questioned his health.
Last week, Fetterman agreed to debate Oz, but he did not set a date. Oz has proposed five debates, the first of which would have taken place last week. The Oct. 25 forum falls after the start of early voting. Oz has insisted that the first debate be held in September before early voting begins.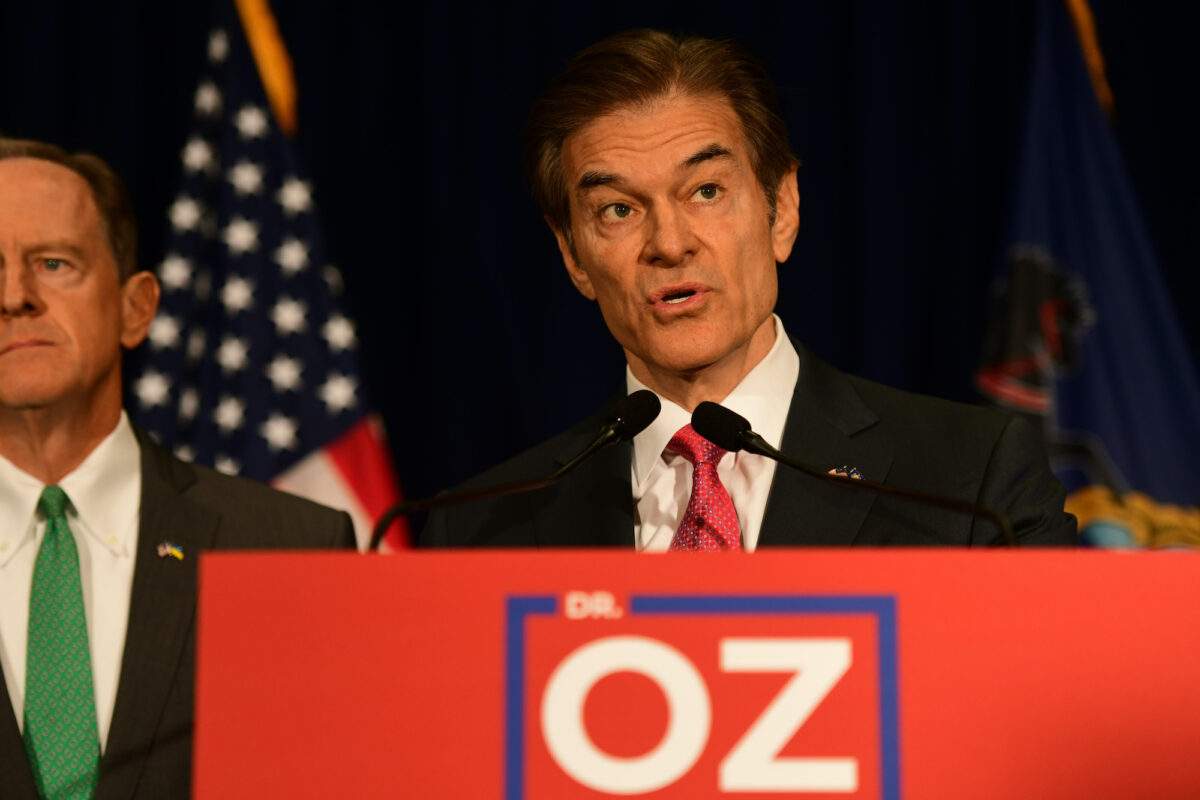 In a statement, Fetterman senior campaign adviser Rebecca Katz said, "We said from the start that we'd do a debate, which John reiterated very clearly again last week. Enough distractions, it's time to talk about the issues."
"While John will be debating Dr Oz next month, Oz doesn't have to wait that long to be honest with Pennsylvania voters about where he really stands on abortion," Katz added.
"It's a simple question, doctor: Would you vote for the Republicans' national abortion ban, or would you vote against it?"
Dressed in a Carhartt hoodie, Fetterman stood at a podium, held up a pink T-shirt emblazoned with a "Fetterwoman" logo on the front, and told the audience, "My name is John Fetterwoman!" on Sept. 11.
The speech, which took place at a "Women for Fetterman" rally in suburban Philadelphia, marked one of the few public appearances Fetterman has made since suffering a stroke before the Democratic primary in  May.
"Women are the reason we can win! Women are the reason we win!" Fetterman added.
Fetterman frequently mentioned women throughout his address, emphasized his campaign pledge to support legislation that would legalize abortion nationwide and criticized Mehmet Oz for comments he made at a campaign stop before the Republican primary.
"If life starts at conception, why do you care what age the heart starts beating at?" Oz said regarding heartbeat bills banning abortion at six weeks.
"It's, you know, it's still murder, if you were to terminate a child, whether their heart's beating or not."
Fetterman asked the audience, "Should the right to abortion "be made up to Dr Oz? Or to a woman and a real doctor, to choose?"
"Oz believes abortion is murder. He said that, he said that. No exceptions, rape or incest," Fetterman added. "If every abortion is a murder, that means Dr Oz considers every woman who had to choose an abortion is a killer. Think about that."
Last week, Oz told Politico that he is "pro-life" and believes in exceptions for rape, incest, and if the mother's life is at risk.
At a rally last weekend in Bucks County, north of Philadelphia, Oz continued to admonish Fetterman for not agreeing to a specific day, time, and location for a debate.
"John Fetterman has been ducking, dodging these debates, which is insulting to the voters of Pennsylvania," Oz said.
"He has to own the reasons for his desire to avoid a debate with me. Either he's healthy, which he says he is, and doesn't want to answer for his radical positions in past statements, or he's lying about his health."
"Either way, the voters of Pennsylvania deserve an answer, and I think they deserve that answer pretty quickly, since the absentee ballots will be mailed out in the next two to three weeks," Oz added.
Editorials in the Washington Post, Pittsburgh-Post Gazette, and Philadelphia Inquirer over the last week have questioned Fetterman's wellness.
The Post-Gazette editorial board wrote, "If Mr Fetterman is not well enough to debate his opponent, that raises serious concerns about his ability to serve as a United States senator."
The Washington Post editorial board published an Op-Ed earlier this week calling for Fetterman to release his full medical records and agree to debate Oz before early voting begins this month in a race that could impact which party controls the Senate in January 2023.
On Sept. 13, an opinion column published in the Inquirer said, "With the start of the campaign season, Fetterman has been forced—recovered or not—to return to the trail. His speeches reveal that while he may make a full recovery in time, he certainly has not yet done so.
"Now that mail-in voting is widespread in Pennsylvania, each day that passes without a detailed disclosure about how Fetterman was affected by the stroke is one in which Pennsylvanians will make a choice without having as much information as they should about the Democratic nominee's health."
Oz and Fetterman are vying to replace retiring Republican Sen. Pat Toomey, who joined Oz at a Sept. 6 press conference in Philadelphia.
"This campaign has one candidate, Dr Oz, who wants to engage in a robust debate of the differences, and another candidate who sits at home and does social media all day. He attends few public events and answers no questions from the press," Toomey said.
"As someone who served in the United States Senate for almost 12 years now, I have a really good understanding of how the place works," Toomey added.
"If John Fetterman were elected to the Senate, and he's not able to communicate, if he's not able to engage with the press, if he's not able to engage with his colleagues, he would not be able to do the job. It's just not possible."
In a tweet from February, Fetterman said that debates are "an important part" of the Democratic Senate primary.
"We believe voters deserve no fewer than three network televised debates—including all candidates who make the ballot—before major media markets across Pa. [Pennsyvania]," Fetterman said, a few months before the stroke.