A reporter for the Hong Kong edition of The Epoch Times says she was recently stalked in the street by an unidentified man.
Local reporter Sarah Liang went to a pro-democracy store to do an interview on the afternoon of April 26. When she stepped out from MTR Prince Edward station, she found a middle-aged man following her, wearing a hat and headsets.
Liang purposefully circled the neighborhood a few times to throw him off.
"He seemed to know where my destination was," Liang said, "because he directly entered that store I was scheduled to visit when he couldn't see me."
Liang confronted the man and questioned him while recording with her cellphone, saying, "Why are you following me?"
The man walked off, denying the accusation, saying, "I don't know you."
"Then why have you followed me here all the way from Prince Edward Station if you don't know me?" Liang asked. "Are you a reporter from Ta Kung Pao?"
Ta Kung Pao is a veteran pro-Beijing newspaper, affiliated with the Liaison Office of the Central People's Government in Hong Kong.
After this, the man suddenly began to sprint. Liang tried to chase him, shouting her question again. The man quickly ran away.
Liang thought the man must have felt awkward about what he was doing. "If I had really wronged him, he could have clarified his innocence. Why did he run away?" she said.
She said, "Ta Kung Pao is the mouthpiece of the CCP," adding that the newspaper had run an article calling on the Hong Kong government to ban Apple Daily on April 20.
Pro-Beijing media and government officials in Hong Kong have set their sights on shutting down local independent newspaper Apple Daily—one of the city's few remaining free media outlets.
Apple Daily was founded by Hong Kong media tycoon Jimmy Lai, who on April 16 was sentenced to 14 months in prison for participating in Hong Kong's anti-Beijing, pro-democracy protests in 2019.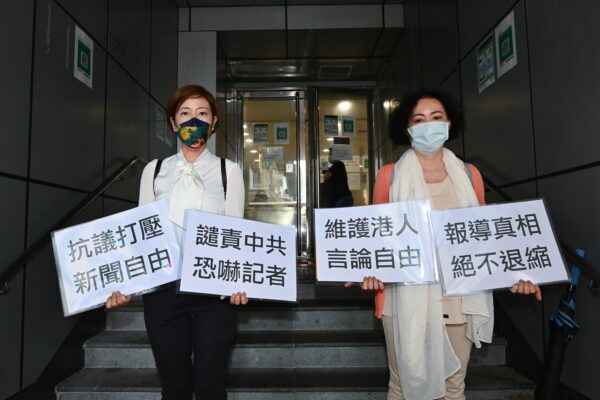 It wasn't the first time The Epoch Times reporter has been tracked.
Two days earlier on April 24, a self-described delivery man entered Liang's apartment building after registering his name as "Liao" at the entrance.
The man went upstairs and knocked on the door of Liang's home, claiming that a foreign friend surnamed Cheng had entrusted him to deliver a big parcel that was downstairs.
Liang replied that she had no such a friend.
The man asked, "Aren't you Sarah Liang?"
Liang continued to ask him who he was, what was his friend Cheng's phone number, and what the parcel was.
The man kept stumbling and couldn't explain himself.
"Are you a CCP spy?" Liang asked. The man didn't answer directly and just said he had registered his name downstairs.
When he turned away, Liang came out and took a photo of him. She didn't find any parcel.
Liang was convinced the man just came to confirm her address.
"I feel the CCP is intimidating me, saying, 'You're on the radar screen.' They managed to find my address. This is extremely evil. We did nothing wrong. We're just dedicated to covering the truth," Liang said.
She also mentioned incidents targeting The Epoch Times in Hong Kong.
On Nov. 19, 2019, four masked arsonists entered a print shop belonging to The Epoch Times in Tsuen Wan, Hong Kong, and set a fire that damaged printing equipment.
In the early hours of April 12, this year, four intruders again barged into the printing press and used sledgehammers to damage computers and printing equipment, then stole a computer as they fled.
Cheryl Ng, a spokeswoman for the Hong Kong edition, said the tactic was characteristic of the CCP and had the aim of silencing an independent outlet reporting on topics that don't fit the communist regime's narrative.
On April 27, Liang went to the Mong Kok Police Station and reported the tracking incident and requested an investigation to ensure the security of her family.
At the same time, she strongly condemned the CCP's suppression of press freedom and intimidation of reporters in Hong Kong. She said she would continue to defend the city's freedom of speech and would never back down from covering the truth as a journalist.
Zhang Xiaohui and Alex Wu contributed to this report.