In an annual spree to spend money during the last month of the fiscal year, the federal government spent millions on lobster tails, steak, alcohol, golf carts, and pianos in September 2018, according to a report (pdf) by OpenTheBooks.com.
Government agencies scramble to spend taxpayer money every September, lest Congress appropriate fewer funds the following year. In September 2018, agencies spent $97 billion, an increase of 16 percent compared to the spending spree in fiscal year 2017, and a 39 percent increase from the same time in 2015.
The spending ballooned in the final week of the fiscal year, totaling $53 billion, more than the entire month of August. The government spent more than $10 billion per day on Sept. 27 and 28. Agencies spent 10 percent of all annual contract funds during the final week.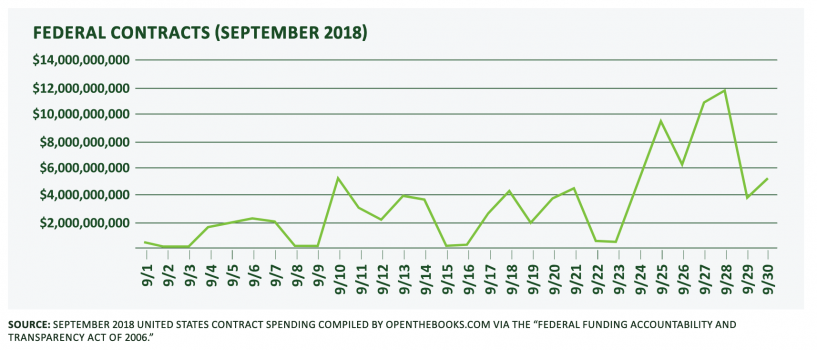 The Department of Defense spent $4.6 million on shellfish in September, including $2.3 million for snow crab, Alaskan king crab, and crab legs and claw, and $2.3 million for lobster tail. Lobster tails cost anywhere from $20 to $30 per pound.
"This kind of waste has to stop. It's an insult to taxpayers," Sen. Rand Paul (R-Ky.) wrote on Facebook.
Lobster and crab were not the only luxury foods the government spent taxpayer money on. Agencies splurged $293,245 on steak, including ribeye, top sirloin, and flank steaks, and spent $308,994 on alcohol, according to the report.
Agencies also splurged $53,004 on china tableware, $673,471 on golf carts, and $1.7 million musical equipment including pianos, tubas, and trombones. Taxpayers also shouldered $7.7 million for iPhones and iPads and $9.8 million on workout and recreation equipment.
The largest portion of the spending spree, more than $25 billion, went to contractors in the Washington area. Texas and California ranked second and third with almost $9 billion and more than $7 billion respectively.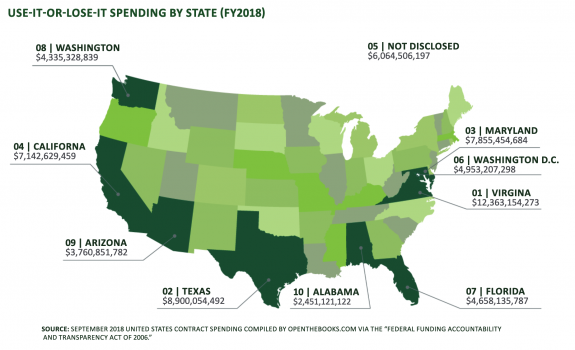 "As the national debt surpasses $22 trillion, it's time to end Washington's use-it-or-lose-it spending culture," the report concluded. "Ending this wasteful phenomenon would go a long way toward generating big savings and winning the public's trust."
In total, the government spent $544 billion on contracts in fiscal year 2018, part of the $4.1 trillion total budget. The federal budget is expected to swell to $4.75 trillion in fiscal year 2020.
The report highlights the issue of rising government spending, which is the biggest domestic threat to national security, according to Director of National Security Dan Coats.
"I'm concerned that our increasing fractious political process, particularly with respect to federal spending, is threatening our ability to properly defend our nation both in the short term and especially in the long term," Coats said on Feb. 13.
The leading Democratic candidates for the 2020 presidential race embrace policy proposals which could quadruple government spending. The so-called "Green New Deal" proposal alone would cost up to $93 trillion in 10 years, far surpassing the total projected government spending for the next decade.
The runner-up in the 2016 Democratic primary, socialist Sen. Bernie Sanders (I-Vt.), is running for the 2020 nomination on a platform which includes the Green New Deal, government-run universal health care, free public college tuition, and a federal $15 minimum wage, among other proposals.