Federer Will Be Back
September 6, 2013 6:15 am Last Updated: September 5, 2013 9:49 pm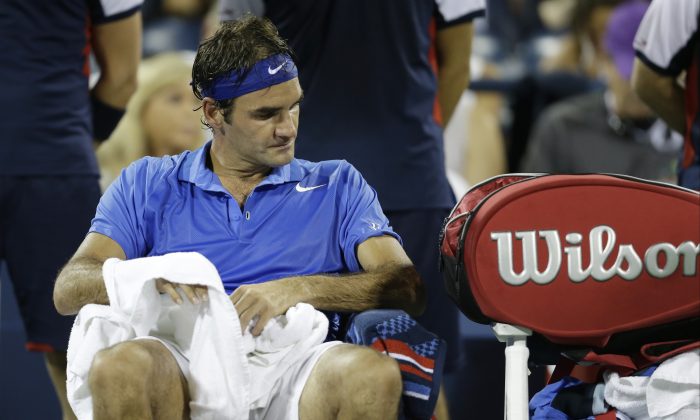 The popular tennis story, now several years running, is to look for record-setting 17-time grand slam champion Roger Federer to slip up and write about how this now signals the end of his magnificent career.
Right now there is more on-court evidence than ever that the 32-year-old will never be the same, never regain his No. 1 ranking, or win another major.
Monday night's fourth-round straight sets loss to 19th-seeded Tommy Robredo in the U.S. Open sped up his exit from the top of the tennis world in the eyes of, well nearly everyone. Remember this is from a guy who made the quarterfinals of a grand slam a record 36 straight times—a streak that was finally snapped earlier this year at Wimbledon.
And when you combine Monday's loss with the aforementioned second-round exit from the All-England Club earlier this summer and the fact that he didn't reach a major final this year for the first time since 2002, there seems little chance he'll ever be the same.
This just in though: Federer is not done. He probably won't regain the No. 1 ranking as there are too many great players squeezed into this one era, but he will win another major.
Now, that may seem like a silly claim but there are some important things to consider.
First, Federer has had to deal with a back injury.
He eluded to this and the effect it had on his game in mid-August at the Western and Southern Open in Cincinnati according to asapsports.com, "I was playing hurt as well, which was not very smart at times. I got used to doing the wrong things because I'm protecting myself. Then when you're fine again you're still playing like you're protecting something but actually you don't have to anymore. So it's difficult sometimes to let go."
Now granted, Rafael Nadal missed a big part of last year and into this year with a torn patella tendon and he has come back with a vengeance—save for his first round loss at Wimbledon.
The difference is that Nadal took time off while Federer has attempted to play through his pain. Of course, you can't play through a torn patella tendon, but having to adjust the way you play, due to injury, is certainly going to have a negative effect on your performance.
Secondly, though Federer wasn't himself Monday, it didn't look like it was simple old-age related problems, if you can detect such a thing. Federer didn't look like he had lost a step, his serve didn't look any slower, but he missed so many normally makeable shots in so many critical situations (2 for 16 in break opportunities) that it looked like he had fallen behind in his practice.
Think of Michael Jordan in 1995 after he made his comeback, but wasn't quite the same down the stretch for Chicago in the playoffs and needed a summer to refine his touch, before winning three more titles.
Jordan, by the way, was the same age (32) as Federer is now when he came back. Incidentally, it is also the same age at which Andre Agassi won his final major, the French Open.
Lastly, Federer's biggest strength wasn't his 32-year-old frame.
His serve has never been as strong as Pete Sampras's, his forehand never compared with Nadal's, and his return of serve was never as great as Agassi's. His biggest asset was something that doesn't age: mental toughness. Federer never beat himself, which would explain his record for most consecutive quarterfinal (36,) semifinal (23,) and finals (10,) appearances in Grand Slam history.
Federer will be back.