An angry U.S. District Judge Amit Mehta on Sept. 7 refused to allow Oath Keepers founder Elmer Stewart Rhodes III to fire his defense attorneys and bring in new counsel three weeks before the start of his Jan. 6 seditious-conspiracy trial.
Mehta said no new attorney coming in this late could be ready for trial in the requested 90 days.
Based on the court's own crowded calendar, a delay would mean Rhodes and four co-defendants in the case could not be tried until sometime in the summer of 2023.
"I have not had a whiff of any dissension, difficulty, conflict, what have you—between Mr Rhodes and his lawyers until yesterday," Mehta said.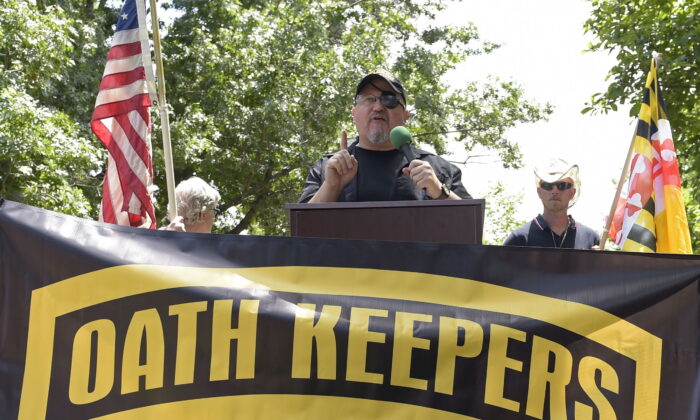 "The idea that all of a sudden three weeks before trial there is a complete breakdown of communication and disrepair of the lawyer-client relationship is just not consistent with this record. Frankly, it's not consistent with what I've just been told."
Rhodes, three other Oath Keepers and one associate are set for trial on Sept. 26 on charges they allegedly conspired to disrupt the counting of Electoral College votes on Jan. 6 and sought to prevent the peaceful transition of presidential power, by force if necessary.
A trial delay and substitution of lawyers would create upheaval with many ripple effects, Mehta said, including the jury-selection process that begins Sept. 13 when 150 candidates report to the courthouse to fill out questionnaires.
If Rhodes wants to bring new attorney Edward Tarpley Jr. into the case, "we can make room," Mehta said. "We've got enough tables. Come on, it's a big group.
Won't Allow 'Havoc'
"Let me tell you something. The notion that you are going to create the kind of havoc—havoc is the only appropriate word I can think of— by moving Mr Rhodes' trial … not going to happen," Mehta said.
Mehta took umbrage at many things contained in the emergency motion to substitute counsel that Tarpley filed on Sept. 6.
He spent 15 minutes at the outset of the emergency hearing correcting the record from assertions and arguments in the 20-page motion.
"I want to at the outset make this record completely clear that I think there are a number of incorrect and frankly bewildering statements that are made in the motion," Mehta said. "I want there to be no misunderstanding or misimpression of what the real facts are."
Rhodes is being given accommodations that no other Jan. 6 defendant receives, Mehta said, including being brought twice a week from the jail in Alexandria, Va., to the federal courthouse in the District of Columbia to get computer access to view evidence in his case.
In the motion, Rhodes said a breakdown in communication with Dallas-based attorneys Phillip Linder and James Lee Bright was a major factor in his desire for a new lawyer.
He said Linder and Bright missed key court deadlines and failed to file necessary motions and subpoenas. His last phone call with them was on Aug. 10, he said.
Bright hotly contested one of the assertions in the motion that he and Linder promised to depose a witness in the case, Col. John Siemens, chair of the Patriots Legal Defense Fund who is now under nursing care after heart attacks.
"It's an outright lie that we promised to do a deposition of John Siemens," Bright said. "That's an outright mis-characterization and lie."
At the end of the hearing, Bright apologized to Rhodes for accusing him of lying.
For much of his time speaking at the hearing, though, a frustrated Bright sounded more like a prosecutor, disputing Rhodes' assertions and characterizations of the defense trial plans.
Epps a 'Red Herring'
Despite claims in the emergency motion that the defense needs information about former Arizona Oath Keepers leader and Jan. 6 provocateur Ray Epps, Bright said there was no plan to bring Epps up in Rhodes' defense.
"I have no intentions of talking about Ray Epps in this case," Bright said. He described Epps as a "red herring."
"It's a wormhole that as a defense attorney I have no intention of going down," Bright said. "I'm not going to do that."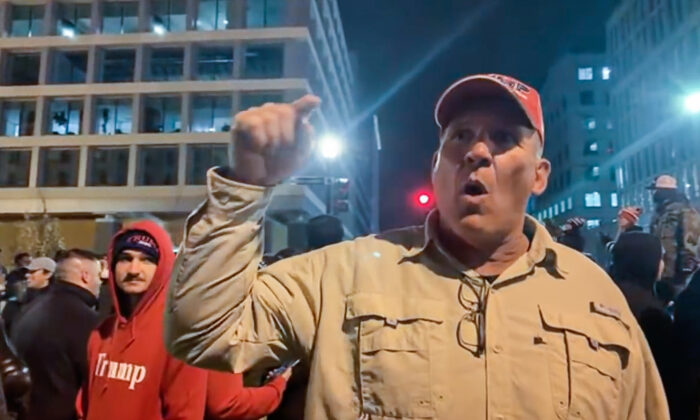 Once Mehta made it clear he would not allow substitution of counsel or a trial delay, Bright said he did not want to sit at a defense table with Tarpley. Rhodes told the judge he did not want Bright sitting at the defense table.
Mehta said he has gone to great lengths to give all defense counsel the opportunity to make appropriate challenges in the case.
"I'm not at all suggesting Mr Tarpley that you may not be someone who could assist Mr Rhodes," Mehta said, "but the idea that you having had 42 to 72 hours with Mr Rhodes, to characterize these proceedings, dare I say is a little problematic."
He said concerns expressed in the motion about the Sept. 1 arrest of Oath Keepers attorney Kellye SoRelle have not been put before him in a motion.
Linder said SoRelle indicated she would testify for the Oath Keepers' defense, as did Michael Greene, a friend of Rhodes who served as operations manager for the Oath Keepers on Jan. 6.
Greene was indicted on June 24 on five counts related to violence at the U.S. Capitol.
"Ms SoRelle is a key witness in that she is attorney for the Oath Keepers and there's advice-of-counsel defense issues," Linder said. "That's a huge shift in the trial strategy of this case."
Mehta said if there are outstanding issues to be heard or motions needing consideration, Rhodes should bring them forward as filings.
It's not clear if Rhodes' defense team will include Bright or Tarpley, but it appears certain that Linder will continue on the case.