A federal judge declined to halt Oregon's COVID-19 vaccine mandates on Monday, greenlighting the mandates to kick in for health care workers, school employees, and some state workers.
U.S. District Judge Michael Simon denied a motion for a temporary restraining order, becoming the first federal judge's ruling in Oregon following at least three similar state court decisions, the Oregonian/OregonLive reported.
"All of these Plaintiffs fail to show a likelihood of imminent irreparable injury," Simon, a Barack Obama appointee, wrote in his decision. "Their fear of future harm is too speculative to support a claim for imminent irreparable injury."
The plaintiffs are 42 individuals including healthcare workers, school employees and a volunteer, and a state agency employee.
Plaintiffs filed a motion on Oct. 12 to stop the enforcement of the vaccine mandate, claiming they are facing imminent irreparable harm because their constitutional rights are being violated, and they would lose employment.
"Plaintiffs allege the temporary harm to their jobs, income, and benefits. They do not allege discrimination, psychological or emotional harm, or other extraordinary circumstances. Most do not allege any circumstances other than that they face the risk of losing their jobs," Simon wrote. "These, however, are the types of concerns the Supreme Court states are 'routine.' They are compensable by money damages."
On Aug. 13, Governor Kate Brown issued Executive Order 21-29, requiring state executive-branch employees to be fully vaccinated against COVID-19 by the later of Oct. 18, 2021, or six weeks after the date that the Food and Drug Administration (FDA) approves a COVID-19 vaccine.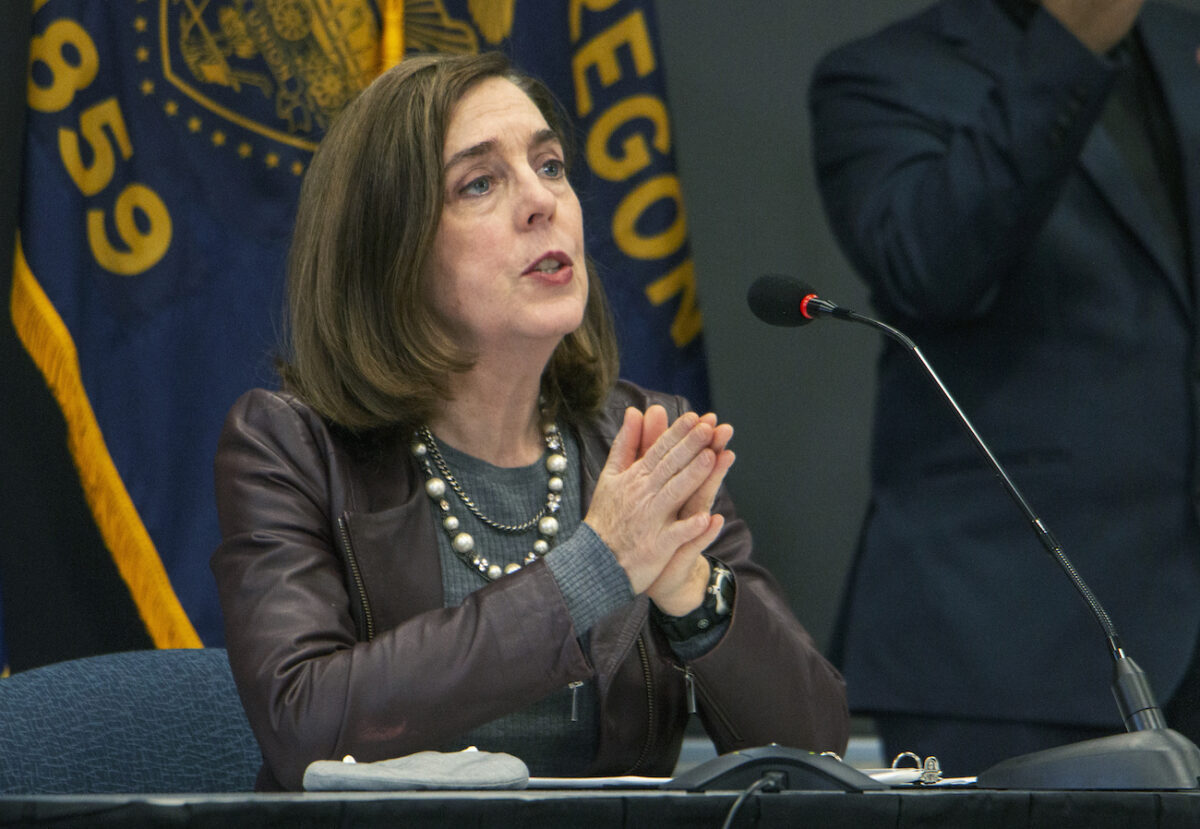 On Aug. 25, the Oregon Health Authority adopted an education order and a health care order, requiring school and health care workers to be vaccinated by Oct. 18.
Simon also said the court does not find that plaintiffs are likely to succeed in their constitutional claims.
"The decision to require vaccination among state executive agency employees, and critical populations such as healthcare workers and providers and education workers and volunteers, is a rational way to further the state's interest in protecting health and safety during the COVID-19 pandemic," Simon wrote.
Plaintiffs are not likely to succeed in showing that the mandates "shock the conscience" and thus violate the plaintiffs' rights under the due process clause of the Fourteenth Amendment, Simon pointed out.
Plaintiffs' attorney Stephen Joncus argued in the motion that the vaccine mandates violate plaintiffs' due process rights because they force plaintiffs to take "experimental" vaccines without plaintiffs' consent. Joncus said the FDA-approved Comirnaty vaccine is not available yet.
"Plaintiffs have shown no scientific, biological, or formulaic difference between the actual drug in the vial of the Pfizer-BioNTech Vaccine and the one in the vial of the Comirnaty vaccine. They have the same formulation and are interchangeable," the ruling reads.
Simon said the plaintiffs remain free to choose whether to get the vaccine. They can either get a vaccine, apply for a religious or medical exception, or find a job elsewhere.
"This simply is nowhere near the same as Nazi doctors performing experiments on victims held against their will in concentration camps, as was the subject of a portion of the Nuremberg Trials," Simon wrote in his ruling.
Joncus told The Epoch Times via email that he disagrees with the court's opinion. "At this point, plaintiffs are evaluating their options in the case."
Recently, many lawsuits have been brought across the nation to stop the federal and local vaccine mandates.
In August, Supreme Court Justice Amy Coney Barrett declined to block Indiana University's COVID-19 vaccine mandate.
On Oct. 1, Supreme Court Justice Sonia Sotomayor also denied an emergency request without explanation to block New York City's school COVID-19 vaccine mandate.
On Oct. 12, a federal judge ruled in favor of 17 New York state healthcare workers who objected to getting a COVID-19 vaccine due to religious reasons, saying state officials failed to adequately explain why workers were denied religious exemptions to a vaccine mandate imposed in August.