A federal judge on May 24, temporarily blocked a Mississippi law that would ban most abortions once a fetal heartbeat is detected, at about six weeks of pregnancy.
U.S. District Judge Carlton Reeves' order stops the law from taking effect July 1.
Mississippi Governor Phil Bryant, a Republican, signed the "heartbeat bill" into law in March.

Bryant expressed disappointment in Reeves's decision.
"I'm disappointed in the court's ruling. As Governor I've pledged to do all I can to protect life. Time and time again the Legislature and I have done just that. I will encourage the Attorney General to seek immediate review of the preliminary injunction," Bryant said in a statement.
#BREAKING Statement from @PhilBryantMS on U.S. District Judge Carlton Reeves granting a preliminary injunction against Mississippi's 6-week abortion ban he signed into law. @WJTV pic.twitter.com/1X5A9bDpqw

— WJTV Gerald Harris (@GeraldHarrisTV) May 24, 2019
Reeves is the same judge who struck down a 2018 Mississippi law to ban abortion at 15 weeks.
Mississippi is one of several states, including Georgia and Alabama, where Republican-controlled legislatures have enacted strong pro-life measures this year in a direct challenge to the Supreme Court's 1973 Roe v. Wade decision (pdf) that legalized abortion nationwide.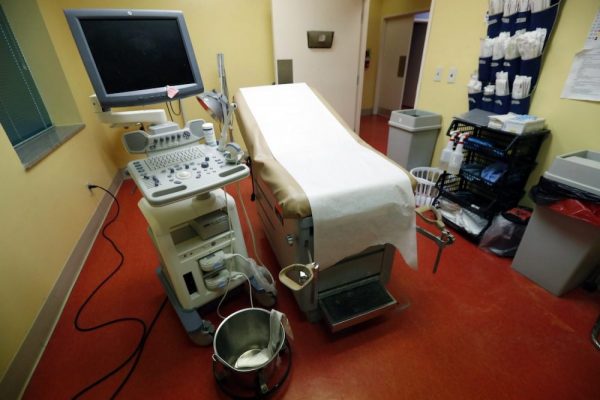 Bryant signed the bill, Senate Bill 2116 (pdf), into law with a host of supporters gathered around him on March 21. "This is a very important day in the history of Mississippi," Lt. Gov. Reeves told reporters after the bill's passage. "There was a lot of pressure from a lot of groups from primarily outside our state on these members of the legislature, but every one of them stood strong."
@PhilBryantMS signing the fetal heartbeat bill. pic.twitter.com/5c3BikOX5N

— WJTV Gerald Harris (@GeraldHarrisTV) March 21, 2019
He said the goal is to make "Mississippi the safest place in America for an unborn child."
Unlike some "heartbeat" bills, the law does not include exceptions for pregnancies caused by rape or incest.
But it does contain exceptions if a doctor says continuing a pregnancy would endanger a woman's life or one of her major bodily functions.
"No person shall knowingly perform an abortion on a pregnant woman with the specific intent of causing or abetting the termination of the life of the unborn human individual that the pregnant woman is carrying and whose fetal heartbeat has been detected," lawmakers wrote in the legislation.
Lt. Governor @tatereeves speaks on the passage of SB 2116, thanking members of the House and Senate for making sure it got passed. #msleg pic.twitter.com/GP88NJLNWS

— Yall Politics (@MSyallpolitics) March 21, 2019
"Any person who performs a medical procedure [after the heartbeat is detected] … shall declare in writing, under penalty of perjury, that the medical procedure was necessary, to the best of that person's reasonable medical judgment, to prevent the death of the pregnant woman or to prevent a serious risk of the substantial and irreversible impairment of a major bodily function of the pregnant woman," the bill stated.
Any physician who would have violated this law would face license revocation or disciplinary action.
Background on Roe v. Wade
The Roe v. Wade ruling in 1973 legalized abortion nationwide by prohibiting states from banning abortions prior to when the fetus is deemed "viable"—that is, potentially able to live outside its mother's womb.
In Roe v. Wade, the U.S. Supreme Court said that if unborn children are persons, then they have the right to life. The decision concluded that unborn children are not persons, and acknowledged that the case to prohibit states from banning abortions would "collapse" if "the fetus is a person," because then its "right to life would then be guaranteed" by the Constitution.
Norma McCorvey, the real name of "Jane Roe" from Roe v. Wade:

1. Lied about being raped
2. Said she was used by lawyers who simply wanted to change abortion laws
3. Sought, in 2004, to have Roe v wade overturned
4. Called her involvement in Roe the biggest mistake of her life pic.twitter.com/rGmMx2TgaE

— Adrian Norman (@AdrianNormanDC) May 16, 2019
NTD reporter Zachary Stieber, The Associated Press, and Reuters contributed to this report.