Treasury Secretary Steven Mnuchin said that a Trump-backed measure would let the Federal Reserve use a crisis-era liquidity tool to provide help more directly to businesses suffering from the coronavirus outbreak.
A similar tool was last used during the 2007-2009 financial crisis to improve liquidity in a key short-term funding market, helping to avert a dangerous liquidity crunch.
"We heard loud and clear there were liquidity issues," Mnuchin said at a Tuesday briefing of the coronavirus task force.
Mnuchin said the Fed launched a special purpose vehicle (SPV) on Tuesday in the form of the Commercial Paper Funding Facility (CPFF), which will be able to buy commercial paper.
Set up in coordination with the Treasury, which will provide $10 billion of credit production through its Exchange Stabilization Fund, the CPFF will have the power to buy unsecured and asset-backed commercial paper from eligible companies as long as the paper is rated A1/P1.
"This is very significant," Mnuchin said, adding, "I don't think we'll need to use it all, but we'll have the ability to have the Fed purchase up to $1 trillion dollars of commercial paper, as needed."
Crucially, amid a black swan like the coronavirus pandemic, businesses across a broad range of industries—not just banks—will be able to tap into the liquidity the emergency tool supplies.
"That is a $1 trillion market and is critical to American workers, it's critical to American businesses, and it's critical to American savers who have a lot of that money in money market funds," Mnuchin said.
"That has already created significant stability in the market today," he added.
The blue-chip Dow was up by over 4.5 percent at 14:28 ET on Tuesday, after suffering its worst day since the 1987 market crash.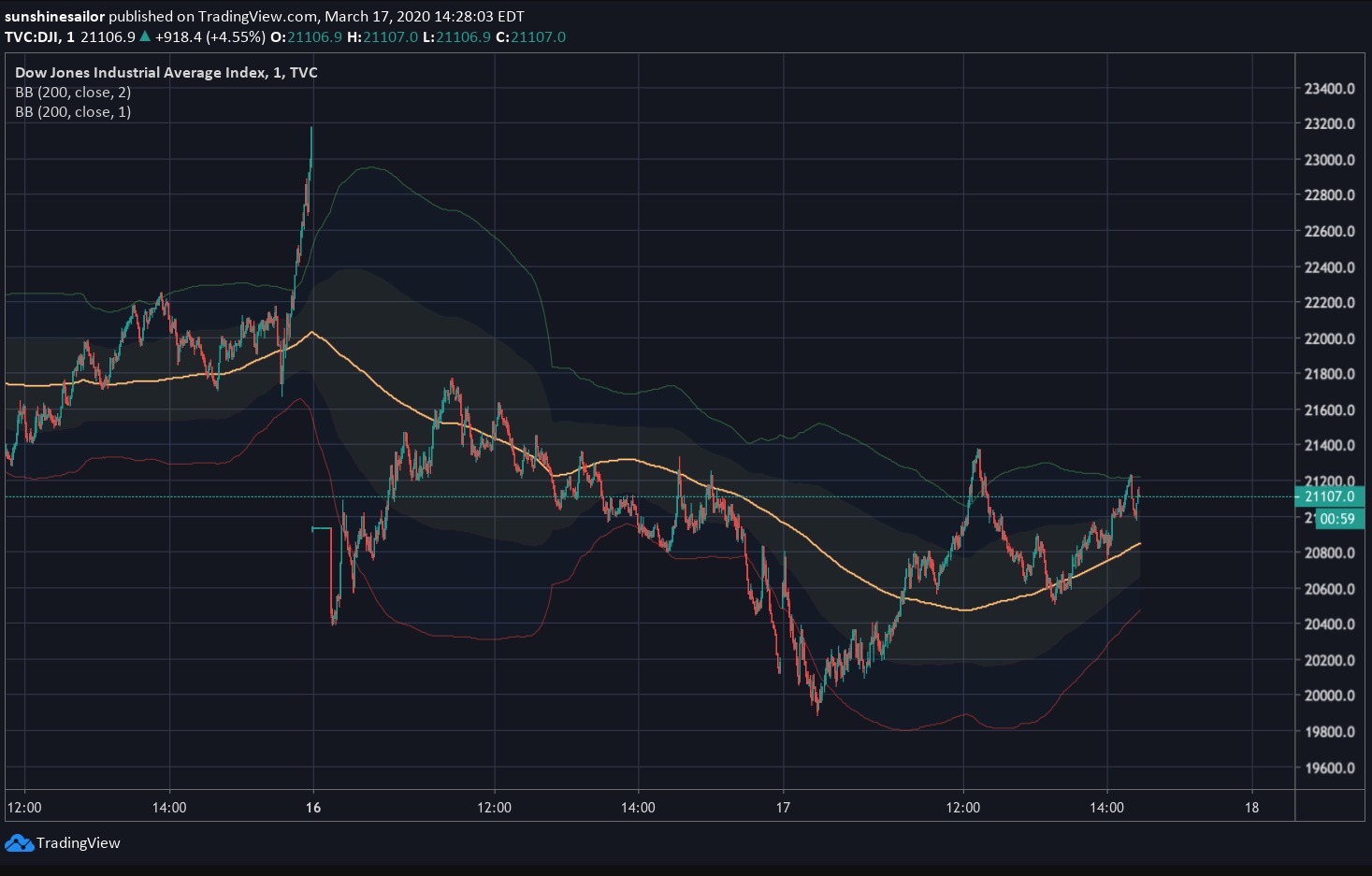 Mnuchin said that the new funding facility was one of several emergency response programs signed off on by President Donald Trump, aiming to ease the impact of the coronavirus slowdown on individuals and businesses.
Trump also authorized Mnuchin to defer $300 billion in taxes for individuals and small businesses for 90 days. Americans who can file taxes on time are being encouraged to since many will get tax refunds.
The Trump administration is also looking at sending money to Americans affected by the new coronavirus "immediately," Mnuchin said Tuesday.
Responding to a question about whether the administration's proposed stimulus package was focused on tax relief, which has around a six to eight-month lag, or more direct forms of benefits, Mnuchin said, "Americans need cash now and the president wants to get cash now—and I mean now in the next two weeks."
Trump said at the briefing that the virus is an "invisible enemy" that's forcing officials to come up with effective solutions.
"We don't want people losing their jobs or not having money to live when they were doing very well just four weeks ago," the president said.
'Considerable Strain'
Separately, the Federal Reserve said in a statement that the new funding tool "should encourage investors to once again engage in term lending in the commercial paper market," which the Fed said, "has been under considerable strain in recent days as businesses and households face greater uncertainty in light of the coronavirus outbreak."
The move will let the Fed circumvent banks and get liquidity straight to ailing businesses. It is seen as a key tool as the Fed looks to support smaller firms, sources told Reuters.
The CPFF involves the Fed buying commercial paper from issuers directly. The commercial paper market is used by companies for short-term loans and maintaining liquidity in the market is important to ensure companies can get funding.
Liquidity—or the ability for buyers and sellers to easily transact—has dried up in the commercial paper market in recent weeks as the spread of the coronavirus has disrupted credit markets and hit the price of commercial paper.
Companies rely on the market as a source of short-term cash for payrolls, inventory, and accounts payable as well as unanticipated funding needs.
The Fed has taken other uncommon actions amid the outbreak.
Besides slashing interest rates down to near zero, the Fed also restarted the crisis-era policy of asset purchases, announced U.S. dollar swap lines to avert a global liquidity crisis, and eased bank rules to encourage lending.