Fecal bacteria was found in three out of 10 samples of iced drinks from Starbucks by investigators on BBC's "Watchdog" program.
They made the discovery after testing about 30 branches belonging to Starbucks, Caffè Nero, and Costa—the three largest coffee chains in the U.K.
"Cleanliness of tables, trays and high chairs at the chains was also tested," the BBC reported.
The other chains didn't do any better. Three of 10 Caffè Nero samples also contained the bacteria and seven out of 10 Costa samples were contaminated.
The revelation is concerning, according to Tony Lewis, the head of Education and Policy at the Chartered Institute of Environmental Health.
"These should not be present at any level—never mind the significant numbers found," he told the BBC.
The problem seems to be with the ice, rather than the coffee.
Costa told the BBC it had updated its ice-handling guidelines and was in the process of introducing new ice equipment storage.
Starbucks and Caffe Nero said they were conducting their own investigations into the claims.
Fecal bacteria are generally not harmful on their own, but they indicate water contamination by sewage and the presence of harmful bacteria and viruses, according to the U.S. Environmental Protection Agency.
"Since it is difficult, time-consuming, and expensive to test directly for the presence of a large variety of pathogens, water is usually tested for [fecal bacteria] instead," the agency states on its website.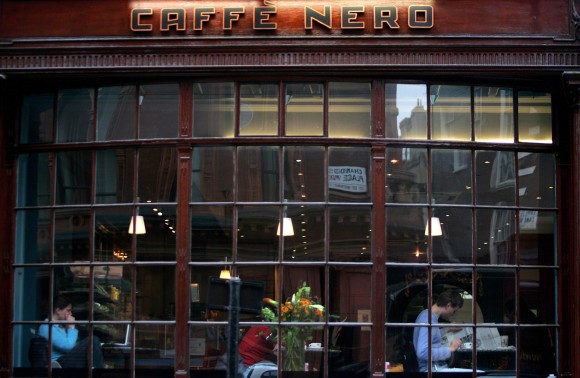 Caffè Nero responded to the claims in a statement to The Epoch Times.
"At Caffè Nero we take the cleanliness and safety of our stores very seriously. We have a team dedicated solely to ensuring that all aspects of safety are maintained and our stores have detailed and timely cleaning schedules to ensure that they are kept up to standard. These standards are regularly audited by our Operations team," a statement from spokeswoman Laura Vallis-Wain read.
"Our food safety standards and procedures are signed off by our Primary Authority Partner, Eastleigh Borough Council who also work with us to continuously improve our high standards. All of our staff are trained on these procedures and 99% of our stores are rated as very good, good or satisfactory by their local EHO – making us one of the most highly rated businesses on the high street."
"We are concerned to read the findings in BBC Watchdog's recent report and a thorough investigation is now underway and the appropriate action will be taken." 
Costa also sent a statement to The Epoch Times:
"We were disappointed with the findings, especially as these stores are all rated Very Good with the top Hygiene Rating of 5. It is extremely important to us that all our stores operate to high standards of hygiene at all times and we take it very seriously when any store fails to meet these standards. We adopt industry standard cleaning processes across all our stores, in line with the Food Standard Agency's advice. Following these results we have taken immediate action to update our ice handling procedures," the Costa spokesperson said.