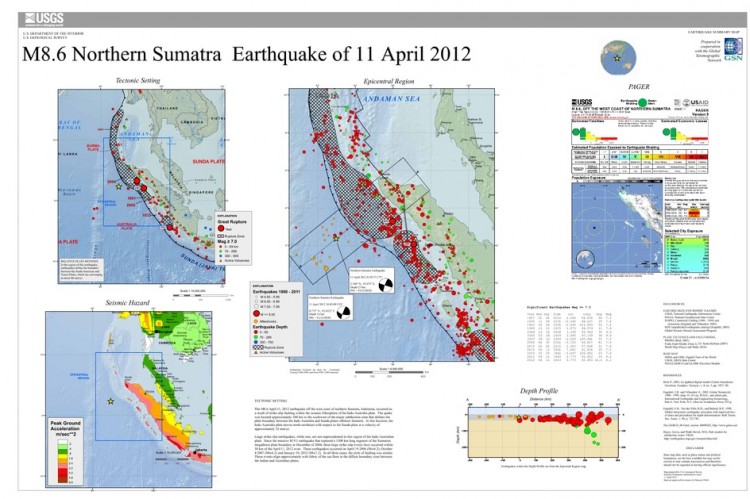 Two strong earthquakes hit the Indian Ocean off the coast of Indonesia on Wednesday, prompting local officials to issue tsunami warnings.
The warnings were soon lifted after the 8.6-magnitude and 8.2-magnitude quakes hit about two hours apart, at 2:38 p.m. and 4:43 p.m. local time. Their epicenters were 229 miles (369 km) and 295 miles (476 km) respectively from Sinabang, in western Indonesia.
There were no reports of damage or rising water. Residents in western Indonesia, however, fled for high ground in cars and on motorcycles, reported the Jakarta Post.
The U.S. Geological Survey reported that tremors from the large earthquakes were felt in Indonesia, India, Bangladesh, Singapore, Malaysia, and Thailand.
"I was in the shower on the fifth floor of my hotel," Meden resident Timbang Pangaribuan was quoted as saying in The Hindu newspaper. "We all ran out. … We're all standing outside now."
The newspaper reported that in Aceh, there was a mad scramble to get to high ground, with patients rushing out of hospitals with IV drips still in their arms. Two aftershocks hit Aceh, measuring 6.5 and 6.1 on the Richter scale after the first initial quakes struck.
The quakes brought back memories from the devastating 2004 earthquake and tsunami that killed 230,000 in the region, the bulk of which took place in Indonesia and Aceh was particularly hard hit.
President Susilo Bambang Yudhoyono confirmed Thursday that there were no reported deaths directly linked with the quake.
"The quake jolted Southwest Aceh. I have talked to the Aceh military commander and he said the situation was under control, even though the quake caused panic," he was quoted by the newspaper as saying.
Roger Musson, a geologist at the British Geological Survey, told the IBN television station that the earthquake was of the strike-slip variety instead of a thrust quake. Strike slip earthquakes do not usually move large quantities of water.
When I first saw this was an 8.7 near Sumatra, I was fearing the worst," he was quoted as saying. "But as soon as I discovered what type of earthquake it was, then I felt a lot better."