The U.S. Food and Drug Administration (FDA) announced the recall of Westminster Pharmaceuticals thyroid tablets due to the risk of adulteration.
In an Aug. 9 statement, the FDA said that Levothyroxine and Liothyronine 15 mg, 30 mg, 60 mg, 90 mg, and 120 mg thyroid tablets are being recalled as precautionary measures.
They were "manufactured using active pharmaceutical ingredients that were sourced prior to the FDA's import alert" regarding a Chinese firm that made the products, the agency said.
A 2017 inspection of China's Sichuan Friendly Pharmaceutical Co. drugs discovered "deficiencies" and could "represent the possibility of risk being introduced into the manufacturing process," the FDA said.
Westminster Pharmaceuticals said it hasn't received any reports of adverse incidents related to the products.
According to the FDA, "Appropriate adjustments of the various therapeutic measures directed at these concomitant endocrine diseases are required. Thyroid is not associated with serious adverse reactions and does not have a known tumorigenic potential."
"Because these products may be used in the treatment of serious medical conditions, patients taking the recalled medicines should continue taking their medicine until they have a replacement product," it said.
The products in the recall are in 100-count bottles, and consumers are urged to inspect the product's NDC's, product description, lot numbers, and expiration dates, said the FDA. The list of drugs that are subjected to the recall can be found here.
"Westminster is notifying its direct accounts by email and by phone to immediately discontinue distribution of the product being recalled and to notify their sub-wholesale accounts of this product recall and make arrangements for impacted product to be returned to Westminster. Instructions for returning recalled products are given in the Recall Notice Letter and Recall Response Form. Consumers that have these products, which are being recalled should not discontinue use before contacting their physician for further guidance," the FDA said.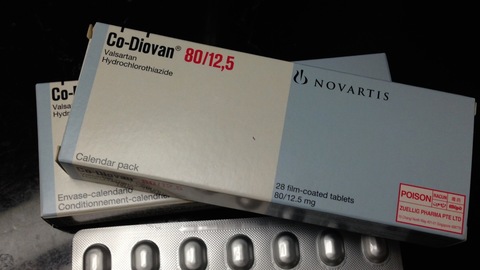 Defective Drugs
It comes as the FDA expanded its recall of the blood pressure and heart drug valsartan, primarily manufactured by China's Zhejiang Huahai Pharmaceutical—a major global manufacturer of generic valsartan. The FDA said the drug had been contaminated.
The valsartan recall, as well as the recall of the thyroid pills, highlights how defective medicines and pharmaceutical ingredients made by Chinese firms pose a health danger in the United States.
"There is a lack of trust in medicines made in China now," Rosemary Gibson, a senior adviser at The Hastings Center, told The Epoch Times in July.


"The public wants their medicine to be safe. This carcinogen hidden in valsartan raises the question whether other products that are made in China have been made contrary to the global standard we came to accept," Gibson said.
In an annual report, the U.S.–China Economic and Security Review Commission said that China is now a  "prolific source" of defective and counterfeit drugs in the United States, adding that "Chinese consumers may prefer U.S. pharmaceutical products due to concerns over the quality of domestic drugs."
"China has been a prolific source of counterfeit and defective medicine. In 2012, Chinese authorities seized 77 million domestically produced gel capsules that were created from industrial waste and contained excessive levels of cadmium," the commission's report noted.
Watch Next:
Falun Gong Practitioners Are Being Killed for Organs in China
Before the year 2000, organ transplantation in China was a relatively niche medical treatment.