A potentially life-threatening label mix-up prompted a recall of high blood pressure medication, said the U.S. Food and Drug Administration (FDA) on Aug. 27.
This recall is not linked to the massive FDA recall of medications containing valsartan, used for blood pressure and heart problems. A number of valsartan-containing drugs were recalled in July due to the presence of the substance NDMA, which has been linked to cancer.
Accord Healthcare Inc. is voluntarily recalling one lot of 12.5 mg Hydrochlorothiazide tablets, according to the FDA. The agency said that a bottle of 100 tablets was found to contain 100 tablets of another drug, spironolactone.
Both hydrochlorothiazide and spironolactone are used to treat high blood pressure. However, if a patient takes spironolactone instead of hydrochlorothiazide, they could suffer from hyperkalemia, which is the unsafe increase in potassium levels.
For some people, if they take spironolactone, they could suffer "adverse events that range from limited health consequences to life-threatening situations in certain individuals," the FDA said.
And so far, Accord has not received any reports of "adverse events" linked to the voluntary recall, said the FDA.
"Spironolactone tablets are indicated in the management of primary hyperaldosteronism, edematous conditions for patients with congestive heart failure, cirrhosis of the liver accompanied by edema and/or ascites, nephrotic syndrome, essential hypertension, hypokalemia, severe heart failure," said the FDA.
"Hydrochlorothiazide tablets are indicated in the management of hypertension either as the sole therapeutic agent or to enhance the effectiveness of other antihypertensive drugs in the more severe forms of hypertension," the agency explained.
Accord Healthcare Inc.'s hydrochlorothiazide 12.5 mg tablets are light orange to peach in color, round, biconvex, and they have the letter "H" on one side and the number "1" on the other side, the recall alert said. An image of the hydrochlorothiazide pill can be found on the FDA website.
The agency said that consumers who have the Accord hydrochlorothiazide medication that doesn't have that color and design, should return it to the pharmacy or health care provider for confirmation.
"Accord is notifying its wholesalers, distributors and retailers by letter and is arranging for return of all recalled products. Wholesalers, distributors, and retailers that have product, which is being recalled should discontinue distribution of the product and notify consumers. Consumers that have the product should return the product to the pharmacy," said the FDA.
Just a single lot of the drug, labeled PW05264, is being recalled, the FDA said.
"Since the individual lot, PW05264, of the product is involved in a potential mix-up of labeling, Accord is recalling this individual lot from the market. Based on findings of both preliminary and interim investigations carried out at the manufacturing site, Accord believes that no other lots of Hydrochlorothiazide Tablets are involved in this mix-up. Accord became aware of this finding through a product complaint reported from a pharmacy," the FDA added.
Valsartan Recall Expands Again
On Aug. 27, the FDA again expanded its recall of medications that contain valsartan, and its new list can be found here (PDF).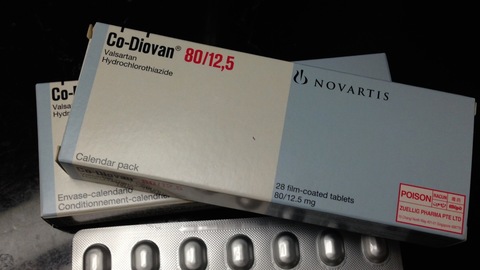 The drugs being recalled are tablets sold by firms AvKare (Teva/Actavis) and (Hetero/Camber), A-S Medication Solutions LLC (Teva/Actavis & Prinston/Solco), Bryant Ranch Prepack Inc, (Teva/Actavis), Hetero Labs (labeled as Camber Pharmaceuticals Inc.), H J Harkins Co., Northwind Pharmaceuticals (Teva/Actavis), NuCare Pharmaceuticals Inc. (Prinston/Solco), Preferred Pharmaceuticals Inc. (Hetero/Camber), Prinston Pharmaceutical Inc. (labeled as Solco Healthcare LLC), Proficient Rx LP, Remedy Repack, Remedy Repack (Prinston/Solco), Remedy Repack Inc. (Hetero/Camber), RemedyRepack Inc. (Torrent), Teva Pharmaceuticals (labeled as Major Pharmaceuticals), Teva Pharmaceuticals USA (labeled as Actavis), and Torrent Pharmaceuticals Limited.
The FDA first announced its recall of the drug after tests determined that it may be contaminated with NDMA.
The FDA also posted a list of drugs (pdf) with valsartan that have not been recalled.
Most of the recalled medicine was linked to a drug maker based in China. Zhejiang Huahai Pharmaceuticals, based in Linhai, confirmed it the substances. "We published our recall notice at midday on July 13 in China and overseas, and published the U.S. market recall notice on July 14 Beijing time … all the drug materials for the Chinese market were recalled by July 23," the company said in a statement last month, according to CNN.
If you enjoyed reading this article, please continue to read more stories here.
Sign up for our free newsletters here.