Tuna products were recalled from stores in 16 states because some people were poisoned by them, federal authorities said.
The scombroid poisoning stemmed from yellowfin tuna steaks sold in Kroger stores, the Food and Drug Administration (FDA) said in an alert.
The improperly stored tuna was sold in Kroger stores in Alabama, Arkansas, Georgia, Illinois, Indiana, Kansas, Kentucky, Michigan, Missouri, Mississippi, Nebraska, Ohio, South Carolina, Tennessee, Virginia, and West Virginia.
"The FDA is advising consumers to not eat yellowfin tuna steaks from the seafood counter or seasoned yellowfin tuna steaks in store-prepped Styrofoam trays from Kroger retail stores," the alert stated.
The steaks "may cause scombroid poisoning."
"Consumers of these products who are experiencing symptoms of scombroid poisoning should contact their healthcare provider. Consumers of these products who have recently experienced symptoms of scombroid poisoning should report their symptoms to their local Health Department," the department added.
The FDA became aware of the issue on Sept. 4 and alerted Kroger, which the next day agreed to recall all yellowfin tuna steaks from stores in the aforementioned states.
The company also began notifying customers who bought the steaks to dispose of them or return them to a store.
The FDA is working with Kroger, the distributor, and state and local partners to remove all contaminated product from the market. Kroger didn't immediately respond to a request for comment and has not issued a statement on the recall.
Scombroid poisoning is caused by eating fish that has not been properly refrigerated or preserved and therefore contains high levels of histamine, the agency said.
Scombroid poisoning is most commonly caused by fish that have naturally high levels of the amino acid histidine, which bacteria convert to histamine when the fish is not correctly stored.
Symptoms typically develop as early as a few minutes and up to an hour after the fish is consumed. Symptoms resemble an allergic reaction and include a flushed face, a headache, heart palpitations, itching, and blurred vision.
Antihistamines can be used for treatment and people who get sick usually get better within 12 hours.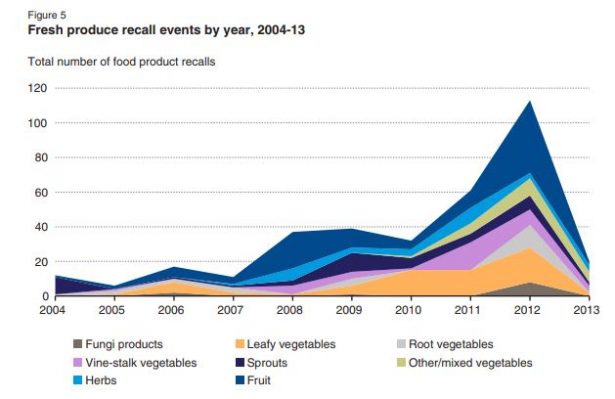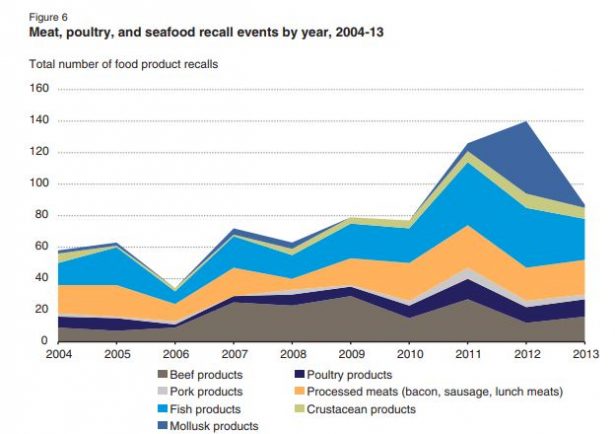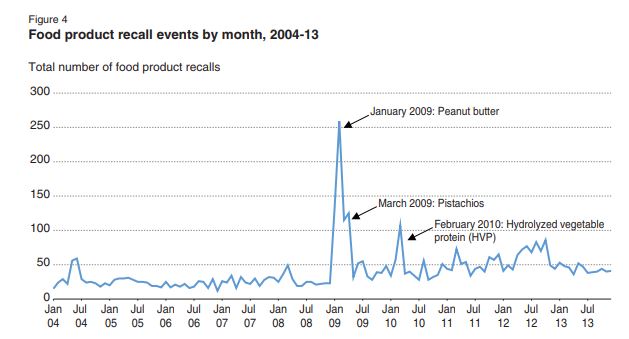 Recalls
According to a report (pdf) published by the Department of Agriculture's Economic Research Service published in 2018, there were an average of 304 recalls between 2004 and 2008 and an average of 676 recalls between 2009 and 2013.
The following six food categories accounted for most of the recalls across those years: prepared foods and meals, 11.9 percent; nuts, seeds, and nut products, 10.9 percent; baked goods, 9 percent; grains and grain products, 8.4 percent; candy products, 7.9 percent; and sauces, condiments, and dressings, 5 percent. The most common reason for each category except for nuts was failure to declare major allergens. The most common reason for nut recalls was possible Salmonella contamination.
Overall, 41 percent of the recalls were the result of pathogen contamination, such as Salmonella or E. Coli, while 27.4 percent were the result of undeclared allergens.
The most significant recall event between 2004 and 2013 took place in January 2009. Peanut butter linked to a Salmonella outbreak was recalled. The outbreak was ultimately responsible for at least 714 illnesses and nine deaths, and led to the recall of a number of products containing peanut butter or peanut paste, including cookies, crackers, and cereal. Overall, over 400 separate recalls occurred.