The Food and Drug Administration (FDA) is investigating certain brands of bagged salads sold in several mid-western states for an outbreak of Cyclospora, a diarrhea-causing microscopic parasite.
The FDA said in a statement that the outbreak is potentially linked to "garden salads" sold in ALDI, Hy-Vee, and Jewel-Osco grocery stores and contained iceberg lettuce, red cabbage, and carrots.
The outbreak has caused 122 cases of illness that include 19 cases of hospitalizations but no deaths in the period from May 11 to June 15.
Hy-Vee brand garden salads were sold in stores in Iowa, Illinois, Missouri, Kansas, Nebraska, South Dakota, Minnesota, and Wisconsin whereas Jewel-Osco Signature Farms salads were sold in Illinois, Indiana, and Iowa. Both the brands recalled their products on June 20 from the stores.
ALDI (pdf) recalled its "12-ounce Little Salad Bar Brand Garden Salads" from the stores in Arkansas, Illinois, Indiana, Iowa, Michigan, Minnesota, Missouri, North Dakota, South Dakota, and Wisconsin, according to an investigation update on June 23.
"FDA continues this investigation and there may be additional retailers and products impacted by this outbreak," said the agency recommending that consumers shouldn't eat these and restaurants and retailers should not sell them.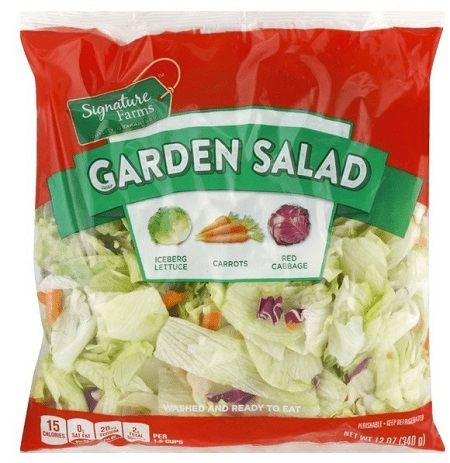 Jewel-Osco said in a statement that the "Best if Used By" dates of the recalled products were May 16 through July 4 and it is printed on the front side of the packet on the top right corner. The brand asked consumers to check products inside their refrigerators as well.
Contaminated products when eaten can cause an intestinal infection called cyclosporiasis which means diarrhea caused by Cyclospora.
Symptoms of cyclosporiasis: loss of appetite, weight loss, stomach cramps/pain, bloating, increased gas, nausea, and fatigue. The illness can last for a few days to a month.
Cyclosporiasis outbreaks are mostly reported throughout the year but it's most common during spring and summer months, according to the CDC.
"Previous U.S. outbreaks of cyclosporiasis have been linked to various types of imported fresh produce (e.g., basil, cilantro, mesclun lettuce, raspberries, and snow peas)," said the CDC.
Last year the CDC received reports of multiple outbreaks of the disease linked to various products. There were 2,408 laboratory-confirmed cases of Cyclosporiasis in 37 states and at least 144 people were hospitalized.
The CDC and FDA had investigated multiple cases linked to restaurants and events.