The U.S. Food and Drug Administration said it has extended EpiPen expiration dates due to a shortage of the injector.
EpiPens are used to treat severe allergic reactions or asthma attacks.
Now, due to the shortage, some batches of the devices can be used for four months beyond their expiration date, the FDA said in a statement.
"Based on stability data provided by Pfizer and reviewed by FDA, the following extended use dates are supported for specific batches indicated in the tables below. Patients that have the batch numbers below will be able to use them through the corresponding new use dates to help with supply. As data become available, this list can continue to expand," the FDA stated Aug. 21. The list of drugs can be accessed at the FDA's website.
"FDA is not requiring or recommending that the identified batches in the following tables be relabeled with their new use dates. However, if replacement product becomes available during the extension period, then the agency expects the lots in these tables will be replaced and properly disposed of as soon as possible," it added.
The extensions apply to the 0.3 mg dose and its generic variants that have expiration dates between April 2018 and December 2018, according to Pfizer (pdf), which manufactures the EpiPen for Mylan. It doesn't apply, however, to EpiPen Jr., which is used for children weighing between 33 pounds and 66 pounds and have half the dosage.
"We are doing everything we can to help mitigate shortages of these products, especially ahead of the back-to-school season," Dr. Janet Woodcock, who is head of the FDA's Center for Drug Evaluation and Research, said in a statement. "We're hopeful this action will ensure patients have access to this important medication and provide additional peace-of-mind to parents as the agency works with the manufacturer to increase supply."
She added that "the FDA remains committed to using all of the tools available to help prevent and mitigate drug shortages of medically necessary products used to prevent or treat a serious or life-threatening disease or medical condition."
Pfizer has said that manufacturing problems have caused the supply disruptions, according to reports.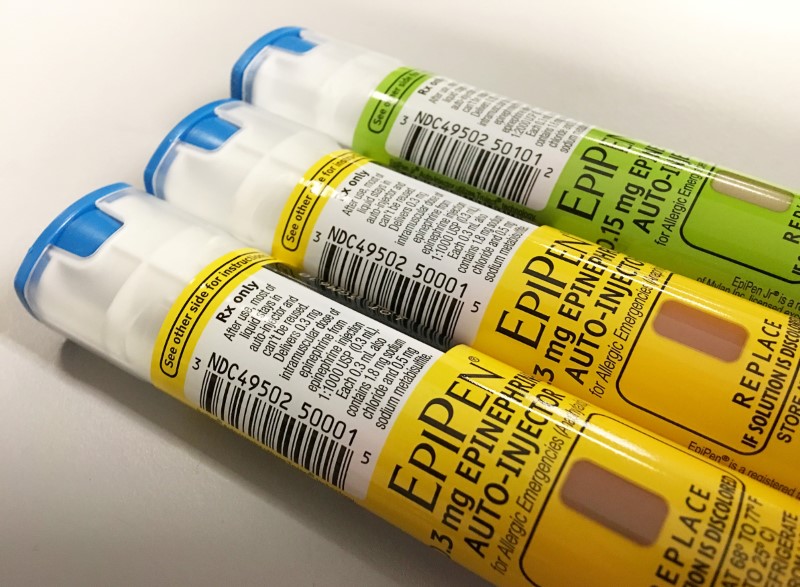 Generic EpiPen Approved
The FDA, meanwhile, approved the first generic version of EpiPen.
"Today's approval of the first generic version of the most-widely prescribed epinephrine auto-injector in the U.S. is part of our longstanding commitment to advance access to lower cost, safe and effective generic alternatives once patents and other exclusivities no longer prevent approval," said FDA Commissioner Scott Gottlieb in a statement about the approval on Aug. 16.
Teva Pharmaceuticals USA got approval to market its generic epinephrine auto-injector, the FDA added.
"This approval means patients living with severe allergies who require constant access to life-saving epinephrine should have a lower-cost option, as well as another approved product to help protect against potential drug shortages. The path to developing generic drug-device combination products like this one is challenging," Gottlieb continued.