A recall was issued for more than 56,000 COVID-19 rapid tests last week because they were not distributed with the proper clearance from the Food and Drug Administration (FDA), according to an announcement posted on its website.
Some 56,000 Skippack Medical Lab SARS-CoV-2 Antigen Rapid Test Kits are being recalled by its maker, Universal Meditech Inc., because the "products were distributed without appropriate premarket clearance or approval which potentially could result in inaccurate test results due to lack of performance evaluation by the FDA," according to an FDA notice, dated Feb. 10.
People who have the Skippack Medical Lab SARS-CoV-2 Antigen Rapid Tests should stop using the device and contact the distributor for a return, according to the notice. The recalled products were made between October 2021 and December 2021 and were distributed in January 2022.
They were distributed with "Skippack Medical Lab" instructions in three separate packaging boxes, the recall notice said. One is a purple and white box with the "Skippack Medical Lab" brand, a green and white box with the "DiagnosUS" brand, and a white box that didn't have a brand name.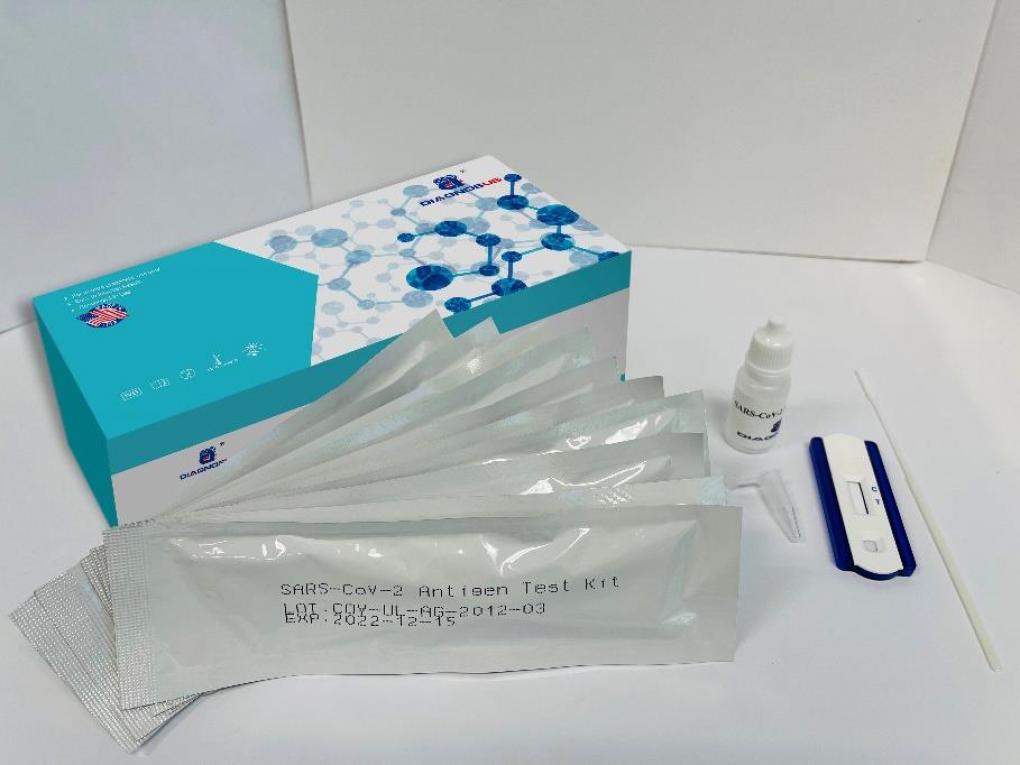 Universal Meditech Inc. said it recalled the test kits after learning of the distribution violation via the FDA, the notice added. There have been no reported injuries or adverse events associated with the kits.
"Universal Meditech Inc. is notifying its distributors and customers by phone and email and is arranging for return of all recalled products," the notice said, and it added that the kits were sent to California and Texas distributors.
Since the start of the COVID-19 pandemic in early 2020, there have been a number of recalls involving COVID-19 test kits, some of which produced false test results, and some were sold inside the United States without FDA approval.
Last December, an FDA announcement said that COVID-19 tests made by Detect Inc. and sent to customers between July 26 and Aug. 26 of last year were recalled by the manufacturer due to false test results. Those tests were given an FDA emergency use authorization, the announcement said.
"There is an increased chance that the tests from the lot numbers listed below may give false negative results," the announcement said. "Detect has conducted a thorough investigation to identify this issue and has made the decision to conduct a voluntary recall for these lots."
Meanwhile, in March 2022, the FDA said that some COVID-19 rapid tests shouldn't be used due to the possibility they'll produce false results. Officials told consumers not to use Celltrion DiaTrust COVID-19 Ag Rapid Test, the SD Biosensor Inc. STANDARD Q COVID-19 Ag Home Test, and the Flowflex SARS-CoV-2 Antigen Rapid Test (Self-Testing).
Last February, the FDA similarly issued a warning about two tests made by Empowered Diagnostics because those devices weren't approved by the FDA.
"The U.S. Food and Drug Administration (FDA) is warning people to stop using the Empowered Diagnostics CovClear COVID-19 Rapid Antigen Test and ImmunoPass COVID-19 Neutralizing Antibody Rapid Test," the FDA statement said. "These tests were distributed with labeling indicating they are authorized by the FDA, but neither test has been authorized, cleared, or approved by the FDA for distribution or use in the United States."