The Food and Drug Administration (FDA) has accelerated its reviewing process to get Pfizer and other COVID-19 vaccines fully approved "as rapidly as possible," which will give the Biden administration, local governments, and employers more flexibility to mandate the vaccines.
"FDA staff will conduct a thorough review process, while balancing the incredible sense of urgency necessary, both of which are needed to ensure that any vaccine that is authorized or approved meets our rigorous standards for safety, effectiveness, and quality," FDA said in a statement emailed to The Epoch Times, saying the full approval may encourage some people to get vaccinated.
"We have taken an all-hands-on-deck approach, including identifying additional resources such as personnel and technological resources from across the agency and opportunities to reprioritize other activities, in order to complete our review to help combat this pandemic surge," the statement reads.
Currently, the three COVID-19 vaccines in America—Pfizer, Moderna, and Johnson & Johnson—are all under Emergency Use Authorization (EUA).
Pfizer submitted its full approval application—a biologics license application—in May, and Moderna applied for the license on June 1. Johnson & Johnson has said that it would apply later this year.

Last month, the FDA said regulators were targeting January 2022 for completion of the review, but that "does not mean approval will not happen before that time."
Standard vaccine reviews would be within 12 months, but the FDA aims to complete priority vaccine reviews within eight months of receiving the application, Peter Marks, director of the FDA's Center for Biologics Evaluation and Research (CBER), told the Washington Post last Friday.
CBER is responsible for regulating vaccines in the United States.
Marks acknowledged that approved COVID vaccines would make it easier for employers or governments to mandate the vaccines.
"I'm speaking in an informal sense, not like a [Department of Justice] lawyer … But by and large, there seems to be a better feeling for having a licensed product to make something a requirement," Marks said in the interview.
The Department of Justice issued an opinion last week, saying COVID vaccine mandates by public agencies and private businesses are legal even though the vaccines are under EUA.
Marks also said that once the vaccines are fully approved, doctors administering the vaccines might use it "off label," such as giving a third shot to patients.
"Once you have a licensed product, if a provider wants to use it in a responsible way, according to the practice of medicine, then that is their right and they can use it off label," Marks said. "They could use it as they see fit, but they would actually have to feel like they were within the scope of practice of medicine in their jurisdiction … and doing something reasonable."
Under EUA, doctors must administer the vaccines exactly as required by the FDA.
The FDA has been under growing pressure to fully approve the COVID vaccines.
President Joe Biden said on July 21 that he estimated the full approval of the vaccines would be announced "maybe in the beginning of the school year, at the end of August, beginning of September, October, they'll get final approval," reported Fox News.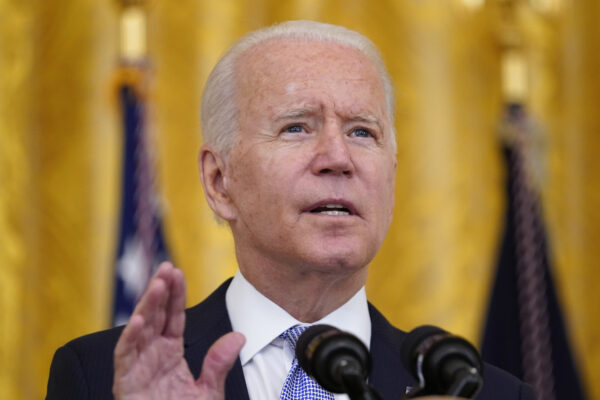 Biden's chief medical adviser Anthony Fauci also told reporters in July that he would be "astounded" if the three vaccines couldn't get full approval.
On July 29, Biden announced strict rules to urge federal workers and contractors to get vaccinated or else they need to wear masks, engage in social distancing, and submit to regular COVID-19 testing. Later that day, he said, "it's still a question of whether the federal government can mandate the whole country."
Health experts predicted that a wave of mandates might come after the full approval of the vaccines.
"I think once the vaccines go through full FDA approval, everything should be on the table, and I think that everything will be on the table at the level of municipalities, states, employers, venues, government agencies," Andy Slavitt, Biden's former COVID response coordinator, told NBC news.
Former Surgeon General Jerome Adams wrote on Twitter that a full license "would give cover for organizations to mandate."
Some states have banned COVID vaccine mandates or vaccine passports in government agencies or schools. But some states, like Ohio, for example, banned COVID vaccine mandates in schools based on the vaccines' EUA status. So once the vaccines get fully approved, the prohibition will not apply.
The pentagon reported it had directed commands to prepare to administer mandatory COVID-19 vaccines as early as Sept. 1, pending full FDA licensure.
COVID-19 is the disease caused by the CCP (Chinese Communist Party) virus.
Zachary Stieber and Jack Phillips contributed to this report.