Some analysts suggested that Monday's FBI raid on former President Donald Trump's Mar-a-Lago residence in Florida has upended the 2024 presidential race and possibly the midterms.
Republican leaders, such as Senate Minority Leader Mitch McConnell (R-Ky.), rushed to defend Trump and demanded congressional investigations into the FBI. Before the raid, McConnell and some other GOP lawmakers had become increasingly critical of the former president in the wake of the Jan. 6 Capitol incident.
"The country deserves a thorough and immediate explanation of what led to the events of Monday," McConnell said in a statement. "Attorney General Garland and the Department of Justice should already have provided answers to the American people and must do so immediately."
House Minority Leader Kevin McCarthy (R-Calif.) went a step further and called for an investigation, saying, "Department of Justice has reached an intolerable state of weaponized politicization."
A host of other Republicans, including Trump critic Gov. Larry Hogan of Maryland, erupted over the news.
"The American people deserve to know all the facts as soon as possible, and I call on the Biden administration to release–at a minimum–the documents authorizing the FBI search," Hogan said in a statement. "If the federal government cannot ultimately provide overwhelming evidence that action was absolutely necessary, then it will only undermine faith in democracy and the rule of law, and further divide Americans."
And the Republican National Committee is now using the raid as ammunition for 2022 midterm elections this fall, with texts reading: "THIS IS NOT A DRILL: UNPRECEDENTED move [Joe] Biden's FBI RAIDS Pres. Trump's home. Time to take back Congress."
Florida Gov. Ron DeSantis, who has been viewed as a 2024 presidential candidate, came to Trump's defense. The raid on Mar-a-Lago "is another escalation in the weaponization of federal agencies against the Regime's political opponents, while people like Hunter Biden get treated with kid gloves," he wrote on Twitter.
Even some on the left, including former Democrat New York Gov. Andrew Cuomo, and former Democrat presidential candidate Andrew Yang questioned the raid and the Department of Justice's relative silence.
Grip on GOP
As of Tuesday morning, Trump posted a campaign-style ad on social media that called the United States "a nation in decline" and said that the country "has weaponized its law enforcement against the opposing political party like never before."
One analyst said that the raid forces Republicans to again unite around Trump.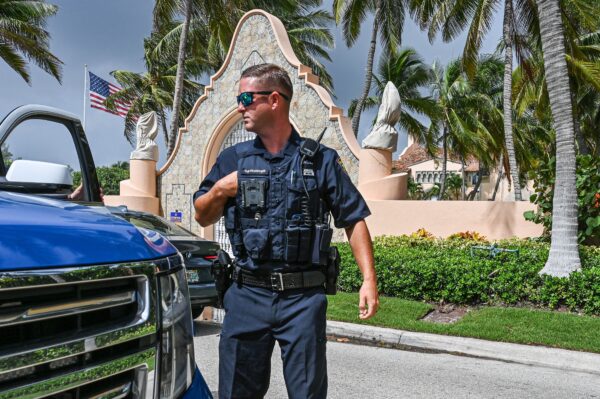 "It's going to create a situation where the Republican Party is going to have to coalesce around him because here are your choices: You can be with Trump or you can be with the FBI," Michael McKenna, a former official in the Trump White House, told The Washington Times.
"No self-respecting Republican can be with the FBI," he said.
If the Department of Justice and FBI can't come up with a good enough reason for the raid, it will "certainly enhance Trump's presidential chances in 2024 and turn him into a martyr. During his first term, Trump was able to exploit both attempts at impeachment and use them for his re-election campaign," wrote UnHerd's Marshall Auerback.
"This raid could well serve the basis for his 2024 campaign. In doing so, it will unleash political chaos to a degree that made the 2016-2020 period seem like child's play," he wrote.
After the FBI's actions, Trump could download video of the raid from his home security cameras and "have one of the most gripping campaign ads of all time, ready made," wrote longtime commentator and journalist Walter Kirn on Twitter.
A columnist for Townhall argued: "If Trump was ever on the edge of not running, and I don't think he ever was, then this act sure as [heck] is going to make him run again in 2024."
"The FBI, not the media, may have given the most significant in-kind political contribution to a candidate in American political history," Matt Vespa argued.
As Trump remains the Republican Party's most influential voice, and some analysts said this FBI search could boost his standing with his own supporters.
"The Biden administration is only adding rocket fuel to Trump's campaign prospects and energizing his supporters who want him to run again," Ron Bonjean, a Republican strategist in Washington, told Reuters.
"There should be more transparency around the decision to have this FBI raid because it looks overly political and allows Trump to say he's being unfairly attacked."