The FBI said late on Jan. 16 that it is investigating the taking of hostages at a Texas synagogue a day prior as a "terrorism-related matter."
"This is a terrorism-related matter, in which the Jewish community was targeted, and is being investigated by the Joint Terrorism Task Force," the bureau said.
Malik Faisal Akram, 44, a British national, interrupted services inside Congregation Beth Israel synagogue in Colleyville, Texas, and took four hostages, authorities have said.
On a livestream, he was heard demanding the release of Pakistani-born Aafia Siddiqui, a neuroscientist who is serving an 86-year prison sentence after being convicted for attempting to murder and assault Americans in Afghanistan.
Speaking to reporters on Jan. 15, FBI Dallas Special Agent in Charge Matt DeSarno said the suspect "was singularly focused on one issue, and it was not specifically related to the Jewish community."
"Other than what you heard on the livestream, I'm not ready to add any more about the demands. They were specifically focused on one issue that was not specifically threatening to the Jewish community," he said.
That was all the FBI said until some 24 hours later, when it said the crime did target the Jewish community and confirmed that the suspect, during negotiations with law enforcement, "spoke repeatedly about a convicted terrorist who is serving an 86-year prison sentence in the United States on terrorism charges."
"All of us at the FBI are relieved the hostage situation in Colleyville, Texas, was resolved without physical injury to those taken hostage. We never lose sight of the threat extremists pose to the Jewish community and to other religious, racial, and ethnic groups. We have had a close and enduring relationship with the Jewish community for many years. We continue to work tirelessly with the Secure Community Network, the Anti-Defamation League, the Jewish Federation, and others to protect members of the Jewish community from all potential threats," the bureau also said.
"Preventing acts of terrorism and violence is the No. 1 priority of the FBI. Due to the continuing investigation, we are unable to provide more details at this time."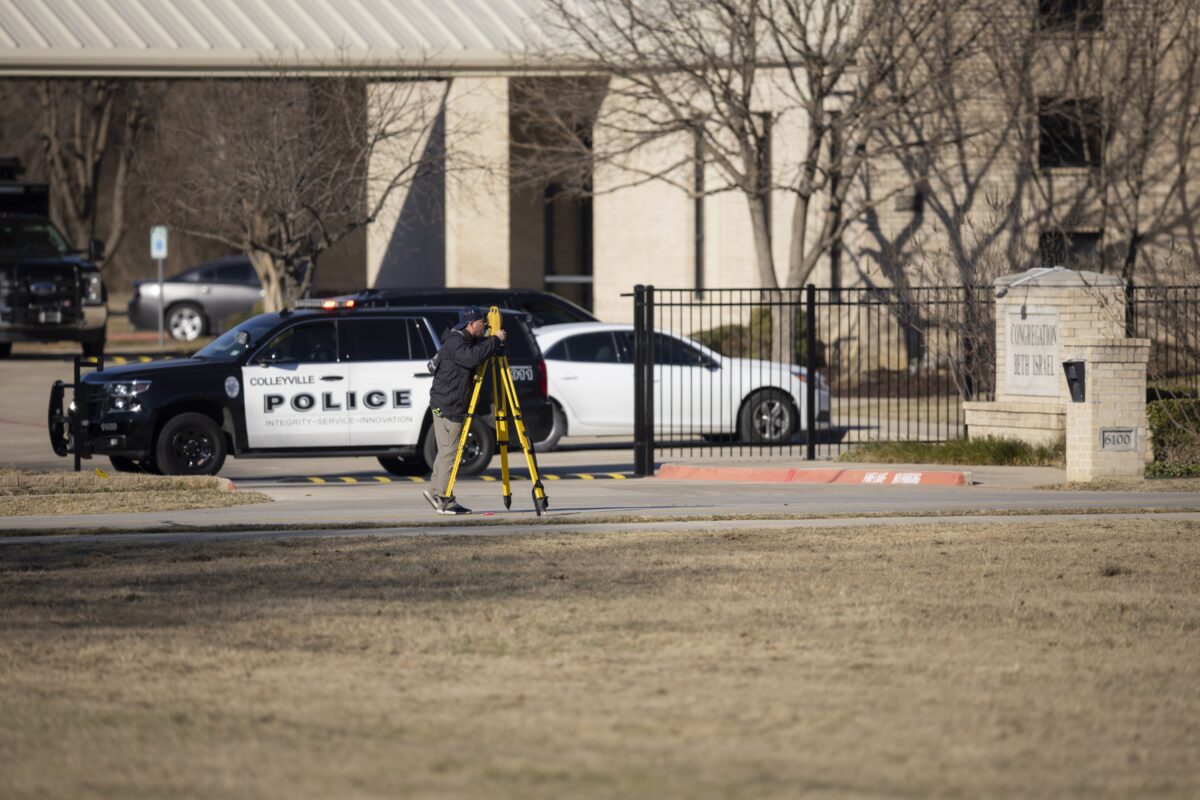 President Joe Biden told reporters in Philadelphia earlier on Jan. 16 that what happened "was an act of terror."
The president said he instructed Attorney General Merrick Garland "to make sure we got the word out to synagogues and places of worship that we're not going to tolerate this, that we have this capacity to deal with the assaults on particularly the antisemitism that has grown up."
The gun the suspect carried was purchased on the street, and Akram, who only recently arrived in the country, spent his first night in the United States in a homeless shelter, according to Biden.
"I don't think there is sufficient information to know about why he targeted that synagogue or why he insisted on the release of someone who's been in prison for over 10 years, why he was engaged—why he was using anti-Semitic and anti-Israeli comments," Biden said.
The Council on American-Islamic Relations (CAIR) and other Muslim groups have for years called for the release of Siddiqui, alleging she didn't commit any crimes. An event was held by CAIR in support of her in Plano, Texas, last month and an online fundraiser took place a month before that.
A lawyer for Akram and CAIR's Dallas-Fort Worth chapter issued a joint statement over the weekend condemning the hostage-taking and calling for all hostages to be released.
"Whoever the assailant is, we want him to know that his actions are condemned by Dr. Aafia and her family. His actions are heinous and wrong. Her case must be addressed through the courts of law. Dr. Aafia and her family are praying for this situation to resolve peacefully. We implore you to immediately release the hostages and turn yourself in," they said.
Law enforcement officials told reporters that the incident, which lasted nearly the entire day, ended when an elite FBI hostage rescue team that flew down from Washington breached the synagogue around 9 p.m. local time and rescued the three hostages, who didn't require medical care.
Rabbi Charlie Cytron-Walker, one of those taken hostage, told news outlets in a statement that security courses he took from various organizations helped during the crisis.
He said on CBS on Jan. 17 that in the last hour of the crisis, he and the two others with him became increasingly concerned as the hostage-taker grew irritated over not getting what he wanted.
The rabbi spotted an opportunity where the gunman wasn't in a good position and talked quietly with the other hostages.
"I told them to go, I threw a chair at the gunman, and I headed for the door. And all three of us were able to get out without even a shot being fired," he said.
One hostage had been released earlier in the day.
The suspect died, authorities said. How that happened wasn't entirely clear.
An investigation was planned into "the shooting incident," FBI official DeSarno said.