FBI Director Christopher Wray on Friday outlined key threats posed by video sharing app TikTok and said that U.S. officials are still working on how to address the app's national security concerns.
Wray said that the FBI has security concerns about Tiktok, which is owned by private Chinese company Bytedance.
"[TikTok's] parent company [Bytedance] is controlled by the Chinese government and it gives them the potential to leverage the app in ways that I think should concern us," Wray told an audience at the University of Michigan's Gerald R. Ford School of Public Policy.
He said that the app gives the Chinese Communist Party (CCP) the ability to control the recommendation algorithm, which "allows them to manipulate content, and if they want to, to use it for influence operations."
China could potentially use TikTok to collect data on its users, which could be used for traditional espionage operations, Wray stated.
"They also have the ability on it to get access [via] the software through devices," he said. "So you have millions of devices and that gives them the ability to engage in different kinds of malicious cyber activity through that."
"All of these things are in the hands of a government that doesn't share our values and that has a mission that's very much at odds with what's in the best interest of the United States," the FBI director said. "That should concern us."
His comments appear to reiterate those made to Congress in November when he was asked whether the CCP was actively using ByteDance or TikTok to surveil Americans.

U.S. officials and TikTok are now in talks over a possible agreement that would resolve U.S. national security concerns, a process that Wray said was taking place across U.S. government agencies. "But I think it starts with awareness about the risks," he said.
"As Director Wray has previously said, the FBI's input is being considered as part of our ongoing negotiations with the U.S. Government," TikTok spokesperson Brooke Oberwetter said in a statement.
"While we can't comment on the specifics of those confidential discussions, we are confident that we are on a path to fully satisfy all reasonable U.S. national security concerns and have already made significant strides toward implementing those solutions.
"TikTok Inc., which offers the TikTok service in the United States, is a U.S. company bound by U.S. laws," Oberwetter also noted.
TikTok does not operate in China, where ByteDance provides a similar app to users.
While TikTok has previously said that all U.S. user data was stored within the United States, it has since admitted that this is not true. In a September congressional hearing, TikTok executives refused to commit to stopping the flow of American data to China.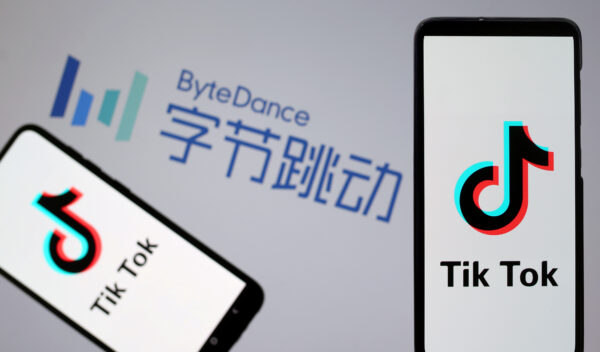 TikTok rose in popularity in the United States in 2017 after ByteDance acquired Chinese-owned social media company Musical.ly and paired its Santa Monica office with TikTok.
TikTok did not inform U.S. officials about the Musical.ly-TikTok merger despite both companies' ties to China, independent investigative journalist Geoffrey Cain told The Epoch Times's "American Thought Leaders" in September.
"There are many red flags, but the biggest red flag about this acquisition is that TikTok did not notify the U.S. government about the acquisition," Cain said. "That should sound alarm bells. Why did TikTok decide not to do that review? It's as if they kind of snuck into the market and placed their software in the hands of the next generation."
Handing Data to CCP
Following that revelation, and due to concerns about Chinese influence, the Trump administration in 2020 threatened to ban TikTok in the United States and tried to get ByteDance to sell TikTok to a U.S. parent company. Since then, the case has been under review by the Committee on Foreign Investment in the United States (CFIUS) to examine possible national security risks.
Cain had told the U.S. Senate in September (pdf) that CCP data laws meant that all companies operating within mainland China or with a majority Chinese stake must hand over all data to the CCP upon request. As such, an executive at TikTok or ByteDance could be legally compelled by the CCP to hand over the company's data, including information on users.
"There's not going to be a separate line between [TikTok and ByteDance], the Chinese Communist Party will see TikTok as fundamentally a Chinese company and one that needs to report to the Chinese Communist Party," Cain told "American Thought Leaders."
Andrew Thornebrooke, Jan Jekielek, and The Associated Press contributed to this report.