An Ohio father made a Facebook post about losing his daughter to a heroin overdose, opening people's eyes up to the harsh reality of opioid addiction.
Tim Sherman on Tuesday, Dec. 26, wrote the post after his daughter, Karisten Sherman, 23, died on Christmas Eve. He said she struggled with heroin for years, but she'd been clean for a year. However, she apparently relapsed.
A detective called him Sunday, saying she died of a heroin overdose, he told Facebook users in his post.
"At 5:50 pm I got the call from the Det at Eastlake Police that my daughter was found dead in her bed from an overdose," Sherman wrote in the post. "I immediately fell to my knees in the snow and began to cry like a baby. I could not believe that my Tigger had done this. "
Sherman then said he went to her home and saw her body in bed.
He described her, saying she was blue in the face, had blood under her nose, and had clenched fists "grasping so tight at what looked like she was trying to grab life back in her."
Sherman said he was with her as she battled addiction, and he even went to her narcotics anonymous meetings.
"If you can't kick the dragon for good I will be the one to zip you up, but I will be with you every step of the way when you need me," he said he remembered telling her in the post. "Daddy, I don't want to go back to that stuff ever again," she told him, according to the Facebook post.
"(When I saw her body) I was told I couldn't touch my daughter in case there was any lethal powder still on her," he wrote. "I ask for gloves and glove up cause I'll be damned if I'm not going to help my daughter One last time or hug her and let her know I Love her … Well, I kept my word and spread the bag out and carefully placed her in it to say goodbye to her so they can find out what it was that she took. I zipped her up in her body bag and helped them carefully place her on the cot."
It's unclear if she overdosed on heroin or fentanyl, a powerful synthetic medication that's 50 to 100 times more potent than morphine and many times more potent than heroin.
Sherman added that his daughter, according to her, "didn't want to die."
"But now," he said, "I'm starting to wonder if she did or if this was just a huge life mistake by chasing the dragons tail and she took a bad dose or went back to what she used to do with just a little less and it was still too much and the dragon won."
He ended his post with a warning of sorts.
"Please, please, please, wrap your arms around your loved ones and let them know how much you care and love them, because tomorrow is never guaranteed and I urge you all to share this post. Maybe, just maybe, it'll help another family," he said.
Fentanyl Overdoses
In August, President Donald Trump urged the Senate to pass a measure to stop synthetic opioid drugs such as fentanyl from being transported into the United States via the U.S. Postal Service system.
"It is outrageous that Poisonous Synthetic Heroin Fentanyl comes pouring into the U.S. Postal System from China," he wrote on Aug. 20.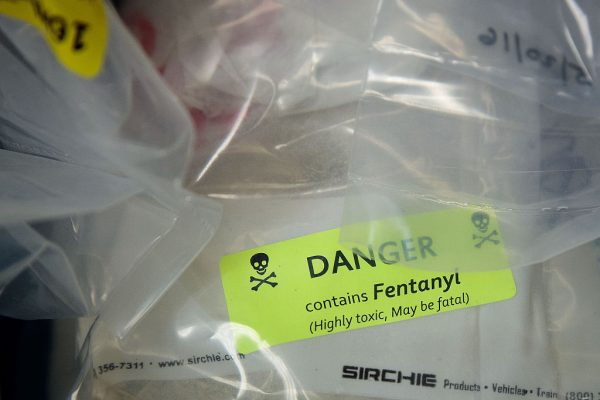 The shipment of fentanyl from China to the U.S. is "almost a form of warfare," Trump said in August.
"In China, you have some pretty big companies sending that garbage and killing our people," Trump said at the time.
More than 71,500 Americans have died of a drug overdose in 2017, according to data released the U.S. Centers for Disease Control and Prevention.
The majority—or least 68 percent—of those deaths could be attributed to opioids such as fentanyl.
"[Chinese drug makers] have been using the internet to sell fentanyl and fentanyl analogues to drug traffickers and individual customers in the United States," said Deputy Attorney General Rod Rosenstein in a statement on Oct. 17, 2017.