Authorities aren't saying whether a $500,000 reward will be claimed following the June 6 arrests of two people jailed in connection with the fatal road rage shooting of a 6-year-old boy.
However, they did say during a June 7 press conference that tips and surveillance images played a key role in making the arrests.
Aiden Leos was killed May 21 on his way to kindergarten when the car he was traveling in was shot on the 55 Freeway in Orange. His mother, who was driving the car, is believed to have been the target of road rage.
In the weeks following the shooting, the Orange County community banded together to raise a $500,000 reward for the arrest and conviction of the boy's killer. Authorities said they weren't going to discuss whether anyone was eligible to claim it.
Marcus Anthony Eriz, 24, and Wynne Lee, 23, were arrested June 6 at a Costa Mesa home after police received a combination of tips and footage in order to book the pair, California Highway Patrol Assistant Chief Don Goodbrand during a June 7 press conference.
"There are few words to describe the feeling produced by the despicable actions of that day," Goodbrand told reporters. "It goes without saying, no parent should be made to suffer the pain and loss [Aiden's family] experienced that day, and will continue to experience."
Goodbrand added that both the gun and car used during the killing were found, though at a different location than the Costa Mesa arrests.
Police had said they believed the car to be a 2018 or 2019 Volkswagen SportWagen. A passenger from the Volkswagen allegedly shot into the back of Aiden's mother's car, striking Aiden, who was in the back seat in a booster seat.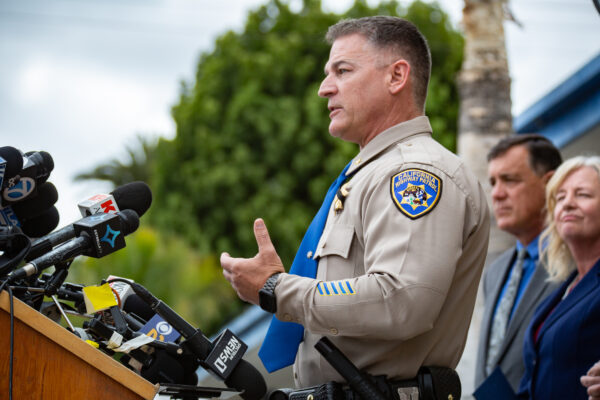 Authorities have said a woman was driving the car.
District Attorney Todd Spitzer said his office is still deciding how the suspects will be charged, though the decisions will be made by the June 8 deadline at 10 a.m., with the pair being arraigned the same day.
Both suspects are being held in Orange County Jail on $1 million bail.
"The Orange County District Attorney's office is charged with only bringing forward the criminal charges that we can prove beyond a reasonable doubt," Spitzer told reporters.
"Clearly there are different legal theories, and potentially different charges with respect to the driver as opposed to the front seat passenger, and we will be more than willing to explain those once we decide what charges we're going to bring and what the evidence shows."
The arrests came just one day after Aiden's funeral.
"We don't want to make promises, but there's something about that that leaves me a little bit empty, because I do want to promise today, when Aiden was put below ground, that we will get justice for him," Spitzer said. "We have to promise him that."
Last week, Spitzer gave a stern warning to the fugitives to turn themselves in if they wanted authorities to consider taking responsibility as a mitigating factor during prosecution, which they did not do. Now it's time for the judicial system to hold them accountable, Spitzer said.