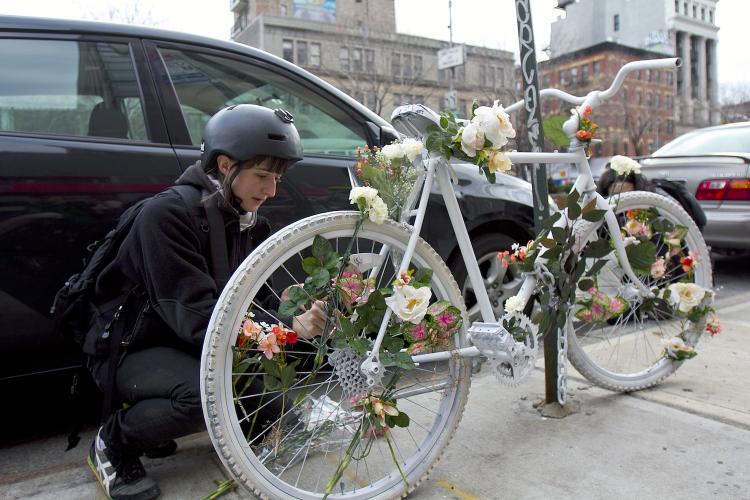 NEW YORK—Friends and family of 2011 bicycling accident victims honored those who died on Sunday with a series of ghost bikes organized by biking advocacy group Transportation Alternatives throughout the city.
Ghost bikes are memorials for bicyclists who were killed or hit on the street. White-painted bicycles are locked onto a street sign near the place of the crash with a small plaque of remembrance. These memorials first appeared in Missouri in 2003 to support bicyclists' rights to safe travel.
At 12:45 p.m., the first ghost bike of the series was unveiled on Staten Island, on Howard Avenue between Highland and Grand avenues.
The next ghost bike was set up at 2:45 p.m. in Brooklyn, at the intersection of Metropolitan and Gardner avenues at Linden Hill.
At 3:10 p.m. the third ghost bike was in Manhattan, at the intersection of Chrystie and Delancy streets off the J line at Bowery Street.
Another Brooklyn ghost bike was set up at the Intersection of Borinquen Place and South 2nd Street at 3:40 p.m., near the Metropolitan stop on the G train. The last bike on Sunday was also in Brooklyn, at 211 Union Avenue off the G line at the Broadway stop.