Europe's health care systems are reportedly feeling the strain of the fast-spreading and highly transmissible Omicron variant of COVID-19, which has led to chronic staff shortages in hospitals amid rising case numbers.
Despite early studies indicating a lower risk of severe disease or hospitalization from Omicron compared to the previously-dominant Delta variant, nations across Europe are said to be struggling under the weight of staff shortages, driven by a surge in infections which has seen key staff members sick or forced to self-isolate.
As of Jan. 9, UK government data shows that there have been 141,472 daily new cases of COVID-19 in England, while 1,217,097 people have tested positive for the virus within the last seven days.
Last week, Britain's Ministry of Defence (MoD) announced it would begin deploying two hundred Armed Forces personnel to support NHS hospitals in London amid record case numbers and staff shortages.
The MoD said it will provide 40 Defence medics and 160 general duty personnel to support NHS hospitals across the capital city with a range of tasks such as patient care, checking in patients on arrival, and conducting basic checks.
"Omicron means more patients to treat and fewer staff to treat them," National Health Service (NHS) Medical Director Professor Stephen Powis said in a statement on Friday. "In fact, around 10,000 more colleagues across the NHS were absent each day last week compared with the previous seven days and almost half of all absences are now down to COVID."
"While we don't know the full scale of the potential impact this new strain will have it's clear it spreads more easily and, as a result, COVID cases in hospitals are the highest they've been since February last year—piling even more pressure on hard-working staff," Powis said.
In the Netherlands, where infection rates are also rising sharply among hospital staff, particularly nurses and nursing assistants, hospitals are considering changing their quarantine rules to allow infected employees who do not display symptoms to return to work in an effort to ease staff shortages, Reuters reported, citing Dutch daily De Telegraaf.
A survey of eight major Dutch hospitals showed that in the worse cases, one in four staff members tested positive for COVID-19 in the run-up to Christmas. In Amsterdam's University Medical Centre, 25 percent of staff are now testing positive, compared to 5 percent a week ago.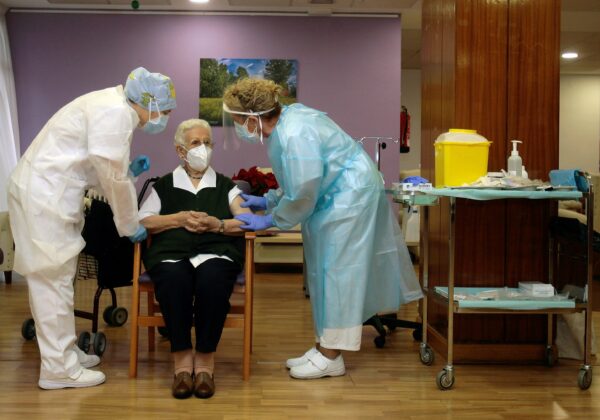 Elsewhere in Italy, supporting auxiliary facilities have been set up outside some hospitals in Palermo, Sicily, to take the weight off emergency rooms amid an influx in virus case numbers.
Tiziana Maniscalichi, director of Cervello and Civico Palermo hospitals, said most of those hospitalized with serious symptoms were not vaccinated.
"We are absolutely under pressure," Maniscalichi told The Associated Press."There are at least 70 new cases a day to be hospitalized. We were forced to set up an additional emergency unit in a tent, because the capacity of the ordinary emergency unit was not enough."
Meanwhile, the Spanish nursing union SATSE said in a statement that front-line workers such as nurses and physiotherapists are the hardest hit.
Nine out of ten physiotherapists said they were unhappy with the actions and measures that have so far been taken to strengthen and improve the country's health system during the worst of the COVID-19 pandemic, SATSE  said, citing a survey of physiotherapy professionals in the whole of the country.
Rafael Bengoa, co-founder of Bilbao's Institute for Health and Strategy and a former senior WHO official, told Reuters that Spain had failed to take sufficient measures to reinforce vital services and that health care systems would continue to witness an increase in pressure. However, he remains hopeful that the end is near with regard to the pandemic.
"Spain has several weeks—basically all of January—of rising cases … then hopefully we'll hit a plateau that goes down just as fast," he said, adding that he does not believe there will be a more deadly variant than Omicron.
"Pandemics don't end with a huge boom but with small waves because so many have been infected or vaccinated … After Omicron we shouldn't have to be concerned with anything more than small waves," Bengoa said.
Yet according to preliminary studies, Omicron is much more likely to infect the throat compared to the lungs, which makes it less deadly than previous variants, but more infectious, which may account for the increase in case numbers.
A preprint of an animal-based study conducted by researchers from the University of Liverpool's Molecular Virology Research Group said that mice infected with Omicron lose less weight, experience milder pneumonia, and carry less viral loads.
Reuters and The Associated Press contributed to this report.