Fast Food Workers Rally in NY for Higher Wages
July 30, 2013 6:17 am Last Updated: July 30, 2013 7:16 am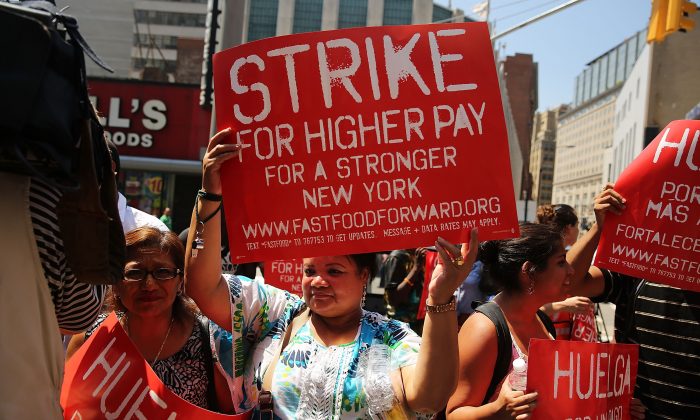 NEW YORK—Brandishing large red and white signs stating "strike for higher pay," in Spanish and English, dozens of fast food workers and their union supporters converged on the entrance to a McDonald's nearby Union Square on July 29.
Protesters rallied for about an hour demanding a pay increase and chanting "we can't survive on seven-point-five," a reference to New York's $7.25 minimum wage.
"We want to try to make $15 an hour," said Luisa Villa, a 26 year-old McDonald's worker who has been working at 181st Street in Manhattan for nine years. "We can win."
Villa, who started at $5.50 an hour with the company and is now paid $8.10 an hour, said she and others were approached by a union organizer named Alfredo outside of work.
"We heard about the union outside the store," said Villa, who added they were asked to sign a petition to unionize. She signed, though she and others are not officially striking. They are, however, openly protesting—sometimes at their workplace.
The effort to unionize the city's fast food workers has been ongoing for several months, with little success. Other efforts by low-wage, low-skilled workers during the same period have made significant progress. An intensive campaign to unionize all of the city's car wash workers has been steadily charging ahead, with one location already in negotiations over union contract details, and another where workers voted to unionize.
For workers, the path to unionizing is often fraught with risk of retaliation after employers discover who among workers is actively organizing and protesting. One of the unionizing car wash workers claimed he was physically attacked by a supervisor, who was arrested, after they voted to unionize.
Alba Santana, a McDonald's employee at the 181st Street in Manhattan says she feels that her supervisor sent her a message after she joined a protest outside the store last week.
"I used to work five days a week, now I have two days on my schedule," said Santana after the Union Square rally on Monday.
She said it is the first time in three years with the company that her schedule had been cut down to less than four days.
"I never, never, never had only two days," she said emphatically, and added that luckily she has a second part-time job. "I need to pay rent."
The Monday afternoon rally in front of the Union Square-area McDonald's was attended by some politicians including New York State Assemblymember Brian Kavanagh. At a union meeting after the rally, City Council Member Donovan Richards made a brief appearance and show of support.
"I want to tell them to supersize your paycheck!" said Richards.
Several fast food industry restaurants are being targeted in the campaign, which is part of a larger national campaign that includes a total of seven cities. Restaurants include McDonald's, Taco Bell, Wendy's, Burger King, Papa John's, Pizza Hut, KFC, and Domino's.
McDonalds, perhaps the largest target, refused to comment by phone and email, referring all inquiries to the National Restaurant Association.
In an email, Katie Laning Niebaum, a spokesperson for the association, passed on a statement from Scott DeFife, the executive vice president for policy and government affairs.
"Restaurants operate on very thin profit margins," read the statement. "Significant additional labor costs can negatively impact a restaurant's ability to hire or maintain jobs."
McDonalds reported a net income (profit) of $5.5 billion in 2012 according to company's annual report, more than $7,000 per employee.