Although winter is officially four months away, the Farmer's Almanac predicts that it will be "frigid" and "freezing."
"Our extended forecast is calling for yet another freezing, frigid, and frosty winter for two-thirds of the country," Farmers' Almanac Editor and Philom Peter Geiger said in a press release on Aug. 26.
Last year's prediction called for a long, snowy winter, and it turned out to be correct for much of the United States.
The 2019-2020 season, according to forecasters, will be "another wild ride" with heavy snow across much of the country, and they described it as a "polar coaster."

"The biggest drop—with the most freefalling, frigid temperatures—is forecasted to take hold from the northern Plains into the Great Lakes. The Northeast, including the densely populated corridor running from Washington to Boston, will experience colder-than-normal temperatures for much of the upcoming winter. Only the western third of the country will see near-normal winter temperatures, which means fewer shivers for them," said the Almanac on its website.
Similar to last winter, the coldest outbreak of the forthcoming winter season could arrive during the last week of January and beginning of February, the Almanac said.
In late January and early February of 2019, a so-called "polar vortex" hammered much of the United States and brought with it Arctic temperatures. Some areas around the Midwest and Great Lakes had wind chills of minus 40 to 65 degrees below zero.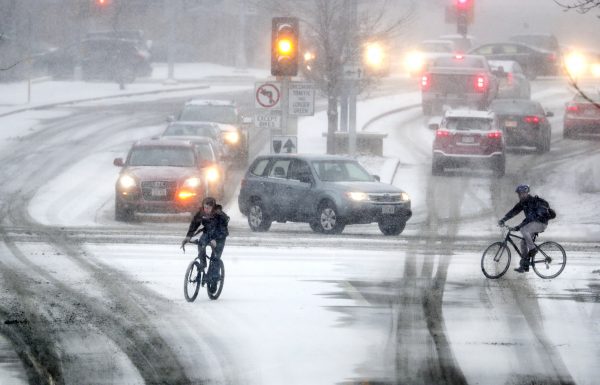 The Almanac made no mention of any potential "polar vortex" hitting the United States over the coming winter season.
Regarding snowfall, an "above-normal winter precipitation over the eastern third of the country as well as the Great Plains, Midwest, and the Great Lakes" is expected, it said. Meanwhile, the Pacific Northwest and Southwest regions are forecast to experience near-normal precipitation.

"With colder-than-normal temperatures in the Northeast and above-normal precipitation expected, our outlook forewarns of not only a good amount of snow, but also a wintry mix of rain, sleet—especially along the coast," the forecasters said.
The eastern half of the country will see heavy precipitation and strong winds at the start of January, it added.
"For those who live northeast of the Texas Panhandle to the western Great Lakes, watch out for what could prove to be a memorable storm producing hefty snows for the Great Plains during the third week of January. This system will cause temperatures to plummet and drag the coldest Arctic air across the rest of the country into the beginning of February," forecasters said.

Spring 2020, meanwhile, will be slow to start across the Northeast, Midwest, New England, and Great Lakes regions.
"Occasional wet snow and unseasonably chilly conditions will hang on for a ride that you may not be able to get off until April," the press release stated.