A Michigan farmer was digging up his field with a tractor when he ran into something he thought was a "bent post."
It actually was the remains of a woolly mammoth. The remains were found on his Lima Township property, the Detroit News reported.
"It's too early to tell how it died but the skeleton showed signs of butchering," stated Professor Dan Fisher of the Museum of Paleontology at the University of Michigan.
"It was an adult male, 40 to 50 years of age, and stood probably 10 feet tall at the shoulder," he said.
Archaeologists and other experts gathered to excavate the remains, which included tusks, vertebrae, and pieces of shoulder blades.
The mammoth is believed to have lived more than 10,000 years ago.
James Bristle, the farmer, first believed it was an old fence post. The report noted that it was instead, about "20 percent of a wooly mammoth," including the skull, jaw, vertebrae, and more.
"When my 5-year-old grandson came over and saw the pelvis, he just stood there with his jaw wide open and stared. He was in awe," Bristle recalled. "So I think this was the right thing to do."
Michigan man accidentally digs up rare woolly mammoth bones http://t.co/emnDUsqk9g

— TIME (@TIME) October 3, 2015
The site where Bristle slammed into the mammoth bone has "excellent evidence of human activity," Fisher told the Detroit News. "We think that humans were here and may have butchered and stashed the meat so that they could come back later for it."
Mastodons and mammoths once roamed North America before disappearing about 11,700 years ago.
"We get one or two calls like this a year, but most of them are mastodons," stated Fisher.
Bristle gave the university team a day to remove the remains. James Bollinger of Bollinger Sanitation and Excavating in Chelsea brought in equipment to help remove the mammoth remains, according to the Detroit News.
"The farmer that owns the field was putting in drainage tiles with a friend on Wednesday when they hit a large bone," Bollinger was quoted by the outlet as saying. "They knew right away it wasn't from the kind of animal they were used to. I volunteered to dig on Thursday, which is when Dan Fisher showed up with a bunch of grad students."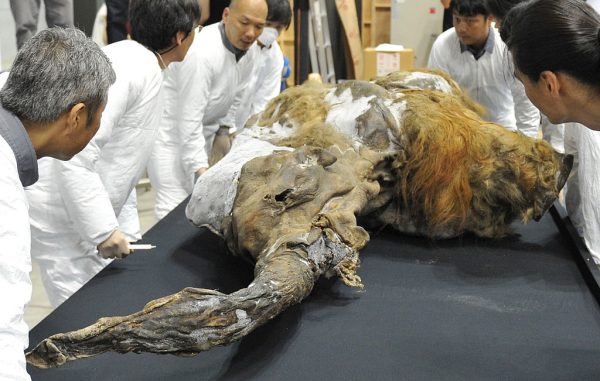 Bollinger said the work was tedious but exciting.
"I'd uncover an inch at a time and then they'd examine that area," he told the paper. "We kept digging and found the top of the skull, a ton of ribs, teeth and neck vertebrae. Then we uncovered both tusks. The tusks, with the curve, had to be eight feet long."