ST. PETERSBURG, Fla.—Fans at IndyCar's Honda Grand Prix of St. Petersburg, seeing the 2012 Dallara DW12 for the first time, liked the look, the sound, and the performance of the new machine.
After morning practice Saturday, March 24, several fans commented on the new car. Some were seeing it for the first time; some were seeing an IndyCar race for the first time. Despite some worries early on about the proportions, the wheel fairings, the bumpers, and whether the 2.2-liter turbo V6s would sound exciting. After seeing the cars, no one had a bad word to say.
Most people simply said they liked the look and sound of the new car, without going into detail.
Jeff Hardin particularly liked the sound of the Chevy engine. As for the design: "I've looked at it close up and it looks practical for the purpose," he said. "I think it's going to do the job."
Bruce Crawford said the cars had "a very interesting look—completely different than last year, and much faster, apparently."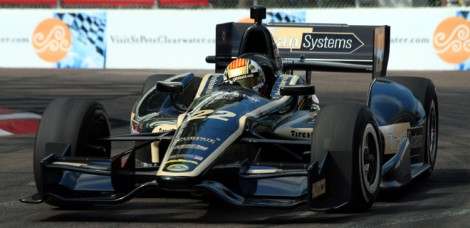 Jim Parkison spoke a little specifically. "It's still early in the weekend so far," he replied. "It looked pretty exciting and awfully competitive. It's great to see the additional engine manufacturers—competition is always good for the series.


"Certainly with the addition of Rubens Barrichello, that brings a whole new excitement to the season. I am really excited to be here for the season opener.


"The sound of the cars is definitely different with the turbo. It's interesting to see them go through the comments; they seem to stick a little bit better and have a lower profile than the previous cars.


"They sound fine, they look great, and early in the practice session so far they really competitive, with everyone separated by a little over a second."
Even people who had never seen the old car liked the new one. Stephanie Bentley and Carol Toscano were at the event volunteering for a political party; the ladies had had the option of picking the event they most wanted to work, and both chose the IndyCar St. Pete Grand Prix.
The pair had never been to an IndyCar race, and they really liked what they saw.  
Ms. Toscano, visiting from Houston, said, "This is very good—very different."
"This is our first Indy race, and I personally think it's amazing," said Ms. Bentley. "I can't wait for the next one. I am a new fan!"
The Izod IndyCar Honda Grand Prix of St. Petersburg starts at 12:30 ET. Tickets are available at the box office or online at http://www.gpstpete.com. The race will be televised live on ABC.