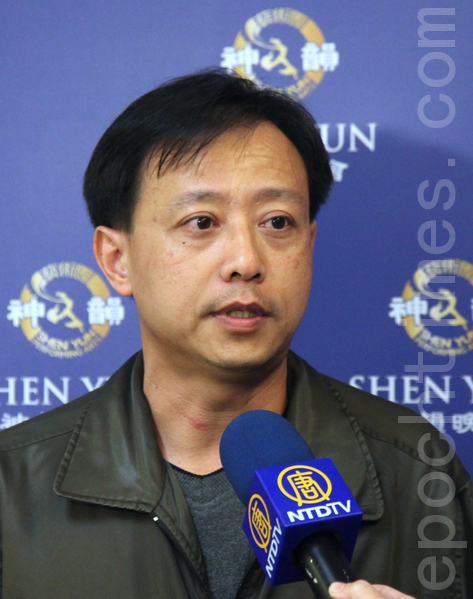 TAIPEI, Taiwan—After learning of Shen Yun Performing Arts long ago, Mr. Juin-Ying Lee, professor and chairman of the Institute of Music at National Chiao Tung University, and director of the Pro Arte Trio, finally got the opportunity to see Shen Yun Performing Arts New York Company's performance at the Taipei Dr. Sun Yat-sen Memorial Hall on the evening of March 23.
After seeing the performance, Mr. Lee said, "The level of performance from both the artists and the musicians of the Shen Yun Orchestra is very high."
Marveling at the entire performance, he said, "All the scenes on the stage and the choreography are very outstanding."
He also commented specifically on the Shen Yun Orchestra, saying, "The overall performance of the orchestra is very high class." He said that he could tell the orchestra members have gone through rigorous training, saying, "Member of the Shen Yun Performing Arts Orchestra have very good discipline, and the music they played was in great unison."
Impressed with the seamless synchronization of every program with the dynamic backdrops, Mr. Lee mentioned that the programs were very creative and touching, in particular, How The Monkey King Came To Be, and The Dafa Practitioners' Magical Encounter.
He called Shen Yun a very exquisite artistic performance, and that it stands out in the areas of fine art design, dancing, music, sound effects, performing arts and artists facial expressions. He explained, "I feel that they are very devoted. In fact, the design of the entire performance is marvelous."
Mr. Juin-Ying Lee is a renowned violinist, whose performance was praised by the Spokesman Review in the State of Washington as "an admirable player." Contemporary and well-known conductor and composer, Gunther Schuller, also referred to him as a "most gifted violinist."
Reporting by Alya Lin and Billy Shyu.
Shen Yun Performing Arts, based in New York, tours the world on a mission to revive traditional Chinese culture. Shen Yun Performing Arts New York Company will perform in seven cities in Taiwan until April 8 and then continue to top venues in Australia and New Zealand.
For more information visit ShenYunPerformingArts.org
Read the original Chinese article