The family of the 18-month-old girl who fell 150 feet to her death on a Royal Caribbean cruise ship shared a photo of the open window that she fell through. A lawyer said the family is looking to hold the cruise operator responsible.
The Daily Mail posted the new image on July 9, showing the open window, investigators, police tape, and other people. According to the report, the 11th-floor window can be seen next to others that appear to be closed.
The photos were shot by Chloe Wiegand's father, who is a police officer in South Bend, Indiana.
Family of toddler who fell 150ft to her death from cruise ship blame liner because a window had been left open in kids' play area https://t.co/KSMaHbHgdl pic.twitter.com/CFcH2NtFlc

— Daily Mail US (@DailyMail) July 9, 2019
"We've all had that experience where someone walks into a glass door thinking it's not there. This is the inverse of that," Michael Winkleman, a family lawyer, said on July 9.
Reports said that Chloe was with her grandfather, Salvatore Anello. Winkleman said that he placed her on railing without knowing there was no glass in the room, which is a kids' pool known as the "H20 Zone."
"The grandfather is with Chloe, they're playing and there's this wall of all windows, it's all glass windows," he added.
He added: "Chloe used to love to bang on the glass at her brother's ice hockey games, so her grandfather takes her over to the windows, he thinks it's all glass. There's a wood railing along there, he puts her on that thinking she's going to bang on the glass and it's going to be great, and the next thing he knows, she's gone."
1-year-old daughter of Indiana police officer dies after falling off cruise ship in Puerto Rico https://t.co/qMNVMj52hz #LivePD #LivePDNation #Prayers pic.twitter.com/NPncT79U9H

— Blue Alert (@BlueAlertUs) July 8, 2019
Winkleman said that the family is now aiming to hold Royal Caribbean responsible.
Speaking about the open window, "Why would you have that kind of danger without any sign without any warning without any notice?" Winkleman asked.
"I do think there is going to be blame and significant blame on the cruise line," he added. "I will do everything I can to hold them accountable for what appears to me to be negligence," the lawyer said.
Her parents, Alan and Kimberly Wiegand, are devastated by their loss, Winkleman said. They want to know why the area, a children's play zone, had an open window in the first place, he said.
The cruise operator issued a statement about the matter.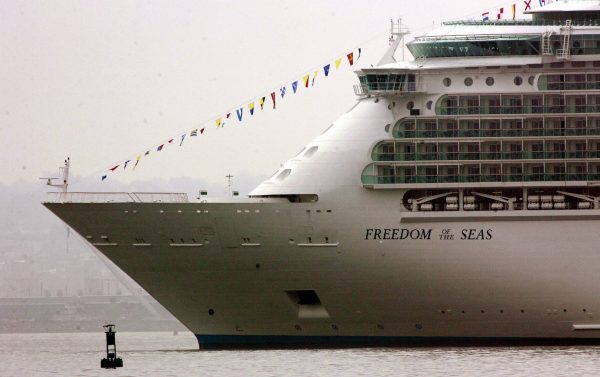 "We've made our Care Team available to assist the family with any resources they need," Royal Caribbean said in a statement. "Out of respect for their privacy, we do not plan to comment further on the incident."
The South Bend Police Department also said in a statement, as USA Today reported, that the girl was the daughter of a police officer.
It said, "The South Bend Police Department offers its sincerest condolences to Officer Alan Wiegand and his family during this difficult time following the tragic loss of their child while in Puerto Rico. The department asks the community to pray for the entire Wiegand family as they grieve and to respect their privacy."
Witnesses described being startled by the sound of a woman screaming as the girl fell.
"[We heard] the screams of the families because we were close," a passenger told Telemundo PR.
The person added: "I looked because of the mother's cry. That tonality, a scream of pain of that nature, does not compare with any other scream."