Family Members of 2500 Falun Gong Practitioners Appeal Again for International Help
December 11, 2006 12:00 am Last Updated: December 11, 2006 12:00 am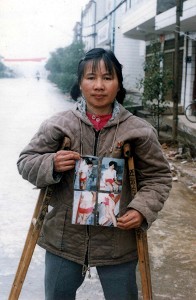 A report on Falun Gong's official website, Minghui Net, has stated that 2500 family members of Falun Gong practitioners have again published an open letter to the international community. The letter reveals the recent brutal torture in the Baimalong Female Forced Labor Camp in Zhuzhou City, Hunan Province. The letter calls for the world's people to end this most abhorrent persecution which is "an unprecedented evil on earth."
It is said in the joint letter that they had twice gathered signatures and wrote to the international community to expose the violent torture committed at Baimalong Forced Labor Camp. After the first letter was published, the camp received numerous condemnations from the world's righteous people. Unfortunately, the guards in the camp did not restrain themselves, but intensified the torture used on Falun Gong practitioners.
The official torturers from the camp all went behind the scenes and instead bribed the prisoners to beat the practitioners by rewarding them with reduced jail sentences. The camp is tightly blocked, and the following cases are just the tip of an iceberg of what happens in the camp everyday.
Ms. Liu Yuwei, 37 , was Abducted to the camp in 2001 for practicing Falun Gong. The guards restrained her movements and shocked her with electric batons. In June 2005, she was abducted to the camp again and sentenced to 18 months for distributing Falun Gong materials. The guards often deprived her of sleep and forced her to stay standing. Many times she lost consciousness because of the brutal torture.
At one time six prisoners stripped Ms Liu naked and forced a stick with a fork-shaped top into her vagina. Ms. Liu couldn't get it out for many hours and she was in excruciating pain and couldn't walk for a long time after that. The guards wouldn't allow Ms. Liu to use a toilet for eight days which resulted in excretion of some kind of body fluid from her belly button.
Ms. Liu Dan, 28 , from Yueyang City, Hunan Province. Ding Cailan, Deputy Director of the Camp, once said, "Liu Dan's parents participated in signing the open letter to the international society; the only thing we can do now is to force Liu to renounce Falun Gong and have her convince the international society [that the persecution is false.]" Thus Ms. Liu was repeatedly taken to a special room where guards would shock her with electric batons, beat her with batons, and poke her with steel needles until she vomited blood .
Ms. Xu Shaoan, 57 , from Xiangtan City, Hunan Province. Guards Fan Yingqiao and Peng Jinwen instigated four prisoners charged with drug abuse to torture Ms. Xu. The prisoners inserted thick needles underneath her finger nails and pushed them all the way to her knuckle. Ms. Xu immediately passed out because of the excruciating pain. The prisoners yelled at her, "We will get reduced sentence if we beat you fiercely!" Ms. Xu's face was disfigured. A guard instigated prisoners to force Ms. Xu to stand in a bathroom for several nights without sleeping when the weather was freezing. Ms. Xu still refused to renounce Falun Gong. The prisoners then put unknown drugs in her food and caused her severe psychological distress. Ms. Xu's family eventually was able to take her home because of her unsettled condition.
The China Ministry of Justice honored the Baimalong Forced Labor Camp "The best group of education and transformation of the Ministry of Justice" in August 2000. The Committee of Seven Central Departments honored the Camp "the nation's best struggle group" in August 2001. The Ministry of Justice awarded the Camp "First level honor in the national forced labor system."
The joint open letter claimes, "For the past seven years, the Chinese Communist Party (CCP) regime has brutally persecuted Falun Gong practitioners who practice Truth, Compassion, and Tolerance. We can clearly see the CCP's evil nature. We witnessed the bloody and cruel scenes of how the CCP by every means possible persecutes Falun Gong practitioners. We the families of the Falun Gong practitioners and all benevolent people no longer have any hope for the evil Party and will no more take the CCP's dictatorship. We will stand together with the world's Faun Gong practitioners and just people to expose the CCP's crimes which are against all of humanity. We sincerely hope the international human rights organizations and righteous people who are concerned come immediately to China to investigate the evil Party's violent acts. We are readily prepared to provide powerful evidence for your investigation and will help you with the best we can for your investigation work."
At the end, the letter calls to all friends and families of Falun Gong practitioners, "There is nothing wrong for our family members to practice Falun Gong. Stop waiting and being silent. The CCP is boldly killing our family members while we are waiting, silent and being afraid. We can stop and disintegrate the CCP only if we stand up and thoroughly expose the evil Party's violence. This is the only way we can save our family members, ourselves, and our beloved country."