Julie Chandler and Paul DiGiacomo had no idea where their daughter was, until one day they saw her on TV. She was being interviewed on the street in Boston about her life as a heroin addict.
Meghan DiGiacomo has been addicted to opioids for over a decade—since she was 19. She ended up on heroin, homeless, and living on the street.
CNN's Gary Tuchman interviewed Meghan DiGiacomo and another heroin addict, Billy Donovan, about their experiences in a notorious area south of downtown Boston. They both started with opioid pain pills and switched to heroin because it was cheaper.
DiGiacomo said she wanted to get sober and her dream was to have a family, but the love of her life was a heroin addict too.
One father is pledging to live on the streets with his daughter until she seeks treatment.

由 Boston.com 发布于 2017年11月11日周六
She woke up. He didn't.
She tried addiction treatment many times, just as Donovan, but both of them have always failed.
Yet the future of an opioid addict is bleak and often short, especially today when dealers lace heroin with fentanyl—a synthetic opioid 50-100 times stronger than heroin—which is extremely easy to overdose on. Last year alone fentanyl and other synthetic opioids were involved in some 20,000 overdose deaths, making it the most deadly drug type in the country.
Digiacomo said she wasn't particularly afraid of death.
"Honestly, sometimes it just does seem easier," she said.
But when her parents recognized her on TV, they resolutely decided not to let their daughter die.
"I'm never giving up on Meghan. She won't die. She can't," Chandler, the mother, told Tuchman in November.
Paul DiGiacomo, the father, decided to live with his daughter on the street until she agrees to seek treatment again. He took her dog along too.
"I was like literally sleeping here," Meghan DiGiacomo said. "And I woke up to my dog licking my face and my dad is like, 'We all moved in.' I'm like, 'What are you doing here?' He's like, 'I'm not leaving until you get help or go to the hospital.'"
"My kids are everything to me. They really are," the father said.
It seems his approach has had some effect on his daughter. She cares about her father and doesn't want him to worry.
"I feel all right with myself sleeping on the street. But I'm like, I check on him 100 times during the night," she said.
"She wants to help others before she helps herself," the father said.
But when it comes to treatment, Meghan still puts it off.
"I don't know. One moment I really want to [seek treatment] and the next I'm like, 'Ok, I'll go later,'" she said. "I'm a procrastinator."
Meanwhile, Donovan's mother also recognized him on TV and some of his friends found him and convinced him to go into detox. He's been addicted for 16 years, but the mother hopes the treatment will work this time.
Fentanyl
In August, President Donald Trump urged the Senate to pass a measure to stop synthetic opioid drugs such as fentanyl from being transported into the United States via the U.S. Postal Service system.
"It is outrageous that Poisonous Synthetic Heroin Fentanyl comes pouring into the U.S. Postal System from China," he wrote on Aug. 20.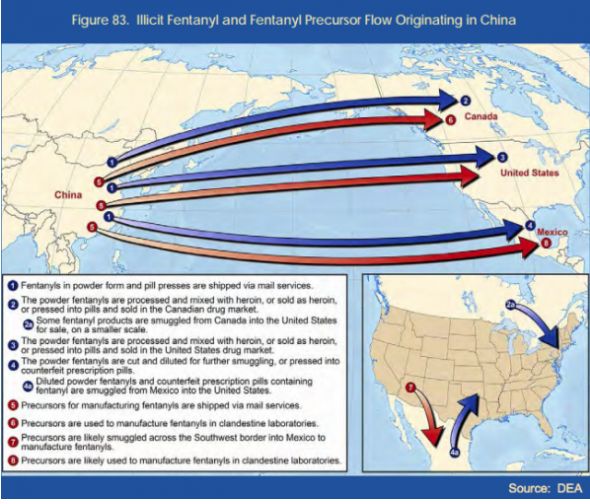 The shipment of fentanyl from China to the U.S. is "almost a form of warfare," Trump said in August.  "In China, you have some pretty big companies sending that garbage and killing our people," Trump added.
More than 71,500 Americans have died of a drug overdose in 2017, according to data released the U.S. Centers for Disease Control and Prevention. The majority—or least 68 percent—of those deaths could be attributed to opioids such as fentanyl.
By Epoch Times' Petr Svab