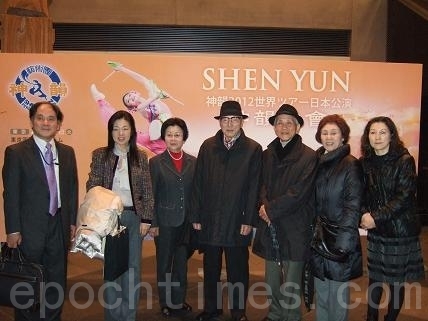 TOKYO—A real estate agent, Ms. Inagaki, her brother, a former Certified Public Accountant in Japan, and other five family members attended Tokyo International Forum on the afternoon of Feb. 14 to watch the debut show of Shen Yun Performing Arts New York Company in Asia.
Ms. Inagaki has watched Shen Yun three times. This time she especially appreciated Taiwanese Amei Dance, saying, "This was my first time seeing the folk dance of Taiwanese Amei. It was very wonderful."
Talking about the program which most impressed her, Inagaki said, "Every time I watched Shen Yun perform, I feel like crying somehow after seeing the programs related to Falun Gong. I have always been deeply touched by the meaning behind the programs."
Mr. Yamashita, Inagaki's brother, a former Certified Public Accountant in Japan, saw Shen Yun for the first time. He said all the programs were amazing.
"The choreography of the whole show was excellent, and the dance was fabulous and magnificent. I like the graceful and beautiful dances of the female dancers very much. They were remarkable."
Mr. Yamashita said, "The opera singing was also excellent. The vocalists' voices stun the audience because they sing without using a microphone. Their voices were clear and beautiful."
As for the high-tech dynamic backdrop, he said, "I've never seen such a vivid backdrop. It was perfectly combined with the performance on the stage."
"I've never known that there are so many excellent Chinese performers around the world. There are really a lot of talented people," Yamashita said when talking about the idea of the traditional Chinese culture.
Reporting by Zhang Nini and Sunny Chao.
New York-based Shen Yun Performing Arts has three touring companies that perform simultaneously around the world. After Japan, Shen Yun Performing Arts New York Company will continue to top venues in Korea and Taiwan, followed by Australia and New Zealand.
For more information, visit ShenYunPerformingArts.org