Loudoun County, Virginia, students defying mask mandates have been segregated from masked peers, put in detention, and suspended for choosing not to wear masks at school after Gov. Glenn Youngkin issued an executive order making masks optional.
Two families—Muriel and Brian Groce, with their daughters Annabelle and Madeleine, and Andrew Missler, with his son, Jarod—said during a recent interview with NTD's "The Nation Speaks" that they see an inconsistency with how masks are used at school and believe they are doing the right thing by challenging the mandates.
"It doesn't make sense, and that is a critical thinking skill that our children brought to the table and realized that this doesn't make sense. And they made the choice on their own to stand up for what is right," Brian Groce said of the contradiction of being able to go without a mask at lunch and during team sports but not during regular classes.
"They weren't allowed to socialize with their peers, even [during] lunchtime, which is an unmasked activity, where they're sitting shoulder to shoulder with their friends for at least 30 minutes," said Muriel Groce.
NTD reached out to Loudoun County Public Schools to ask about the inconsistencies in how the masks mandates were applied during the school day.
"Students are spaced, where possible, alternate lunch areas have been set up so students can remain socially distant," said Wayde B. Byard, public information officer at Loudoun County Public Schools.
"So, we have to wear a mask when we're in band because I play the saxophone," said Madeleine. "The mask has two little flaps, and then you open the flaps, and you put the reed in your mouth and then you just have to play the instrument, which I don't get. They just don't have any common sense when it comes to that."
Annabelle and Madeleine explained why they chose to not comply with the mask rule anymore.

"It was because first of all, I can't breathe, also gives me headaches, and a lot of teachers don't give you mask breaks outside," said Annabelle. Madeleine added that masks don't make sense because teachers cannot discern the students' expressions through the mask to be able to help them properly.
All three students said they followed the mandates under the former governor and only went against the mask policies after Youngkin issued his executive order, making masks optional.
School officials told NTD that the Governor's order on masks is being challenged in the courts, so is not valid yet.
Missler, a police officer, said he believes there are a lot of people who want to take off the masks but are too scared to because of the threat of their children getting a record of suspension or trespassing. Missler criticized school officials for suspending his son over masks, but doing almost nothing when a child sexually assaults another student.
"It's ridiculous that we move a child from one school to another school after sexually assaulting another student. We move them because that's, you know, that's about instruction, that's about making sure that they're taught. And yet we're going to punish children for not wearing a mask, pursuant to a Governor's Executive Order that went into effect," he said.
Missler said he is going to sue the school district and is upset about what he calls hypocrisy with mask rules by school board officials.
"I'm going stand by [my son], it comes down to the hypocrisy that we have within this school system. There's a picture out there online, you can actually see the school board having a Christmas party and socializing and hanging out, and the one thing that will strike you the most is that none of them have masks on," he added.

Byard told NTD that the photo of board members at a restaurant, "was taken last November before the Omicron surge. It was at a restaurant that did not require masking. The board members were following the masking requirements in place at the time."
The parents said they support their children's decision, praising their bravery.
"So, they do know that they are doing the right thing. For us at the forefront of it, we do want to keep God first," said Muriel Groce. "But this has been very hard on them as a result of going [down] this path, but they do know that they're doing it for the right reasons."
"It's really inspiring to see these children … step up to a leadership position by representing all the other kids who are still masked, but really want to do the same," said Brian Groce.
Virginia's Lt. Gov. Winsome Sears praised the students.
"What you're seeing is our proud future leaders here in Virginia. I don't know what I was doing at their age, but that wasn't it," Sears said during a Feb. 9 interview on Newsmax. "These kids are going to make sure that their government listens to them, they know how to seek redress when they have grievances against their government. This is [what's] wonderful about America."
Punishment for Not Wearing a Mask
The Groce sisters, who go to Blue Ridge Middle School, and Missler, a senior at Woodrow High School, said the consequences for not wearing a mask at school are too severe and don't make sense.
All three students were first separated from their masked peers and restricted from moving about the school, even for lunch, and with no teacher instruction. The following week they were suspended from their schools for not complying with the mandates and have had to do their work virtually, also with no instruction.
Jarod said when he went to school without a mask he was separated from his classmates and was forced to stay in the auditorium without any instruction.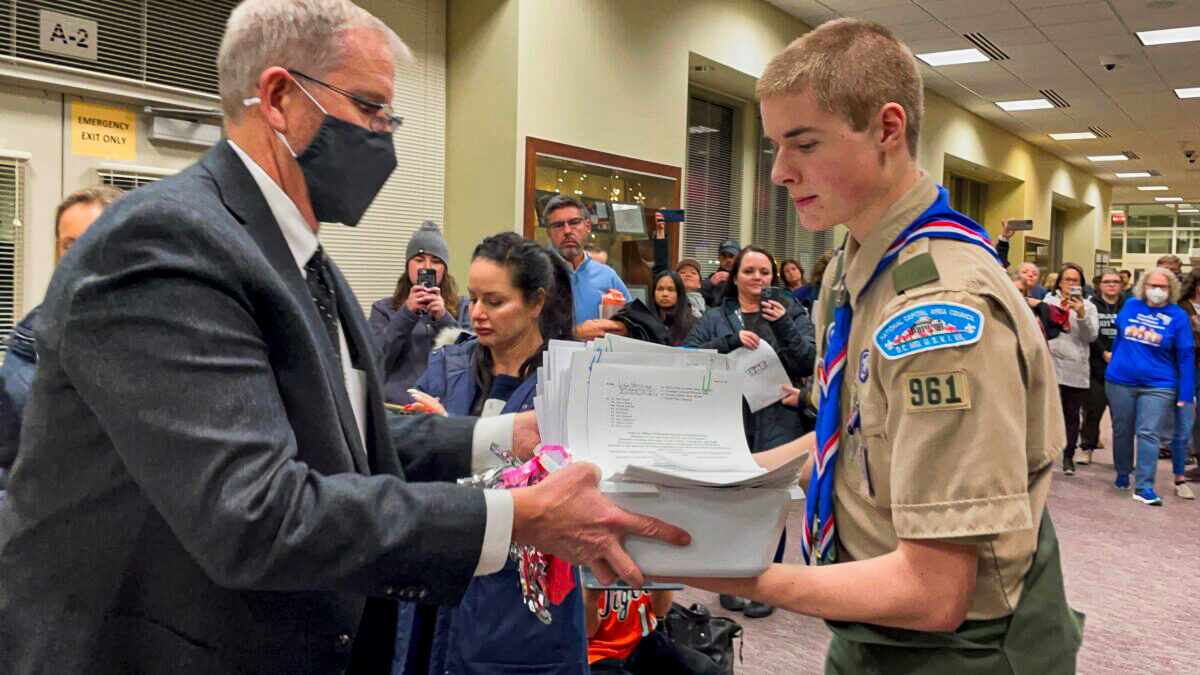 "So, it was very, very spaced out, and there was no talking aloud, you had to do schoolwork the whole entire day. It was very closed in, they had, like, walls around. It was just not a very good environment to sit in," said Annabelle said of being segregated for not wearing a mask along with other unmasked students.
"It was kind of disheartening that, like I said, I've never been punished for doing anything because I've never done anything wrong, and now, for doing something that is legally okay, I get punished for it," said Missler about being suspended.
The students said that school officials tried to intimidate them.
"Our principal, he is like, 'Well, when you have the suspension on your file, it's going to be harder for you to get into colleges,' which we took that as a threat," said Annabelle Groce.
"This is not true," said Byard of suspensions affecting their college admission applications. "Discipline reports are not routinely released as part of a transcript sent to colleges."
During a recent interview with Newsmax, Sears said she expects the law making masks optional to pass the Virginia legislature soon.
"The bill has already passed the Senate and will also pass the state House because it has two Democrats who support the bill," she said. "So, it was a bipartisan effort, and the whole thing was not about masks; it was about giving parents back the ability to make choices for their own children, because their children are not children of the state."