Famed Chinese Human Rights Attorney Encourages His Compatriot: "Follow Me!"
February 3, 2006 12:00 am Last Updated: February 3, 2006 12:00 am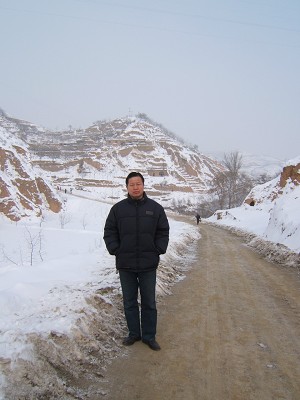 "As long as I'm here, I'll never permit Yang Zaixin to be harassed!" This was Attorney Gao Zhisheng's first remark after learning that Attorney Yang Zaixin in Guangxi Province had been dismissed from his law firm for defending Falun Gong practitioners. Mr. Gao is a famous human rights attorney who has been under surveillance by the Chinese Communist Party's regime for writing open letters to the Party's leaders in defense of Falun Gong. Not only was his law firm closed, but two of his nephews suffered unjust treatment when one was dismissed from the army and the other was not allowed to enlist. Three generations of his and his wife's families have been investigated and threatened to various degrees. Attorney Gao believes that "there will be more conscientious lawyers who will stand up for Falun Gong in 2006 and 2007."
Attorney Yang Zaixin, Please Follow Me
Gao Zhisheng is currently staying safe in a remote mountainous village. As the Chinese New Year approached, friends from the outside world passed on the news about Attorney Yang to Gao Zhisheng. He then said, "I was not surprised to learn the news that Attorney Yang is under surveillance, but I was a bit concerned. I was afraid that, under intense pressure, Yang might compromise with injustice or make some other painful choices. However, we now see that he is very firm with no regrets, and did he make any of the wrong choices. This is very heartening to us."
On the day that he heard the news, Gao called Yang and told him, "Financial difficulties are just technical problems and can be solved one way or the other. Stay together with us. As long as we eat, you will too!" Gao invited Yang to Beijing after the New Year Festival, saying, "We've got plenty to do. Come and join me. The difficulties are just temporary."
Gao further encouraged Yang, "The things which cannot be changed are your value to society and the unbreakable standard of morality and justice!"
Yang Zaixin's son has not yet found a job, though he has already graduated. His daughter is still in school and his wife is also unemployed. The tactic adopted by the communist authorities serves as a warning to all law firms. None of the firms will dare to employ Yang, which means that he can't make a living in his profession. As a result, the entire family has no income.
However, Yang remains determined not to be crushed. He does not regret that the Chinese Communist Party (CCP) has made it impossible for him to make a living. He has prepared for the worst, and says, "If everything fails, I'll learn a foreign language and go abroad. I won't mind doing physical labor if I must."

Attorney Gao dismissed these plans, saying, "There are way too few lawyers in China who dare to stand up, speak out and help our persecuted fellow citizens. The reason why the government uses such a heavy hand to suppress them is to prevent more lawyers from doing the same. Guo Guoting has already been driven out of China. You must not leave, too!"
Gao reiterated, "As long as I eat, Yang will as well!"
Attorney Gao stated that such despicable methods used to harass Yang were truly the lowest of the low. Whether it is the suppression of attorneys like Yang, or the suppression of other Chinese dissidents, the purpose is the same: to destroy your means of making a living and make it impossible to survive within the system. And when your relatives are also entangled, you will have to give up your morality, conscience and courage. This is the most indecent yet the most effective way of threatening those the Party seeks to repress.
Gao Zhisheng: I am Proud of Attorney Yang Zaixin's Courage
After issuing three open letters to President Hu and Premier Wen in support of Falun Gong, attorney Gao Zhisheng first received several verbal warnings. Next, his office was "inspected," without a reason or warrant many times. Finally, he was ordered to close down his law office for an absurd reason, and his family, including his 12 year-old daughter, was watched and tailed around the clock. Gao has received many personal threats, physical police harassment and was almost injured in a staged car "accident." Gao has used his pen and paper to tell all these events to the world. Though there were other painful experiences, Gao kept them quiet in his heart and did not speak out.
Gao has two nephews. One, his eldest brother's son who served in the army for two years, was offered a service extension and was eligible to become a reservist in 2005. But suddenly, an officer came to him one night and asked, "Do you have an uncle named Gao Zhisheng?"
Gao was also a soldier, and then worked hard to make himself one of the most renowned attorneys in China today. So the nephew naturally beams with pride at the mention of his famous uncle's name. After the officer questioned him, the young man answered without reservation, "Yes! He is my third uncle." As a result, he was informed: "Your third uncle has serious political problems. You cannot stay in the army." Consequently, the nephew had nowhere to go but to return to the countryside to farm. Similarly, another nephew, Gao's fourth younger brother's son, though scheduled to report for active army duty on December 1, was sent away for the same reason. There are still more incidents.
Gao said, "Yang, though he was well aware of how I had been harassed for being involved with the Falun Gong problem, still stood up for righteousness as if it was his sacred duty. He continues to do the right thing and defends those Falun Gong believers who are suffering the bloodiest persecution. Yang's spirit and determination are truly worthy of respect! I am proud of Yang's courage!"
Gao also said, "More and more attorneys with conscience will rise up. China's conscience will not dry up because of this suppression!"
Rights Activity Should not be Chosen for One's Advantage, the Falun Gong Problem Should not be Avoided
When overseas media interviewed him earlier, Gao criticized the silence of intellectuals in mainland China concerning the Falun Gong problem. In reply to the scathing response that followed, Gao indicated, "Obviously my criticism has hurt some people's feelings. Though they did not respond to our calls for the protection of Falun Gong's rights, they were quick to respond to our criticism via words or phone calls. We loathe to see this kind of situation."
Gao added, "I have never held back my opinion. After I thoroughly disclosed the facts about how the government persecuted Falun Gong, the CCP can no longer cover up the truth. We think that anyone concerned with human rights domestically should all raise their voices in support of Falun Gong. If human rights are selective and dependent on the government's whim, can there be any human rights?"
"We would like to clarify one specific problem: No matter what one's belief or social standing is, as long as he is a citizen suffering persecution, we should help him to attain the basic rights that the constitution bestows on every citizen. Throughout my career, I have not only spoken up for those such as Falun Gong practitioners who suffer under the government's barbaric persecution, but we have also provided legal services to anyone whose grievances are justified. For instance, in recent years we have handled cases for renters in Beijing, taxi drivers with complaints, those who have been mistreated by the relocation system, and other similar cases."
"When we began to concentrate our firm's attention on the Falun Gong issue, we discovered that the government has committed unprecedented crimes against humanity. This is the main reason why we persist in paying close attention to the concerns of Falun Gong. The problem is with the government, not with us. Even if I kept silent, not everyone would be silent forever and there would no doubt be someone coming forth to speak out! The CCP should not have any doubts about this either! Had this genocide against Falun Gong not happened, we would not have been so persistently attentive."
As to why the government, in blatant disregard of any international repercussions, adopted such irrational and harsh measures to deal with anyone concerned with the plight of Falun Gong, Gao stated, "This must be traced back to the question of the legality of, and the government's motivation for, suppressing Falun Gong. The government's irrational harassment of those who assisted Falun Gong has clearly shown that the suppression was misguided. This is a most civilized way of saying it. We have seen, in our investigation, that the treatment of Falun Gong and those who defend them is not simply misguided and irrational, but blatant criminal behavior!"
When exchanging views with Gao, many of China's human rights advocates agreed with the following statement: "In the human rights community, those of us who can consistently attend to the Falun Gong problem demonstrate the true reason for the existence of the entire sphere of human rights!"
More Attorneys with Conscience will Stand Out
After completing his third open letter to the Party's leaders, Gao severed all communication with the outside world in order to keep himself untraceable. As soon as he returned to public view, he called some other well known human rights attorneys in China, hoping to get some assistance. Yang, with characteristic conscience and courage, stood up and joined Gao. But there is still a broad silence within the legal community in mainland China. Attorney Gao then went on to analyze some of the reasons for this.
Gao said that, "The fact is this: after my three open letters, there isn't any attorney in China who could remain unaware of the crimes committed against Falun Gong by the CCP. One-third of the hundreds of letters I received from all over the country were from lawyers. They all approved of my actions, but none dared to do likewise. They said, "What you have done will, at the least, show to history that not all Chinese attorneys were shameful, though we ourselves, are still ashamed!"
Presently, as is clear to the outside world, when an attorney in China gets involved in providing legal services for Falun Gong, the government will use very severe suppressive measures, as illustrated in the bitter experiences of attorneys Guo Guoting, Yang Zaixin, and Gao Zhisheng. The outside world can sense that the CCP ruthlessly takes all possible means to stop the legal profession from attending to the Falun Gong persecution. Facing such pressure, Gao was asked if other attorneys would dare to stand up for Falun Gong.
Without hesitation, Gao replied, "There will be people standing up, there is no doubt about it! Regarding Falun Gong, the government has completely lost its rationality and can even be said to be insane. Actually, the CCP has realized that, even with double the power, the government would be unable to squelch discussion and awareness of the Falun Gong problem!"
The next question for Gao expressed concern for those attorneys, like Yang, who dared to stand up and whether, if more attorneys like Yang came forth, they would be helped.
Gao rapidly affirmed that they would. "This is not an assumption; there will be more and more attorneys standing up for justice in 2006 and 2007!"
The reporter was amazed at Gao's confidence and wondered what Gao would do should three or four people like Yang come forth.
"With three or four people like Yang," Gao replied, "I will still help them with all my effort! And when 30 or 40 brave lawyers like Yang stand up, they will no longer need my help!"
So on the first day of the Chinese lunar new year, Gao, by his own steadfast support and action, sent a new year's gift to his colleague, Yang, who suffers a persecution similar to his own. And Gao confidently looks forward to a new year when other human rights lawyers will join them.